Stop fighting me on this!
                                 Elon Musk re: Tesla door handles

Design is the fundamental soul of a man-made creation that ends up expressing itself in successive outer layers.
                                 Steve Jobs re: Mac's handle

CEO Boot Camps -- Canary Islands and The Keys, FL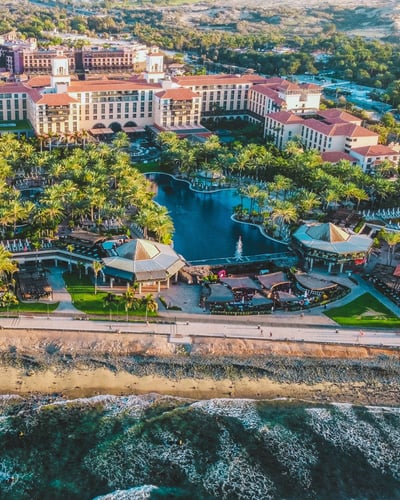 Join me for some fun in the sun – and 3 intense days and nights of designing a highly valuable business. We just hosted L Catterton ($40 billion fund); one of their $300+ million portfolio firms; a $400 million compounding pharmacy; an Aussie with a chain of gyms; a structural architectural concrete firm; an IT firm providing Amazon-like e-commerce services for B2B firms; etc. in Lake Tahoe. If you have a growth mindset, no matter the size firm, please join me for two newly listed CEO Boot Camps in Marathon, FL Dec 5 –and the Canary Islands Jan 9 – 12.

Tesla and Apple – Role of Design 
I continue to enjoy Elon Musk's biography by Walter Isaacson – I hope you read and absorb all the lessons, good and bad! Today I'm reading about the importance of design. Notes Isaacson, commenting on the role of design as articulated by Steve Jobs and chief designer Jony Ive:
…design is not just about aesthetics; true industrial design must connect the looks of a product to its engineering. "In most people's vocabularies, design means veneer," Jobs once explained. "Nothing could be further from the meaning of design. Design is the fundamental soul of a man-made creation that ends up expressing itself in successive outer layers."
Tesla and Apple – Recessed Handles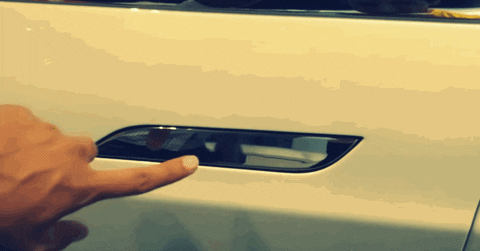 Isaacson continues:
When Jony Ive conceived the candy-colored, friendly iMac in 1998, he included a recessed handle. It was not very functional, because the iMac was a desktop computer that was not meant to be carried around. But it sent a signal of friendliness. "If there's this handle on it, it makes a relationship possible," Ive explained. "It's approachable. It gives you permission to touch."
Likewise, Tesla designer von Holzhausen sketched a way to do door handles that were flush with the car and popped out and lit up like a happy handshake when the driver approached with a key. It did not add any great functionality. A regular extruding door handle would work just as well. But Musk immediately embraced the idea. It would send a chirpy signal of friendliness. "The handle senses your approach, lights up, pops out to greet you, and it's magical," he says.

Engineers and Production Fought Musk
Yet, as Isaacson notes:
The engineers and production teams fought the idea. There was little space inside the door for the mechanisms, which would have to work thousands of times in various weather conditions. One of the engineers flung back at Musk one of his favorite words: "stupid."
But Musk persisted. "Stop fighting me on this," he ordered. It ended up being a signature feature of the cars, one that sealed an emotional bond with the owner. Where would thoughtful design of proposals, invoices, products, and services provide a signature feature that seals an emotional bond with your customers?

Provoking, Iconic, Covetable Design -- Keilhauer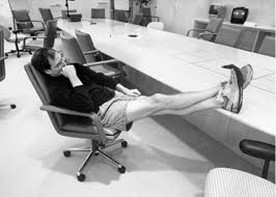 Steve Jobs sat in one; Bill Clinton, Bill Gates, and Barack Obama sat in one; as does Steve Kearley, co-founder of the EO Plus chapter (members over $20 million in revenue) of EO Toronto. This Azure magazine article details how the Keilhauer brothers have scaled one of the most recognized office furniture designers in the world. I keynoted Kearley's EO Plus Chapter meeting a few weeks ago (topic: Pricing and Compensation) and met the other co-founder of the chapter Steve Keilhauer who shared photos of well-known people enjoying his furniture designs including the late Steve Jobs. Keilhauer's Canadian-made chairs also adorn the US White House's situation room. Seems critical decisions are best made in a Keilhauer!

Designing Strategy
Referencing McKinsey's latest podcast on the role of a Chief Strategy Officer (CSO) at Fortune 500 firms, the CEO of mid-market firms is the default CSO. Like Musk and Jobs, as CEO you're the Strategist (vs. the egotistical "visionary" term). This is where a Scaling Up Coach is critical as you prepare your strategy for the 4th qtr. and 2024. This 1-minute video by Kevin O'Connor who helped scale a firm to its exit at 14x earnings details how you can leverage a coach to support your leadership team with strategy.

Leadership Design Personified -- Alondra de la Parra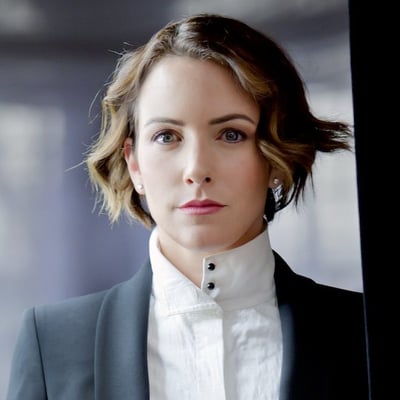 This 1-minute video personifies design, passion, imagination, and energy – and the role an orchestrator (vs. stale "integrator") plays in assembling an A-Player team and designing beautiful music in a beautiful way. Alondra de la Parra is one of 8 women conductors listed among the 100 top conductors who connect orchestras and audiences in a unique way. For an additional 10 minutes of her magic, watch her orchestrate Bolero. And for an inspiring portrait of her life, enjoy this 52-minute documentary. This is what great leadership looks and feels like! Thank you to Mitchel Faulkes, Décor Systems in Australia, for turning me on to her.

Strategist and Orchestrator
Pairing a Strategist with an Orchestrator is a powerful combination!! Score a beautiful sheet of music then orchestrate it's delivery to the world.

Order a box of 20 Scaling Up and Mastering the Rockefeller Habits books
Want to save 50% over the price on Amazon? Get the box of 20 Scaling Up books here and the box of 20 MRH books here for less!

Planning to Exit – Critical Whitepaper
Selling your firm, for its maximum value, is the most important negotiation in which a business owner will participate. You are typically negotiating with sophisticated buyers who have done hundreds of acquisitions whereas this is often your first rodeo. And these buyers have a formula for ripping you off – and it works, stealing tens of millions from you. Seeking help, owners discover the big M&A firms, especially those specializing in your industry, are more beholden to the buyers than the sellers (they will tell you otherwise). Email me to get a whitepaper on how to maximize your valuation and avoid the psychological games buyers play [email protected].

SCALING UP WORKSHOPS:
Engage your team with interactive workshops to optimize your company's performance.
(list of workshops below)

Brisbane, Australia – Oct 4, 2023 (In-Person)
Nottingham, UK – Oct 9, 10 & 11, 2023 (3 Day Workshop - In Person)
Toronto, Canada - Oct 12, 2023 (Virtual)
Madrid, Spain – Oct 16, 2023 (Virtual)
Brussels, Belgium – Oct 17, 2023 (In-Person)
Dallas, TX – Oct 25, 2023 (In-Person)
Nashville, TN – Oct 26, 2023 (Virtual)
Denver, CO - Oct 30, 2023 (Virtual)
Sydney, Australia – Nov 2, 2023 (In-Person)
Hong Kong / Beijing / Singapore – Nov 8, 2023 (Virtual)
Nashville, TN – Nov 9, 2023 (Virtual)
Wellington, NZ – Nov 9, 2023 (In-Person)
Toronto, Canada - Nov 9, 2023 (Virtual)
Grand Rapids, MI – Nov 9, 2023 (In-Person)
Melbourne, Australia - Nov 14, 2023 (In-Person)
Bengaluru / Hyderabad, India – Nov 15, 2023 (Virtual)
Auckland, NZ – Nov 16, 2023 (In-Person)
London, UK – Nov 16, 2023 (In-Person)
Perth, Australia – Nov 29. 2023 (In-Person)
Dallas, TX – Dec 6, 2023 (In-Person)
Toronto, Canada - Dec 7, 2023 (Virtual)
Auckland, NZ – March 11, 2024 (In-Person)
Christchurch, NZ – May 30, 2024 (In-Person)

Better Book Club –
What's your team reading? Increase your books read per team member. Easy, Proven, and in the Cloud at http://www.BetterBookClub.com.

TECHNOLOGY: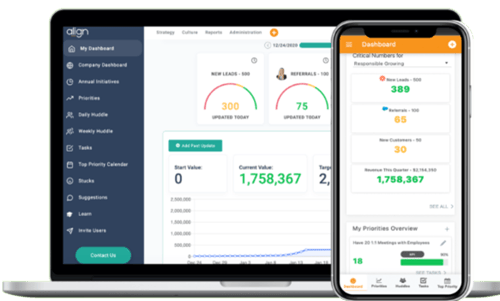 Scaling Up Scoreboard Integrated with Salesforce, Slack, and Zapier (allowing it to connect with 1000s of systems), use Scoreboard to provide your team (working remotely even more important!) a real-time visual dashboard of cascading priorities and metrics. Get a personalized tour of Scaling Up Scoreboard to see how you can use it to better implement Scaling Up in your business.

EDUCATION: 
Growth Institute Online Executive Education:
Master of Business Dynamics
Scaling Up Master Business Course
Exponential Organizations Master Business Course
Topgrading Master Business Course

COACHING: 

 
Does it feel as if your business has hit a wall? If you don't see a clear path forward, it's a good time to bring in a coach.  All of our Scaling Up Certified Coaches™ are masters at guiding you and your leadership team through the implementation of the Scaling Up Performance. Our promise is a custom diagnostic approach from Day 1, including how we match you with a coach. We even have a team member dedicated to helping you find the perfect Scaling Up Certified Coach.™ Schedule a complimentary, personal follow-up. Or check out our FAQs. Additional questions can be sent to [email protected]

Have you considered becoming a Certified Scaling Up Coach?


Learn more about what it takes to certify and what being a coach is like. Pop into our Coach Office Hours to talk with our coach certification coordinator and a certified Scaling Up Coach. Learn More & Register for Office Hours here >

Did you miss previous insights? - read here

Follow Verne on Instagram: @scalingup2.0

Connect with Verne on LinkedIn: Verne Harnish

Follow Verne on Twitter: @agilescaleup

Read Verne's Insights on Kindle http://www.amazon.com/gp/product/B003SX13YI

Sign up for Verne's Weekly Insights  

*This email newsletter may contain affiliate links. As an Amazon Associate, I earn from qualifying purchases. If you choose to purchase after clicking a link, I may receive a commission at no extra cost to you.