PEe Yourself!!
                                                Verne Harnish

We say the cloud is the enabler, data is the driver, and A.I. is the differentiator.
                                                Julie Sweet, CEO Accenture

Please take 5-15 minutes to "sharpen your saw" each week – enjoy these curated pieces.

Billionaire Sam Zell Dies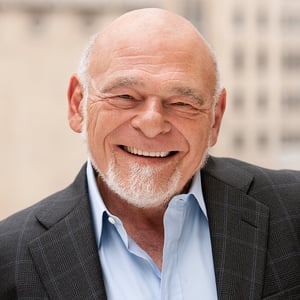 Age 81, real estate legend Sam Zell died yesterday. Credited with creating what became the first REITs, this 4-minute Bloomberg video piece gives you a flavor for how beloved he was by the media and industry while known for speaking his mind. Author of the book I named the best biz biography the year it was published, Am I Being Too Subtle is a playbook for working your network with his famous annual music box gift to his top 400+ list. Thank you, Sam, for sharing your wisdom with all of us.

PEe Yourself!!
I'm serious about PEing ourselves i.e. do to your firm what private equity (PE) will do if they purchase your organization. The key is identifying your inside advantage and then pour on debt (2 parts debt to 1 part equity) to scale organically and via acquisitions (it's how Sam Zell and most wealthy do it). Higher interest rates have dampened this somewhat, but most of us don't leverage enough debt to match our own equity. The second key is fixing your cash flow so you can easily pay the debt over 5 – 7 years and now you have a firm usually worth 3x – 10x. Let us help you scale your valuation 10x and cash flow 2x.

Senator Tannas Scales via 100 Acquisitions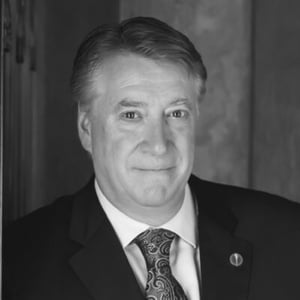 Scott Tannas has scaled Canadian insurance firm Western Financial Group to $1.5 billion via 100+ acquisitions using Scaling Up (his endorsement on the back of the book). This Scaleups.com article details how he's approached these many acquisitions. One key:
We bought companies that looked like ours in towns that looked like the ones we live in.
When the team identified strong targets, Tannas would show up, without bringing up questions about whether the owners were ready to sell and invite them out for coffee. Sometimes, this took place long before they were ready to exit. Getting to know them made it easier to work together when they reached the stage where they wanted to move on.
"In 75% of the transactions, we did it without a sales process that involved anyone else," says Tannas. 
Please take 2-min to read more of the details of how he showed he cared about the acquisition teams and drove strategy. This is the perfect environment to scale thru acquisitions.

Chief Hurdle Officer – $4 million to $420 million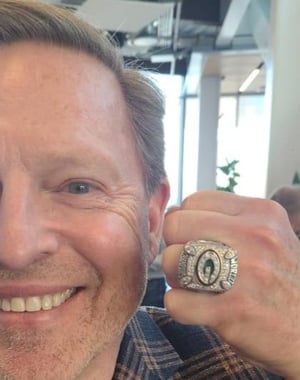 Terry Fulwiler scaled his family's label manufacturing business from $4 million to $420 million using Great Game of Business principles (I can't take credit for everything 😊). Before Jack Stack wrote his book, Terry created internal bonus systems built around addressing the #1 constraint in his business WS Packaging Group. He saw himself as Chief Hurdle Officer. Through extensive data gathering, he would focus his organization on the hurdle (constraint) inhibiting growth (what is yours?). He also helped his employees understand the financials of the business – P&L and Balance Sheet. He recently exited the business and now serves on the board of the Green Bay Packers. I got to try on his ¼ lb platinum Super Bowl ring – wow.

Great Game of Business Master Course – Gamify Your Biz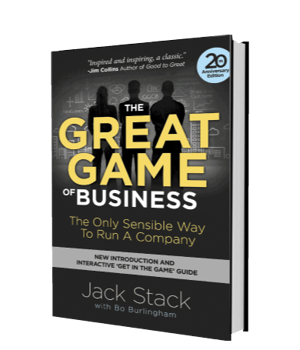 Terry and tens of thousands of firms have used The Great Game of Business approach to setting critical numbers, cascading KPIs, and bonus plans to drive superior performance. Jack Stack scaled his own firms to over $1 billion and taught for me for years in the exec ed program I founded with MIT. His influence is all over our work – and I've ALWAYS recommended leaders attend his programs. That's why we're excited we are hosting his virtual Great Game Master Course – launching in a few weeks. Have your COO and CFO, at a minimum, sign up together – just 2 hours per week, it's the perfect follow-up to Scaling Up and you'll see huge results.

CEO Tapes RH Checklist to Laptop!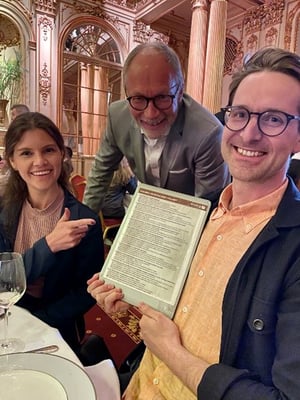 Erik Martinsson is CEO of Svea Solar, one of Europe's largest solar companies and one of Sweden's fastest-growing scaleups, currently at a turnover of around $300 million and 1200 employees. Coach Pelle Tornell (center) shared this photo of 35-year-old CEO Erik's laptop with the RH Checklist taped to his laptop. He's shared how he will not take it off until all boxes are ticked!! Notes Pelle: 
They have gone all in on ScalingUp since last August (when I started coaching them) and are meticulously ticking off the boxes of the Rockefeller Habits checklist month by month.
More info here: https://sveasolar.com/en 

Virtual Scaling Up Master Class – 6 Hours LIVE with Verne
Twice per year I personally teach a Master Class LIVE – 3 hours June 7 and 3 hours June 8. It's a chance to review and renew your focus on implementing our tools. Scott Nash's team will be attending for what must be the 25th time as they've scaled from a few million to hundreds of millions. Like tennis and golf, you need to review the fundamentals constantly. Sign up new leaders and/or your team. Past CEOs always attend for free.

Order a box of 20 Scaling Up and Mastering the Rockefeller Habits books
Want to save 50% over the price on Amazon? Get the box of 20 Scaling Up books here and the box of 20 MRH books here for less!

Have you considered becoming a Certified Scaling Up Coach?


Learn more about what it takes to certify and what being a coach is like. Pop into our Coach Office Hours to talk with our coach certification coordinator and a certified Scaling Up Coach. Learn More & Register for Office Hours here >

Planning to Exit – Critical Whitepaper
Selling your firm, for its maximum value, is the most important negotiation in which a business owner will participate. You are typically negotiating with sophisticated buyers who have done hundreds of acquisitions whereas this is often your first rodeo. And these buyers have a formula for ripping you off – and it works, stealing tens of millions from you. Seeking help, owners discover the big M&A firms, especially those specializing in your industry, are more beholden to the buyers than the sellers (they will tell you otherwise). Email me to get a whitepaper on how to maximize your valuation and avoid the psychological games buyers play [email protected].

COACHING:


Does it feel as if your business has hit a wall? If you don't see a clear path forward, it's a good time to bring in a coach.  All of our Scaling Up Certified Coaches™ are masters at guiding you and your leadership team through the implementation of the Scaling Up Performance. Our promise is a custom diagnostic approach from Day 1, including how we match you with a coach. We even have a team member dedicated to helping you find the perfect Scaling Up Certified Coach.™ Schedule a complimentary, personal follow-up. Or check out our FAQs. Additional questions can be sent to [email protected]

SCALING UP WORKSHOPS:
Engage your team with interactive workshops to optimize your company's performance.
(list of workshops below)

Boulder, CO – May 25, 2023 (Virtual)
Denver, CO – May 30, 2023 (Virtual)
Denver, CO – May 31, 2023 (In-Person)
Barcelona, Spain – Jun 1, 2023 (Virtual)
Mexico City, Mex – Jun 1, 2023 (In-Person)
Melbourne, Australia - Jun 6, 2023 (In-Person)
Nashville, TN – Jun 8, 2023 (Virtual)
Toronto, Canada – Jun 8, 2023 (Virtual)
Paris/Amsterdam/Warschau - Jun 13, 2023 (Virtual)
Birmingham, UK – Jun 22, 2023 (In-Person)
Toronto, Canada – Jul 6, 2023 (Virtual)
Houston, TX – Jul 11, 2023 (In-Person)
Sydney, Australia – Jul 20, 2023 (In-Person)
Toronto, Canada – Aug 10, 2023 (Virtual)
Sydney, Australia – Aug 11, 2023 (In-Person)
Denver/Englewood, CO – Aug 24, 2023 (In-Person)
Melbourne, Australia - Sep 5, 2023 (In-Person)
Grand Rapids, MI – Sep 12, 2023 (In-Person)
Toronto, Canada – Sep 14, 2023 (Virtual)
Brisbane, Australia – Oct 4, 2023 (In-Person)
Toronto, Canada - Oct 12, 2023 (Virtual)
Sydney, Australia – Nov 2, 2023 (In-Person)
Toronto, Canada - Nov 9, 2023 (Virtual)
Grand Rapids, MI – Nov 9, 2023 (In-Person)
Melbourne, Australia - Nov 14, 2023 (In-Person)
Dallas, TX – Dec 6, 2023 (In-Person)
Toronto, Canada - Dec 7, 2023 (Virtual)

Better Book Club –
What's your team reading? Increase your books read per team member. Easy, Proven, and in the Cloud at http://www.BetterBookClub.com.

Become an Authority and Reduce Your Marketing Investment
Top leaders know that branding is not a luxury, it's a necessity. Becoming an authority means you and your brand are synonymous with trust and confidence. Growing brand equity translates to greater pricing power and the ability to reduce marketing costs. If you're interested in proven strategies to help outflank your competition and grow your audience, request a free copy of Authority Marketing.

TECHNOLOGY: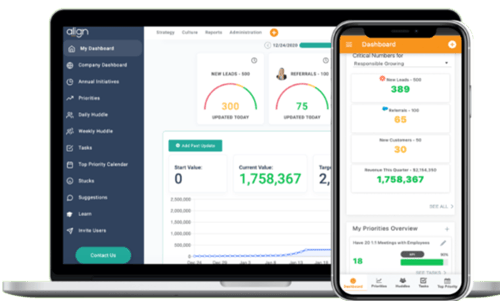 Scaling Up Scoreboard Integrated with Salesforce, Slack, and Zapier (allowing it to connect with 1000s of systems), use Scoreboard to provide your team (working remotely even more important!) a real-time visual dashboard of cascading priorities and metrics. Get a personalized tour of Scaling Up Scoreboard to see how you can use it to better implement Scaling Up in your business.

EDUCATION: 
Growth Institute Online Executive Education:
Master of Business Dynamics
Scaling Up Master Business Course
Exponential Organizations Master Business Course
Topgrading Master Business Course

Did you miss previous insights? - read here

Follow Verne on Instagram: @scalingup2.0

Connect with Verne on LinkedIn: Verne Harnish

Follow Verne on Twitter: @agilescaleup

Read Verne's Insights on Kindle http://www.amazon.com/gp/product/B003SX13YI

Sign up for Verne's Weekly Insights  


*This email newsletter may contain affiliate links. As an Amazon Associate, I earn from qualifying purchases. If you choose to purchase after clicking a link, I may receive a commission at no extra cost to you.