The key to making acquisitions is being ready because you really never know when the right big one is going to come along.
                                                James McNerney

There aren't a lot of levers you can throw to grow your business. If you don't include acquisitions, you're leaving out one big lever.
                                                Dale Robinette

Grab a Tissue – Heartwarming Story
Ron Lovett, who has scaled VIDA Living through a series of acquisitions, held a contest among his thousands of residents – below is the heartwarming short video of making someone's holiday!!! This is why we do business!!!!

Acquiring Talent Now – Feb 1, 11am ET Webinar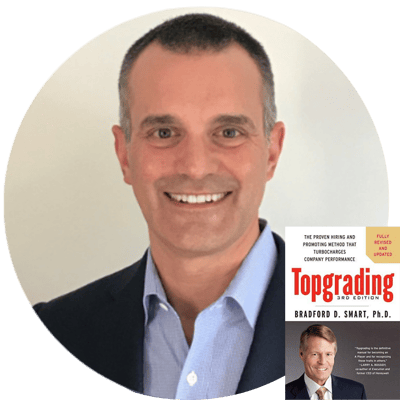 With major companies laying off tens of thousands of people, now is the time to attract and hire A-Players. Join this free live training titled "Assemble Your Dream Team: The 4 Steps to Attract, Train & Retain A-Players" on February 1st, 2023, with Chris Mursau President of Topgrading Inc. Save your spot! While the future of business is uncertain, there is one core characteristic that continues to separate the good from the great: your team. Click Here to Learn More & Sign Up!

Need Your Stories -- Growth Through Acquisition(s) Book
Has part or all your growth been through acquisitions? I'm looking for examples we can include in a new book we're writing. Please email me at [email protected] and I'll have our writers interview you for the book.

Five Reasons to Acquire a Firm
The Fortune 500 have indicated growth through acquisitions is a #1 priority in 2023 and it should be a part of your playbook as well. Recessionary times are a good time to make a move, if you have cash or access to cash. In turn, you can often acquire a firm for little or no money of your own. There are five reasons to acquire (buy vs. build). Let us know, if you've made an acquisition, which of these reasons: 
Buy and Grow – one client dominates their city; they are purchasing two firms in nearby cities as bases to grow all three markets to a combined $150 million
Buy and Fix – what many PE firms aim to do including Fortune 500 firms like Danaher
Buy to Enhance – a set of acquisitions fills out a product suite and/or completes the 100% solution your market seeks.
Buy for Arbitrage – you acquire for a lower multiple than what the combined entity's multiple will be.
Buy for Access – the acquisition has key licenses, markets, approvals, or influential relationships.
Lessons from Tyco – An Acquisition Machine

Scaling Up Coach Dale Robinette learned the art of mergers and acquisitions at Tyco Electronics where Dale was in on the ground floor and stayed until it grew to $13.2 billion! This Scaleups.com article details many of the lessons Dale learned from this experience. Let us know if you're considering acquisitions and let us help you make sure you choose the right targets and integrate/inculcate the acquisition properly (like waiting a year to change the name externally!).

"How Has VIDA Impacted Your Life?" Contest -- $2500 Winner
Ron Lovett, who scaled his first venture, thru acquisition and organic growth, to 3500 private security guards and exited for 24x earnings, is at it again. Acquiring and fixing up low-income housing, he has over 2000 doors. Always engaging his residents, he held a contest over the holidays asking his customers "How has VIDA impacted your life?" Hundreds submitted stories and one lucky resident won $2500. This 2-minute video captures the moment!!

Scaling Up in Hungarian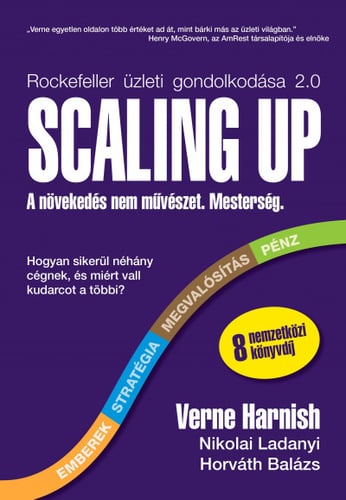 Thank you to Scaling Up Coach Horváth Balázs for helping us get Scaling Up translated and published in Hungarian (27th language). Here's a link to purchase.

Brightly-Colored Suite Entry Doors
Inspired by the book Joyful: The Surprising Power of Ordinary Things, which I named one of the top 5 books in 2021; and inspired by the "Doors of Dublin" featured in the book, Ron Lovett painted all his suite entry doors in bright colors. This Facebook post shows the resulting look. The response from the residents has been overwhelmingly positive with many commenting on how cheerful it makes them feel in their submissions to Ron's contest. Vandalism, cleanliness, etc. have all improved as well. How are you adding a little joy to the lives of your customers and employees? Grab a copy of the Joyful book for ideas.

Order a box of 20 Scaling Up books
Want to save 50% over the price on Amazon? Go to this link.

SCALING UP WORKSHOPS:
Engage your team with interactive workshops to optimize your company's performance.
(list of workshops below)

Denver, CO – Feb 2, 2023 (Virtual)
Amsterdam, The Netherlands – Feb 7, 2023 (In-Person)
Franklin, TN – Feb 9, 2023 (Virtual)
Sydney, Australia – Feb 9, 2023 (Verne Live In-Person)
Madrid, Spain - Feb 9, 2023 (Virtual)
Sydney, Australia – Feb 10, 2023 (In Person)
Boulder, CO – Feb 10, 2023 (Virtual)
Costa Mesa, CA – Feb. 16, 2023 (In-Person)
Toronto, Canada – Feb 16, 2023 (Virtual)
Franklin, TN – Feb 16, 2023 (Virtual)
Barcelona, Spain – Feb 20, 2023 (Virtual)
Washington, DC – Feb 22, 2023 (In-Person)
Boulder, CO – March 2, 2023 (In-Person)
Amsterdam, The Netherlands – Mar 7, 2023 (In-Person)
Melbourne, Australia - Mar 7, 2023 (In-Person)
Oxford, England – Mar 8, 2023 (In-Person)
Melbourne, Australia - Mar 14, 2023 (In-Person)
Sydney, Australia - Mar 15, 2023 (In-Person)
Melbourne/Sydney, Australia - Mar 16, 2023 (Virtual)
Toronto, Canada – Mar 16, 2023 (Virtual)
Hong Kong/Singapore – Mar 22, 2023 (Virtual)
Franklin, TN – Mar 23, 2023 (Virtual)
Wilmington, NC – Mar 24, 2023 (In-Person)
Bengaluru/Hyderabad/India – Mar 29, 2023 (Virtual)
Scottsdale, Az – Apr 6, 2023 (In-Person)
Toronto, Canada – Apr 13, 2023 (Virtual)
Grand Rapids, MI – April 20, 2023 (In-Person)
Franklin, TN – April 20, 2023 (Virtual)
Sydney, Australia – Apr 27, 2023 (In-Person)
Dallas, TX – May 3 & 4, 2023 (2 Day) (In-Person)
Toronto, Canada - May 11, 2023 (Virtual)
Franklin, TN – May 18, 2023 (Virtual)
Melbourne, Australia - Jun 6, 2023 (In-Person)
Franklin, TN – Jun 8, 2023 (Virtual)
Toronto, Canada – Jun 8, 2023 (Virtual)
Toronto, Canada – Jul 6, 2023 (Virtual)
Sydney, Australia – Jul 20, 2023 (In-Person)
Toronto, Canada – Aug 10, 2023 (Virtual)
Melbourne, Australia - Sept 5, 2023 (In-Person)
Grand Rapids, MI – Sep 12, 2023 (In-Person)
Toronto, Canada – Sep 14, 2023 (Virtual)
Toronto, Canada - Oct 12, 2023 (Virtual)
Sydney, Australia – Nov 2, 2023 (In-Person)
Toronto, Canada - Nov 9, 2023 (Virtual)
Grand Rapids, MI – Nov 9, 2023 (In-Person)
Melbourne, Australia - Nov 14, 2023 (In-Person)
Toronto, Canada - Dec 7, 2023 (Virtual)

EDUCATION: 
Growth Institute Online Executive Education:
Master of Business Dynamics
Scaling Up Master Business Course
Exponential Organizations Master Business Course
Topgrading Master Business Course

Planning to Exit?
It's the most critical decision a business owner will make in their lifetime – and over my 40 years of helping firms, I've seen owners taken advantage of time and time again – leaving tens of millions on the table. You're up against sophisticated buyers who have done hundreds of acquisitions – whereas this is often your first rodeo. And these buyers have a formula for ripping you off – and it works. Seeking help, owners find the big M&A firms, especially those specializing in your industry, are more beholden to the buyers than the sellers (they will tell you otherwise). They are not your friend in the process, just another transaction. Email me to get a white paper on what to avoid when exiting [email protected].

Better Book Club –
What's your team reading? Increase your books read per team member. Easy, Proven, and in the Cloud at http://www.BetterBookClub.com.

Become an Authority and Reduce Your Marketing Investment
Top leaders know that branding is not a luxury, it's a necessity. Becoming an authority means you and your brand are synonymous with trust and confidence. Growing brand equity translates to greater pricing power and the ability to reduce marketing costs. If you're interested in proven strategies to help outflank your competition and grow your audience, request a free copy of Authority Marketing.

COACHING:


Does it feel as if your business has hit a wall? If you don't see a clear path forward, it's a good time to bring in a coach.  All of our Scaling Up Certified Coaches™ are masters at guiding you and your leadership team through the implementation of the Scaling Up Performance. Our promise is a custom diagnostic approach from Day 1, including how we match you with a coach. We even have a team member dedicated to helping you find the perfect Scaling Up Certified Coach.™

Schedule a complimentary, personal follow-up. Or check out our FAQs. Additional questions can be sent to [email protected].

TECHNOLOGY: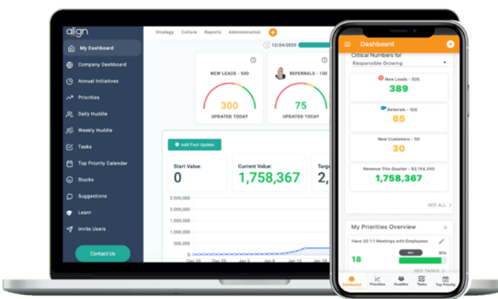 Scaling Up Scoreboard Integrated with Salesforce, Slack, and Zapier (allowing it to connect with 1000s of systems), use Scoreboard to provide your team (working remotely even more important!) a real-time visual dashboard of cascading priorities and metrics. Get a personalized tour of Scaling Up Scoreboard to see how you can use it to better implement Scaling Up in your business.

Have you considered becoming a Certified Scaling Up Coach?
Learn more about what it takes to certify and what being a coach is like. Pop into our Coach Office Hours to talk with our coach certification coordinator and a certified Scaling Up Coach. Learn More & Register for Office Hours here >

Did you miss previous insights? - read here

Read Verne's Insights on Kindle http://www.amazon.com/gp/product/B003SX13YI

Follow Verne on Instagram: @scalingup2.0

Connect with Verne on LinkedIn: Verne Harnish

Follow Verne on Twitter: @agilescaleup

Sign up for Verne's Weekly Insights