When things change inside you, things change around you.
                                                Unknown

Learning's a gift, even when pain is your teacher.
                                                Michael Jordan

Mastering the Complex Sale – Webinar Dec. 14, 11 am ET
In this environment, all sales are complex! Jeff Thull, author of Mastering the Complex Sale (I named one of the top biz books the year it came out) is leading a webinar next Wed. More info here and below.

Unreasonable Hospitality – Simon Sinek Interview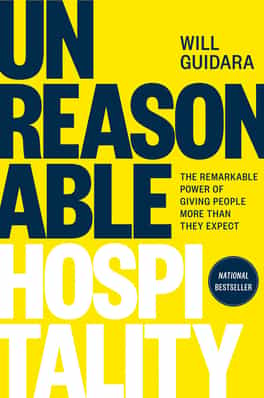 Will Guidara co-founded the #1 restaurant in the world, Eleven Madison Park. Today he's author of an outstanding book Unreasonable Hospitality which draws a clear distinction between service (transactional) and hospitality (how did it leave you feeling). This 33-minute Simon Sinek interview of Guidara is an entertaining and insightful look at this important distinction. Are you providing good/great service or going beyond to deliver hospitality? Go to 18:00 in the podcast for a great summary – and go to 14:00 for the very best hotdog story!!! Then listen to the rest!!

Steve Jobs Was Right – the Best Managers Don't Want to be Managers
This Inc. article shares science that backs up what Steve Jobs experienced decades ago. Notes Jobs in the article: 
We're going to be a big company, we thought. So let's hire "professional managers." We went out and hired a bunch of professional management, and it didn't work at all.
They knew how to manage, but they didn't know how to do anything.
With science confirming what Steve learned the hard way, the article goes on to note:
The next time you make a promotion decision, make sure you consider the great individual contributor who may not want to be a manager, but desperately wants to get things done.
Please take 2 minutes to read the details behind all this with examples. Who you choose to lead a team is a critical decision. Get it right!

Mother/Daughter Switch Roles – Double Revenues – Win "HIRE Vets" Award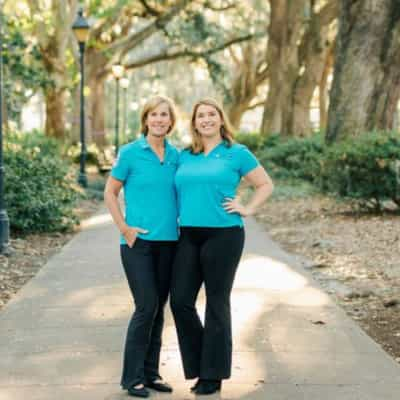 Our latest Scaleups.com article details how Savannah-based scDataCom doubled revenues the last 12 months since founder Alaina Meyer and her mom, colonel Kathleen Ford, brought on Scaling Up Coach Jennifer Berkowitz. Berkowitz first suggested the mother and daughter switch roles, which they did. A better advisory team, more frequent partial billing, a focus on process, and discovering the right core values to drive all decisions are some of the many Scaling Up tools/techniques Berkowitz has helped Meyer and Ford initiate. The result – twice the revenue with only 50% more people – a significant productivity gain. Please take 1-minute to read the details.

100 Greatest Innovations of 2022 – Popular Science
Topping the overall list is the James Webb Space Telescope (JWST). There are Grand Prize winners in each of 10 categories. The Automotive winner is Mercedes' Vision EQXX vehicle that has a range of 747 miles on half the battery weight – a 4x efficiency improvement, the same you can find inside your own organization's processes!! The Home and Sports categories were specifically interesting. Pls take 5 minutes to scan down thru the list, though like YouTube, you'll get distracted. Have fun and maybe some holiday gift ideas!!

Mastering the Complex Sale Webinar -- Dec 14, 11am ET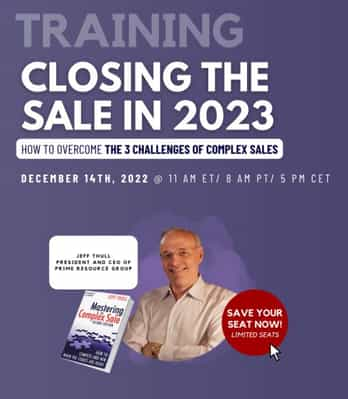 Selling in today's environment calls for a different approach, and there are 3 main challenges you need to be aware of. To show you exactly what those are and how to overcome them, we've invited world-class sales expert Jeff Thull to spill his secrets. Jeff is the man behind helping high-level businesses like Shell, 3M, Siemens, Boston Scientific, and HP scale to become some of the biggest brands in the world. On Wednesday, December 14th @ 11 AM ET, he'll dive deep into the exact process he used to make this happen. So, if you want to make this the year you separate from your competitors, then don't miss this training. Sign up here: https://hubs.li/Q01vhk7s0

Scaling Up Virtual Master Class – 3-Hours Each Day -- Dec 14 & 15
Energize and prepare for 2023 by having you and your team review the fundamentals of Scaling Up. Verne will lead a 3-hour session Dec 14 and 3 hours Dec 15 (with a 90-minute CEO-only session Dec 13). Over 80,000 firms are using our tools to scale with less drama, like the following firm which jump-started their use of our tools at a similar workshop (in-person vs. virtual). For more info and to register you and your team, go to this link.

Weekend Countdown – 1-Minute of Wisdom
Enjoy this kickoff to your weekend – some bits of wisdom from a fresh set of wise teachers, updated each weekend.
https://vimeo.com/showcase/weekendcountdown

Order a box of 20 Scaling Up books
Want to save 50% over the price on Amazon? Go to this link.

SCALING UP WORKSHOPS:
Engage your team with interactive workshops to optimize your company's performance.
(list of workshops below)

Denver, CO – Dec 15, 2022 (Virtual)
Denver, CO – Dec 19, 2022 (Virtual)
Amsterdam, The Netherlands – Jan 13, 202 (In-Person)
Hong Kong – Jan 18, 2023 (Virtual)
Toronto, Canada – Jan 19, 2023 (Virtual)
Columbus, Ohio – Jan 20, 2023 (In-Person & Virtual options)
Bengaluru/Hyderabad/India – Jan 25, 2023 (Virtual)
Ann Arbor, MI – Jan 26, 2022 (In-Person)
Amsterdam, The Netherlands – Feb 7, 2023 (In-Person)
Sydney, Australia – Feb 9, 2023 (Verne Live In-Person)
Sydney, Australia – Feb 10, 2023 (In Person)
Costa Mesa, CA – Feb. 16, 2023 (In-Person)
Toronto, Canada – Feb 16, 2023 (Virtual)
Washington, DC – Feb 22, 2023 (In-Person)
Toronto, Canada – March 16, 2023 (Virtual)
Hong Kong/Singapore – March 22, 2023 (Virtual)
Bengaluru/Hyderabad/India – March 29, 2023 (Virtual)

COACHING: 


Does it feel as if your business has hit a wall? If you don't see a clear path forward, it's a good time to bring in a coach.  All of our Scaling Up Certified Coaches™ are masters at guiding you and your leadership team through the implementation of the Scaling Up Performance. Our promise is a custom diagnostic approach from Day 1, including how we match you with a coach. We even have a team member dedicated to helping you find the perfect Scaling Up Certified Coach.™

Schedule a complimentary, personal follow-up. Or check out our FAQs. Additional questions can be sent to coaching@scalingup.com.

Your Brand as Marketing Powerhouse with a Forbes Books Content Partnership
If you want to be "top of mind" with your audience, then you need a strategy to build your authority in your field. Investing in media services with your personal brand can help you grow your audience and distinguish you as a trusted authority because you are educating, not selling. Learn how your brand can work harder for your business with a free brand audit.

EDUCATION: 
Growth Institute Online Executive Education:
Master of Business Dynamics
Scaling Up Master Business Course
Exponential Organizations Master Business Course
Topgrading Master Business Course

TECHNOLOGY: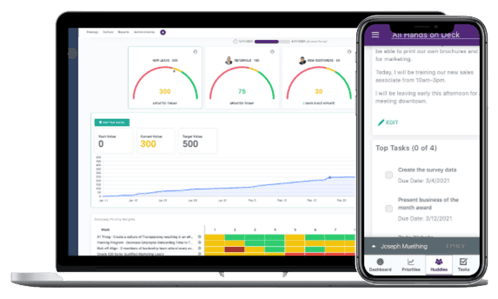 Scaling Up Scoreboard Integrated with Salesforce, Slack, and Zapier (allowing it to connect with 1000s of systems), use Scoreboard to provide your team (working remotely even more important!) a real-time visual dashboard of cascading priorities and metrics. Get a personalized tour of Scaling Up Scoreboard to see how you can use it to better implement Scaling Up in your business.

Better Book Club –
What's your team reading? Increase your books read per team member. Easy, Proven, and in the Cloud at http://www.BetterBookClub.com.

Planning to Exit?
It's the most critical decision a business owner will make in their lifetime – and over my 40 years of helping firms, I've seen owners taken advantage of time and time again – leaving tens of millions on the table. You're up against sophisticated buyers who have done hundreds of acquisitions – whereas this is often your first rodeo. And these buyers have a formula for ripping you off – and it works. Seeking help, owners find the big M&A firms, especially those specializing in your industry, are more beholden to the buyers than the sellers (they will tell you otherwise). They are not your friend in the process, just another transaction. Email me to get a white paper on what to avoid when exiting verne@scalingup.com.

Did you miss previous insights? - read here

Read Verne's Insights on Kindle http://www.amazon.com/gp/product/B003SX13YI

Follow Verne on Instagram: @scalingup2.0

Connect with Verne on LinkedIn: Verne Harnish

Follow Verne on Twitter: @agilescaleup

Sign up for Verne's Weekly Insights