I have two invisible tattoos, which are pieces of wisdom passed on to me by the late Peter Drucker. They are think first, speak last; and ask, don't tell.
                                                Frances Hesselbein

To Serve is to Live. This is my battle cry.
                                                Frances Hesselbein

Frances Hesselbein Dead at Age 107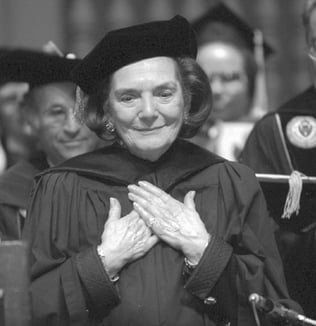 Revered by Peter Drucker, Jim Collins, and many others, the beloved longtime leader of the Girl Scouts of the USA passed away Sunday at the age of 107. This Chief Executive magazine article was one of her last interviews: 
On leading in disruptive times – key is community collaboration
On the employer-employee dynamic – requires "circular leadership" with everyone in the firm feeling heard and seen
On go-forward priorities – look deep into your organization and invest in the next generation of leaders
Please invest 2 minutes to read the article and soak up the details within each of her key points above. RIP Frances.

My Metal Business Card (Scaling Up Case Study)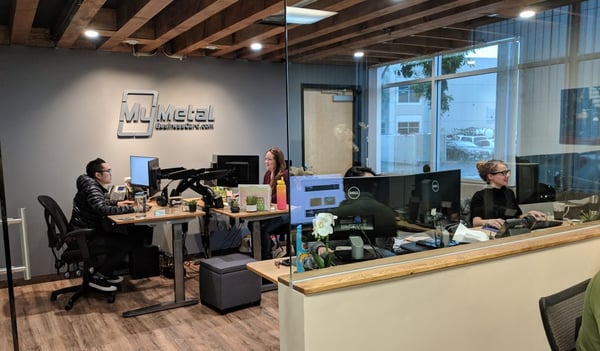 This Scaleups.com article details how Craig Martyn uses the Scaling Up tools, with the assistance of his coach David Chavez, to scale his 100-employee firm manufacturing metal business cards for top brands and VIP passes for musicians. A weekly review of "customer and employee hassles" keeps the team focused on continuous improvement which has helped the firm double revenues the past 36 months. Please take 2 minutes to read the three qualities Martyn looks for in all employees; his use of the OPSP; and how the Scaling Up Platform has empowered employees to make decisions, unburdening Martyn. Then get some metal business cards!!

Gamifying Core Values – Avoid the BUM Prize!! 
22-employee Concept Electrical Estimating (CEE) provides estimating services to electrical contractors. Based in Brunswick, VIC, each month the team decides on which team member lived the values each month. Then that member gets to spin the wheel (1 spin). The wheel has great prizes. Hotel nights, lunches, dinners, etc. BUT on one section is a bum prize. If you land on it, you have to clean the kitchen and take out the rubbish for a month. As luck would have it, the very first employee to win a "reward and recognition" spin landed on the 'cleaning and taking out rubbish' prize. Here's a video showing the moment it happened. And after a year he's the only one to win the "bum" prize. Thanks to their coach Jonathan Mond for sharing.

CEE's Visual of Values and Brand Promises
Here's a visual of their four core values – notice they are phrases, not single words – and each includes a description and visual symbol. I also like that it lists their three brand promises.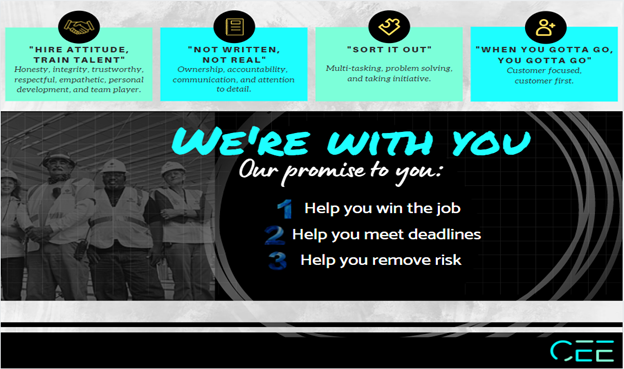 Weekend Countdown – 1-Minute of Wisdom
Enjoy this kickoff to your weekend – some bits of wisdom from a fresh set of wise teachers, updated each weekend.
https://vimeo.com/showcase/weekendcountdown

Order a box of 20 Scaling Up books
Want to save 50% over the price on Amazon? Go to this link.

TECHNOLOGY: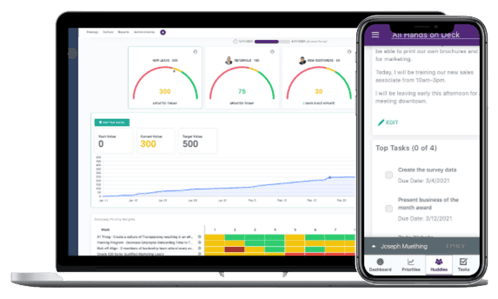 Scaling Up Scoreboard Integrated with Salesforce, Slack, and Zapier (allowing it to connect with 1000s of systems), use Scoreboard to provide your team (working remotely even more important!) a real-time visual dashboard of cascading priorities and metrics. Get a personalized tour of Scaling Up Scoreboard to see how you can use it to better implement Scaling Up in your business.

Have you considered becoming a Certified Scaling Up Coach?
Learn more about what it takes to certify and what being a coach is like. Pop into our Coach Office Hours to talk with our coach certification coordinator and a certified Scaling Up Coach. Learn More & Register for Office Hours here >

SCALING UP WORKSHOPS:
Engage your team with interactive workshops to optimize your company's performance.
(list of workshops below)

Denver, CO – Dec 19, 2022 (Virtual)
Amsterdam, The Netherlands – Jan 13, 202 (In-Person)
Hong Kong – Jan 18, 2023 (Virtual)
Toronto, Canada – Jan 19, 2023 (Virtual)
Columbus, Ohio – Jan 20, 2023 (In-Person & Virtual options)
Bengaluru/Hyderabad/India – Jan 25, 2023 (Virtual)
Ann Arbor, MI – Jan 26, 2022 (In-Person)
Amsterdam, The Netherlands – Feb 7, 2023 (In-Person)
Sydney, Australia – Feb 9, 2023 (Verne Live In-Person)
Sydney, Australia – Feb 10, 2023 (In Person)
Costa Mesa, CA – Feb. 16, 2023 (In-Person)
Toronto, Canada – Feb 16, 2023 (Virtual)
Washington, DC – Feb 22, 2023 (In-Person)
Toronto, Canada – March 16, 2023 (Virtual)
Hong Kong/Singapore – March 22, 2023 (Virtual)
Bengaluru/Hyderabad/India – March 29, 2023 (Virtual)

Your Brand as Marketing Powerhouse with a Forbes Books Content Partnership
If you want to be "top of mind" with your audience, then you need a strategy to build your authority in your field. Investing in media services with your personal brand can help you grow your audience and distinguish you as a trusted authority because you are educating, not selling. Learn how your brand can work harder for your business with a free brand audit.

COACHING: 


Does it feel as if your business has hit a wall? If you don't see a clear path forward, it's a good time to bring in a coach.  All of our Scaling Up Certified Coaches™ are masters at guiding you and your leadership team through the implementation of the Scaling Up Performance. Our promise is a custom diagnostic approach from Day 1, including how we match you with a coach. We even have a team member dedicated to helping you find the perfect Scaling Up Certified Coach.™

Schedule a complimentary, personal follow-up. Or check out our FAQs. Additional questions can be sent to [email protected].

EDUCATION: 
Growth Institute Online Executive Education:
Master of Business Dynamics
Scaling Up Master Business Course
Exponential Organizations Master Business Course
Topgrading Master Business Course

Better Book Club –
What's your team reading? Increase your books read per team member. Easy, Proven, and in the Cloud at http://www.BetterBookClub.com.

Planning to Exit?
It's the most critical decision a business owner will make in their lifetime – and over my 40 years of helping firms, I've seen owners taken advantage of time and time again – leaving tens of millions on the table. You're up against sophisticated buyers who have done hundreds of acquisitions – whereas this is often your first rodeo. And these buyers have a formula for ripping you off – and it works. Seeking help, owners find the big M&A firms, especially those specializing in your industry, are more beholden to the buyers than the sellers (they will tell you otherwise). They are not your friend in the process, just another transaction. Email me to get a white paper on what to avoid when exiting [email protected].

Did you miss previous insights? - read here

Read Verne's Insights on Kindle http://www.amazon.com/gp/product/B003SX13YI

Follow Verne on Instagram: @scalingup2.0

Connect with Verne on LinkedIn: Verne Harnish

Follow Verne on Twitter: @agilescaleup

Sign up for Verne's Weekly Insights