There's no shortage of remarkable ideas, what's missing is the will to execute them.
                                                Seth Godin

A skill is something you learn. Talent is what you can't help doing.
                                                Caroline Ghosen

Upcoming Executive Education Events 
More information and links to register below. And a discount on holiday decorations!!

Beating Inflation – Strong Book Recommendation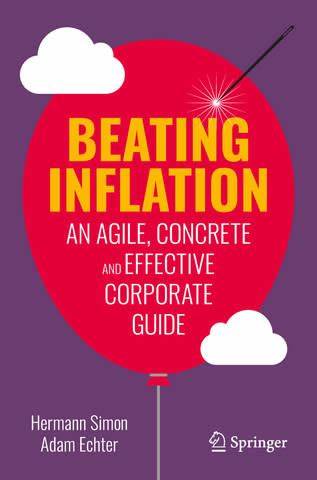 Pricing guru Hermann Simon has released an outstanding and critically important book titled Beating Inflation. Please, please, please read it – the 3-page Preface is a must, framing why simply raising prices during inflationary times could kill your business. He then goes on to detail the various strategies to use in combatting the worst inflation we've seen since the '70s. Most of us don't have the instincts or experience to navigate inflation – Simon and his firm do!! It's a very quick read and you can skip the first 2 chapters if needed.

Gold and Inflation
One historical note from Simon's book. It's not that the price of goods has inflated; it's that our money has been devalued and replaced with "fiat money." Notes Simon: 
In Rome 2000 years ago, a tailored tunic cost about an ounce of gold; today, you can get a tailored suit for an ounce of gold. The price of a garment measured in gold, has not changed significantly over 2000 years; the same is true of bread.
Simon also details how inflation is beneficial to governments, allowing them to pay back debt with devalued money and extract a greater percentage of taxes (in progressive tax systems) due to inflated wages. Inflation is in their best interest! High interest rates aren't.

Restaurants Adopting Dynamic Pricing Models – You Too?
This Nation's Restaurant News (NRN) article details how restaurants are adopting technologies that allow them to price dynamically, an option since menus and ordering systems have gone digital. Notes one of the users: 
For us, it was all about consumer reaction. The concern was if you're going to raise prices, you're going to sell less product and it turns out that really wasn't the case.
 The key is using machine learning (AI) to drive these decisions. Notes the article:
The whole idea is to leverage machine learning models to understand when to apply correct pricing based on demand – filling in slower time periods and increasing prices during peak hours to maximize profit and ease the burden on the kitchen.
Please take 2 minutes to read the details and then discuss how you're going to move to more dynamic pricing in your company/industry.

Wokuni -- Restaurant Recommendation 


Speaking of restaurants, last weekend, in NYC, I enjoyed the finest Japanese cuisine experience ever at Wokuni. Located in an unlikely spot (39th and Lexington), I was first struck by the beautiful build-out/ambiance. Owned by Scaling Up fan Daichi Sakamoto, he owns 80+ restaurants in Japan and this one in NYC! Their triad of sashimi tuna; the wagyu beef skewers; the finest of green tea; and surprisingly the best cheesecake I've tasted (not expected at a Japanese restaurant); the quality of every morsel is exquisite. Enjoy when you're next in NYC!

Help You Beat Inflation -- Balsam -- Product Recommendation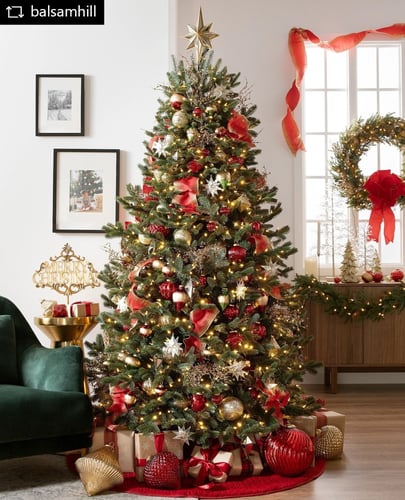 In need of the finest artificial Christmas trees and holiday decorations for the office or home(s)?  Balsam Brands is sharing an exclusive promotion code with the readers of this post to use at www.balsamhill.com: BALSAMHILLVH50 ($50 off $200 or more, valid through 12/19/2022). Balsam Brands has been utilizing the Scaling Up System for the last 5 years, leveraging Scaling up Coaches with a full-time coach. In that time, Balsam has averaged CAGR of over 20% revenue growth. While Scaling Up has guided the organization with its strategy, the company has found massive value in the execution of the meeting rhythms.

Stages of Growth – Webinar Dec 7, 3pm ET
Knowing your company's stage of growth and development helps you effectively allocate resources and make the best decisions. Learn more at Growth Institute's upcoming FREE webinar with one of Mexico's 100 best CEOs, Daniel Marcos, CEO of Growth Institute. Great companion course to Scaling Up. Dec 7 @ 3 pm. Save your seat here.

Scaling Up Virtual Master Class – 3-Hours Each Day -- Dec 14 & 15
Energize and prepare for 2023 by having you and your team review the fundamentals of Scaling Up. Verne will lead a 3-hour session Dec 14 and 3 hours Dec 15 (with a 90-minute CEO-only session Dec 13). Over 80,000 firms are using our tools to scale with less drama, like the following firm which jump-started their use of our tools at a similar workshop (in-person vs. virtual). For more info and to register you and your team, go to this link.

Chief Executive Magazine – Advanced Compensation Strategies Dec 15
Compensation is the #1 topic among CEOs as inflation is putting pressure on wages. Join me and two other compensation experts Dec 15, 1:30pm – 4pm ET for an in-depth look at some advanced compensation strategies which you can use to attract and retain better talent while lowering your total wage costs. Chief Executive will also share the results from their latest compensation data from 1400 private firms. For more information.

Sydney Scaling Up Summit – Feb 9, 2023 – Keep Playing to Win!
Hosted right on Sydney's magnificent Harbour at the International Convention Centre, we've curated a stunning lineup of successful CEOs and Leaders. And I'll be on stage the balance of the time presenting the latest in Scaling Up tools/techniques. We're also celebrating the "Revised Edition" of Scaling Up and the 20th Anniversary edition of Mastering the Rockefeller Habits in celebration of our 25th anniversary of helping firms scale up! Click to register. https://performance7.global/scaling-up-summit/  Early bird closes 7 December.

Weekend Countdown – 1-Minute of Wisdom
Enjoy this kickoff to your weekend – some bits of wisdom from a fresh set of wise teachers, updated each weekend.
https://vimeo.com/showcase/weekendcountdown

Order a box of 20 Scaling Up books
Want to save 50% over the price on Amazon? Go to this link.

SCALING UP WORKSHOPS:
Engage your team with interactive workshops to optimize your company's performance.
(list of workshops below)

Wilmington, NC - Dec 2, 2022 (In-Person)
Dallas, TX – Dec 8, 2022 (In-Person)
Denver, CO – Dec 15, 2022 (Virtual)
Denver, CO – Dec 19, 2022 (Virtual)
Amsterdam, The Netherlands – Jan 13, 202 (In-Person)
Hong Kong – Jan 18, 2023 (Virtual)
Toronto, Canada – Jan 19, 2023 (Virtual)
Columbus, Ohio – Jan 20, 2023 (In-Person & Virtual options)
Bengaluru/Hyderabad/India – Jan 25, 2023 (Virtual)
Ann Arbor, MI – Jan 26, 2022 (In-Person)
Amsterdam, The Netherlands – Feb 7, 2023 (In-Person)
Sydney, Australia – Feb 9, 2023 (Verne Live In-Person)
Sydney, Australia – Feb 10, 2023 (In Person)
Costa Mesa, CA – Feb. 16, 2023 (In-Person)
Toronto, Canada – Feb 16, 2023 (Virtual)
Washington, DC – Feb 22, 2023 (In-Person)
Toronto, Canada – March 16, 2023 (Virtual)
Hong Kong/Singapore – March 22, 2023 (Virtual)
Bengaluru/Hyderabad/India – March 29, 2023 (Virtual)

COACHING: 


Does it feel as if your business has hit a wall? If you don't see a clear path forward, it's a good time to bring in a coach.  All of our Scaling Up Certified Coaches™ are masters at guiding you and your leadership team through the implementation of the Scaling Up Performance. Our promise is a custom diagnostic approach from Day 1, including how we match you with a coach. We even have a team member dedicated to helping you find the perfect Scaling Up Certified Coach.™

Schedule a complimentary, personal follow-up. Or check out our FAQs. Additional questions can be sent to [email protected].

Become an Authority and Reduce Your Marketing Investment
Top leaders know that branding is not a luxury, it's a necessity. Becoming an authority means you and your brand are synonymous with trust and confidence. Growing brand equity translates to greater pricing power and the ability to reduce marketing costs. If you're interested in proven strategies to help outflank your competition and grow your audience, request a free copy of Authority Marketing. 

EDUCATION: 
Growth Institute Online Executive Education:
Master of Business Dynamics
Scaling Up Master Business Course
Exponential Organizations Master Business Course
Topgrading Master Business Course

TECHNOLOGY: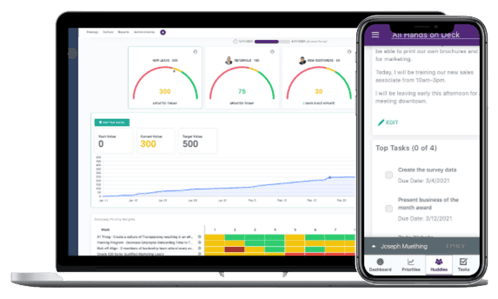 Scaling Up Scoreboard Integrated with Salesforce, Slack, and Zapier (allowing it to connect with 1000s of systems), use Scoreboard to provide your team (working remotely even more important!) a real-time visual dashboard of cascading priorities and metrics. Get a personalized tour of Scaling Up Scoreboard to see how you can use it to better implement Scaling Up in your business.

Better Book Club –
What's your team reading? Increase your books read per team member. Easy, Proven, and in the Cloud at http://www.BetterBookClub.com.

Planning to Exit?
It's the most critical decision a business owner will make in their lifetime – and over my 40 years of helping firms, I've seen owners taken advantage of time and time again – leaving tens of millions on the table. You're up against sophisticated buyers who have done hundreds of acquisitions – whereas this is often your first rodeo. And these buyers have a formula for ripping you off – and it works. Seeking help, owners find the big M&A firms, especially those specializing in your industry, are more beholden to the buyers than the sellers (they will tell you otherwise). They are not your friend in the process, just another transaction. Email me to get a white paper on what to avoid when exiting [email protected].

Did you miss previous insights? - read here

Read Verne's Insights on Kindle http://www.amazon.com/gp/product/B003SX13YI

Follow Verne on Instagram: @scalingup2.0

Connect with Verne on LinkedIn: Verne Harnish

Follow Verne on Twitter: @agilescaleup

Sign up for Verne's Weekly Insights