It always seems impossible, until it is done.
                                                Nelson Mandela
Life is either a daring adventure or nothing at all.
                                                Helen Keller

What's In It for Them – Released This Week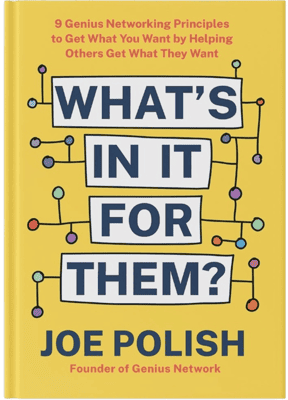 Likely the #1 biz book for 2022 (I haven't read a better book), I'm with Joe Polish this week at his 25k Genius Network event in Phoenix to celebrate the release of his new book What's in It for Them? You scale through relationships – yet connecting with people is often a painful experience for many. Thus, you miss out on crucial business opportunities (or love)! Please study this book to hone your relationship-building skills – the modern-day version of How to Win Friends and Influence People.

The Netflix of Cybersecurity (Scaling Up Case Study)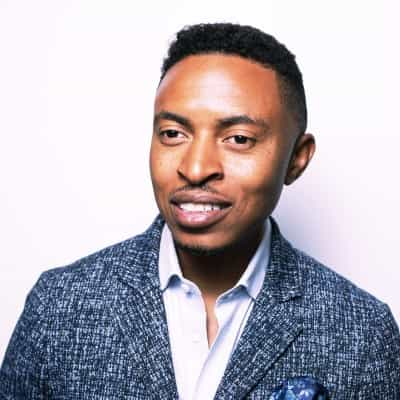 This ScaleUps.com article details how our Align/Scoreboard software and Scaling Up online training is helping Corey White scale his latest venture Cyvatar.ai. With impressive revenue growth and the disciplines from Rockefeller Habits 2.0, he's attracted $12 million in venture funding and is focused on making cybersecurity easy for firms without information security officers. Using Topgrading, he's hiring remote workers based on them having a growth vs. fixed mindset. Please take 1-minute to scan the article for more details. Then brush up on your Scaling Up, Topgrading, and other growth tools/techniques.

Winging It -- Why Leaders/Entrepreneurs Don't Plan
This Forbes article details why leaders fail to formally plan and prefer to "wing it." Specifically: 
…feelings of power increase an individual's level of confidence in their own opinions and perspectives so that they view risk as less risky. This means that they often fixate on potential rewards and ignore potential downsides. This could lead them to wing it.
Failing to plan is planning to fail. At a minimum, you're leaving a lot of money and time on the table just winging it. I hope you have a time scheduled to plan for 2023 (ours is Jan 5 – 7). Let us help with coaching, training, and a tech platform for tracking your KPIs, OKRs, and Priorities that costs less than two Starbucks/day.

Virtual Scaling Up Master Class – Dec 14 – 15 (6 hours total) 

Prepare you and your team for 2023 with a refresher on the Scaling Up/Rockefeller Habits 2.0 fundamentals. You don't learn to play golf or tennis in one lesson – the pros continue to hone the fundamentals over decades. Four 90-minute virtual sessions taught by me (Verne Harnish) – two on Dec 14 and two on Dec 15 – gather your team around a conference table or tune in remotely. And there is a CEO-only 90-minute session on Dec 13 included. For more information and to sign-up.

Mindvalley's Scaling Up Online Course – 22 Days to $1 million – Nov 6


Corey (above) took the Mindvalley-hosted Scaling Up course when launching his latest firm. Designed for start-ups to six-figure firms seeking to cross the $1 million mark (and qualify for EO membership), this 22-lesson mini-course (each lesson is roughly 15 minutes) is helping thousands of entrepreneurs scale their ventures. Next cohort launches Nov 6, but you can join at any time. For more info

Weekend Getaway Included
For every team that signs up for the virtual Scaling Up Master Class there is a free voucher for a weekend getaway (greater value than the team fee!): 
All 4-star or Greater Hotels
Over 35 destinations to choose from
Great for a couples' getaway
Weekend Countdown – 1-Minute of Wisdom
Enjoy this kickoff to your weekend – some bits of wisdom from a fresh set of wise teachers, updated each weekend.
https://vimeo.com/showcase/weekendcountdown

Order a box of 20 Scaling Up books
Want to save 50% over the price on Amazon? Go to this link.

Your Brand as Marketing Powerhouse with a Forbes Books Content Partnership
If you want to be "top of mind" with your audience, then you need a strategy to build your authority in your field. Investing in media services with your personal brand can help you grow your audience and distinguish you as a trusted authority because you are educating, not selling. Learn how your brand can work harder for your business with a free brand audit.

COACHING: 


Now is the time to start planning for a strong Q4 and 2023. Implementing Scaling Up is not an overnight process but you can see quick wins if you know where to start. Our Scaling Up Certified Coaches™ are masters at guiding you and your leadership team through the implementation of the Scaling Up Performance Program. Using our custom diagnostic approach from Day 1, we can match you with the right coach to help you scale faster.

We even have a team member dedicated to helping you find the perfect Scaling Up Certified Coach.™ Schedule a complimentary, personal follow-up. CLICK HERE! Or check out our FAQs.Additional questions can be sent to [email protected].

SCALING UP WORKSHOPS:
Engage your team with interactive workshops to optimize your company's performance.
(list of workshops below)

Boulder, CO – Nov 8, 2022 (Virtual)
Melbourne, Australia – Nov 8, 2022 (In-Person)
Indiana & Michigan – Nov 8, 2022 (Virtual)
Barcelona, Spain – Nov 9, 2022 (Virtual)
Toronto, Canada - Nov 10, 2022 (Virtual)
Salisbury, England – Nov 15, 2022 (In-Person)
Indiana & Michigan – Nov 16, 2022 (Virtual)
Boulder, CO – Nov 17, 2022 (Virtual)
Amsterdam, The Netherlands –Nov 17, 2022 (In-Person)
Melbourne, Australia – Nov 29, 2022 (In-Person)
Barcelona, Spain – Nov 30, 2022 (Virtual)
Toronto, Canada - Dec 1, 2022(Virtual)
Wilmington, NC - December 2, 2022 (In-Person)
Dallas, TX – Dec 8, 2022 (In-Person)
Columbus, Ohio – Jan 20, 2023 (In-Person & Virtual options)
Ann Arbor, MI – Jan 26, 2022 (In-Person)
Amsterdam, The Netherlands – Feb 7, 2023 (In-Person)
Washington, DC – Feb 21, 2023
Annapolis, MD – Mar 7, 2023 (In-Person)

TECHNOLOGY: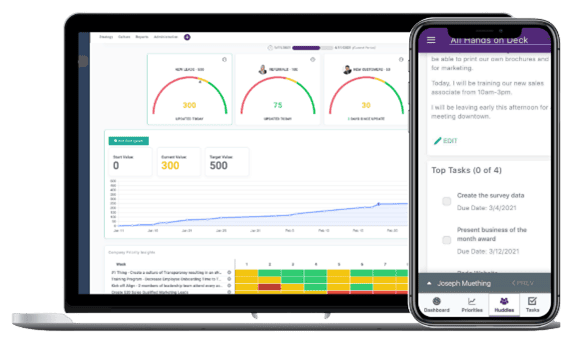 Scaling Up Scoreboard Integrated with Salesforce, Slack, and Zapier (allowing it to connect with 1000s of systems), use Scoreboard to provide your team (working remotely even more important!) a real-time visual dashboard of cascading priorities and metrics. Get a personalized tour of Scaling Up Scoreboard to see how you can use it to better implement Scaling Up in your business.

Better Book Club –
What's your team reading? Increase your books read per team member. Easy, Proven, and in the Cloud at http://www.BetterBookClub.com.

Planning to Exit?
It's the most critical decision a business owner will make in their lifetime – and over my 40 years of helping firms, I've seen owners taken advantage of time and time again – leaving tens of millions on the table. You're up against sophisticated buyers who have done hundreds of acquisitions – whereas this is often your first rodeo. And these buyers have a formula for ripping you off – and it works. Seeking help, owners find the big M&A firms, especially those specializing in your industry, are more beholden to the buyers than the sellers (they will tell you otherwise). They are not your friend in the process, just another transaction. Email me to get a white paper on what to avoid when exiting [email protected].

EDUCATION: 
Growth Institute Online Executive Education:
Master of Business Dynamics
Scaling Up Master Business Course
Exponential Organizations Master Business Course
Topgrading Master Business Course

Did you miss previous insights? - read here

Read Verne's Insights on Kindle http://www.amazon.com/gp/product/B003SX13YI

Follow Verne on Instagram: @scalingup2.0

Connect with Verne on LinkedIn: Verne Harnish

Follow Verne on Twitter: @agilescaleup

Sign up for Verne's Weekly Insights