When I see something messed up, I'm going to challenge it.
                                          Martha McSally, the first female combat pilot

Every bit of money, every bit of progress in life comes through the connections you make.
                                            Joe Polish, author of What's in It for Them?

Scales to $30 Million While Battling Cancer (Scaling Up Case Study)
This ScaleUps.com article details how Debi Davis's team at Scott Manufacturing Solutions scaled from $19.6 million to a projected $30 million in one year – and from being in the red for five years to profitability! Davis found out she had a highly aggressive form of endometrial cancer during our Vegas Scaling Up Master Class in Oct 2021. With the help of Scaling Up coach David Chavez, Davis and her team put together an aggressive plan to scale, fixed cash flow issues (including raising prices 30% - 80%), and started piecing together wins and celebrations, monthly, with the launch of "Scott's Feeling Lucky" Wheel of Fortune-like chances to win prizes. Cancer-free today, Davis is doubling down on the HA (Human Assets) in her firm. Please take 2-minutes to read her inspiring story and how her employees supported her thru the process.

Mark Zuckerberg Turns Up the Heat – More Aggressive Goals
I think Zuckerberg has nailed what all of us should be doing right now. In a memo to his team: 
"Realistically, there are probably a bunch of people at the company who shouldn't be here," Zuckerberg said. ". Part of my hope, by raising expectations and having more aggressive goals, and just kind of turning up the heat a little bit, is that I think some of you might decide that this place isn't for you, and that self-selection is OK with me."
Less people, paid more, with a lower total labor cost per gross margin dollar of revenue is the goal. Only A-players!!

Stanford Guru – "Organized Hybrid" is Working
This Fortune article highlights Stanford Prof Nick Bloom's research focused on remote workers and three companies he feels are getting it right – Salesforce, Lazard, and Elevance Health. Bloom labels the approach that's working "organized hybrid" (good to have a term!). The quick summary: 
One, ensure your team comes in on the same days; two, front-load those days with in-person meetings and events; three, promote cross-office Zoom meetings and "deep thinking" work on remote days; and four, relatively new hires should come in an extra day each week for mentoring.
Please take 1-minute to read.

Why We're Depressed? Million Dollar Racehorse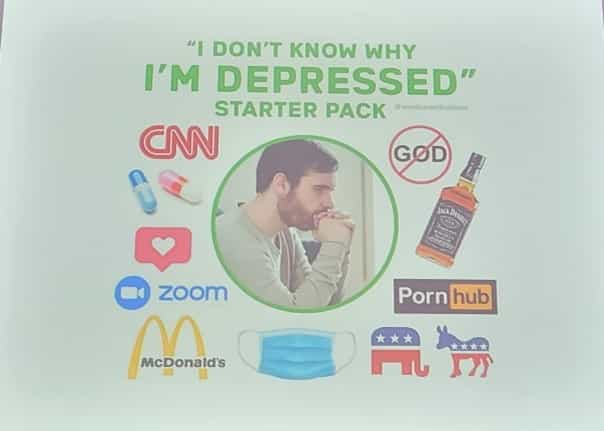 Marketing guru Joe Polish also keynoted our Summit this week. This slide from his PPT titled "I Don't Know Why I'm Depressed Starter Pack" is a good wake-up call. It's what we "stop doing" that is as important as what we start. This image provides good suggestions for where to start! As leaders of scaleups, Polish equated us to million-dollar racehorses. Would you pour booze down its throat? Feed it bad food? Leave it untrained/unexercised? We set the energy tone of our organization!! Get help/coached if needed – just do it!!

Stop Yelling at the TV and Do Something – Love vs. Fear
Retired colonel Martha McSally lit up our stage at the Scaling Up+ Summit. As the first female fighter pilot to fly in combat and the first female leader of a combat squadron, McSally encouraged all of us to face what we fear. And she admonished us to stop screaming at the TV and act! From suing the Secretary of Defense over an insane policy to acknowledging being raped by a superior, McSally has taken action to fight for what she thinks is right even when it's threatened her career. Approach all things from a perspective of love vs. fear. Where do you need to do this right now?

Weekend Countdown – 1-Minute of Wisdom
Enjoy this kickoff to your weekend – some bits of wisdom from a fresh set of wise teachers, updated each weekend.
https://vimeo.com/showcase/weekendcountdown

Order a box of 20 Scaling Up books
Want to save 50% over the price on Amazon? Go to this link.

TECHNOLOGY: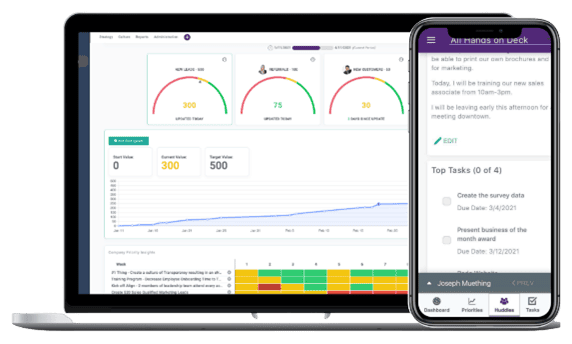 ScalingUp ScoreboardIntegrated with Salesforce, Slack, and Zapier (allowing it to connect with 1000s of systems), use Scoreboard to provide your team (working remotely even more important!) a real-time visual dashboard of cascading priorities and metrics. Get a personalized tour of Scaling Up Scoreboard to see how you can use it to better implement Scaling Up in your business.

Planning to Exit?
It's the most critical decision a business owner will make in their lifetime – and over my 40 years of helping firms, I've seen owners taken advantage of time and time again – leaving tens of millions on the table. You're up against sophisticated buyers who have done hundreds of acquisitions – whereas this is often your first rodeo. And these buyers have a formula for ripping you off – and it works. Seeking help, owners find the big M&A firms, especially those specializing in your industry, are more beholden to the buyers than the sellers (they will tell you otherwise). They are not your friend in the process, just another transaction. Email me to get a white paper on what to avoid when exiting [email protected].

EDUCATION: 
Growth Institute Online Executive Education:
Master of Business Dynamics
Scaling Up Master Business Course
Exponential Organizations Master Business Course
Topgrading Master Business Course

SCALING UP WORKSHOPS:
Engage your team with interactive workshops to optimize your company's performance.
(list of workshops below)

Singapore & Hong Kong – Oct 26, 2022 (Virtual)
Sydney, Australia – Nov 2, 2022 (In-Person)
Phoenix, AZ-  Nov 3, 2022 (In-Person)
Boulder, CO – Nov 8, 2022 (Virtual)
Melbourne, Australia – Nov 8, 2022 (In-Person)
Indiana & Michigan – Nov 8, 2022 (Virtual)
Barcelona, Spain – Nov 9, 2022 (Virtual)
Toronto, Canada - Nov 10, 2022 (Virtual)
Salisbury, England – Nov 15, 2022 (In-Person)
Indiana & Michigan – Nov 16, 2022 (Virtual)
Washington, DC – Nov 16, 2022
Boulder, CO – Nov 17, 2022 (Virtual)
Amsterdam, The Netherlands –Nov 17, 2022 (In-Person)
Melbourne, Australia – Nov 29, 2022 (In-Person)
Barcelona, Spain – Nov 30, 2022 (Virtual)
Toronto, Canada - Dec 1, 2022 (Virtual)
Wilmington, NC - December 2, 2022 (In-Person)
Dallas, TX – Dec 8, 2022 (In-Person)
Columbus, Ohio – Jan 20, 2023 (In-Person & Virtual options)
Annapolis, MD – Mar 7, 2023 (In-Person)

Better Book Club –
What's your team reading? Increase your books read per team member. Easy, Proven, and in the Cloud at http://www.BetterBookClub.com.

Write Your Own Book
Whether you want to make it to the bestseller lists or just sell a lot more of your goods or services, with a profound competitive edge over the competition, Book The Business: How to Make BIG Money With Your Book Without Selling a Single Copy is for you! Request your free copy of this ground-breaking book at advantagefamily.com/scalingup.

COACHING: 


Now is the time to start planning for a strong Q4 and 2023. Implementing Scaling Up is not an overnight process but you can see quick wins if you know where to start. Our Scaling Up Certified Coaches™ are masters at guiding you and your leadership team through the implementation of the Scaling Up Performance Program. Using our custom diagnostic approach from Day 1, we can match you with the right coach to help you scale faster.

We even have a team member dedicated to helping you find the perfect Scaling Up Certified Coach.™ Schedule a complimentary, personal follow-up. CLICK HERE! Or check out our FAQs. Additional questions can be sent to [email protected].

Did you miss previous insights? - read here

Read Verne's Insights on Kindle http://www.amazon.com/gp/product/B003SX13YI

Follow Verne on Instagram: @scalingup2.0

Coonect with Verne on LinkedIn: Verne Harnish

Sign up for Verne's Weekly Insights