The cost of something is measured by how much life you have to give for it.
              Henry David Thoreau

The key is not to prioritize what's on your schedule but to schedule your priorities.
              Stephen Covey

Firebrand Training Exits – Credits Daily Huddle 


Co-CEO/Co-Founder of London-based Firebrand Training Rob Chapman emailed "About 7 years ago we read Scaling Up and started methodically applying the lessons. On the 16th of June, we exited." During that time revenue doubled and profitability went from barely breakeven to double digits. Revenue per employee up 20% and NPS from 30+ to 55+. Today they offer 2000 IT training courses to over 130,000 in 45 countries. The key, when I asked Rob for "the one thing"? The daily huddle.

Rob Cont. – Value of Daily "Sparks"
Further notes Rob: 
If I had to pick one thing it would be the daily huddles (which we call Sparks). The shortening of decision cycles had a massive impact on our rhythm, sped us up, pointed the spotlight on accountability and fixed problems in the moment. The time saved by fixing problems quickly cannot be underestimated from the perspective of compounding benefits.
The rest of Rob's "keys to scaling" are listed below.

The #1 Question Driving Engagement/Results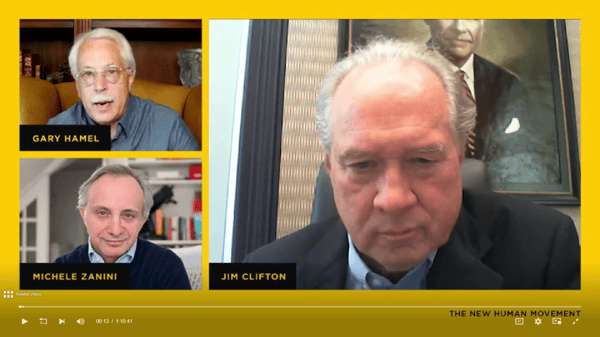 Several of you emailed that Gary Hamel's interview of Gallup CEO Jim Clifton had moved (still the best one-hour I've listened to all year). Here's the correct link. In the interview Clifton, whose organization has interviewed over 100 million workers around the globe, summarized the key to driving engagement/productivity: 
Employees do NOT want administrative-type managers – they want to be coached.
Their immediate supervisor/coach needs to ask them one question each week and then help.
That's it!! And what's the question? "What is your goal this week and what are the barriers to achieving it?" Can it be this simple? Please take time to listen to Clifton's interview.

Daily Alignment
This is why the daily huddle is so powerful. In essence, you're asking everyone in a daily huddle Clifton's key question every day! "What's Up/Priority" and "Stuck/Constraint." And checking in every day lets you see patterns in days instead of weeks – so opportunities don't evaporate, and issues don't grow.

Rob's List – A Good Checklist for Your Organization?
The parts of Scaling Up that really matter to us (not to say the rest isn't important)! 
Cash, the 1% rule (Power of One)
Values, Mission to Mars, & Culture
Meeting rhythm
What you measure gets done
Quarterly themes, with rewards
Staff and customer feedback
Accountability / responsibility
Anything by Jim Collins
One phrase strategy for making money
Hiring A players, Topgrading
Being "on" not "in" the business
Concluded Rob, "It's also a dialed-in certainty that we wouldn't have survived the pandemic, let alone exit 2 years later, if it wasn't for you. What you should be proud of is the amount of wealth you've created for others. Truly phenomenal." Thank you, Rob, it's a true labor of love!

Scaling Up Summit – Oct 18 – 19, Denver, CO
Hosted at the beautiful Denver Center for Performing Arts, we'll have first-class A/V to present four top celebrity CEOs and authors. And I'll be on stage the balance of the time (with optional evening work sessions) presenting the latest in Scaling Up tools/techniques. We'll also release the "Revised Edition" of Scaling Up and the 20th Anniversary edition of Mastering the Rockefeller Habits in celebration of our 25th anniversary of helping firms scaleup! Mark your calendars – an updated site to register. And if you're a CEO and attended in May, you get to attend for free if you bring along one additional person (new exec, team members, etc.).

Weekend Countdown – 1-Minute of Wisdom
Enjoy this kickoff to your weekend – some bits of wisdom from a fresh set of wise teachers, updated each weekend.
https://vimeo.com/showcase/weekendcountdown

Order a box of 20 Scaling Up books
Want to save 50% over the price on Amazon? Go to this link.

SCALING UP WORKSHOPS:
Engage your team with interactive workshops to optimize your company's performance.
(list of workshops below)

Louisville, KY – July 21, 2022 (Virtual)
Adelaide, Australia – July 26, 2022 (In-Person)
Melbourne, AUS – July 27, 2022 (In-Person Master Class)
Sydney, Australia – Aug 3, 2022 (In-Person)
Fort Myers, Florida – Aug. 9, 2022 (In-Person)
Toronto, Canada - Aug 11, 2022 (Virtual)
Nashville, TN – Aug 25, 2022 (Virtual)
Dallas, TX – Aug 25, 2022 (In-Person)
Scottsdale, AZ – Sept 1, 2022 (In-Person)
Toronto, Canada - Sep 8, 2022 (Virtual)
Amsterdam, The Netherlands – Sept 9, 2022 (In-Person Master Class)
San Diego, CA – Sep 13, 2022 (In-Person)
Melbourne, Australia – Sep 13, 2022 (In-Person)
New Orleans, LA – Sept 22, 2022 (Virtual)
Columbus, OH – Sep 23, 2022 (In-Person)
Buffalo / Niagara Falls Region, New York – Sep 23, 2022 (In-Person)
Brisbane, Australia – Oct 5, 2022 (In-Person)
Rochester, NY-  Oct 6, 2022 (in-Person)
Toowoomba, Australia – Oct 6, 2022 (In-Person)
Toronto, Canada - Oct 13, 2022 (Virtual)
Singapore & Hong Kong, China – Oct 19, 2022 (Virtual)
Singapore & Hong Kong, China – Oct 26, 2022 (Virtual)
Sydney, Australia – Oct 19, 2022 (In-Person)
Annapolis, MD – Oct 25, 2022 (In-Person)
Amsterdam, The Netherlands – Sept 27, 2022
Phoenix, AZ-  Nov 3, 2022 (In-Person)
Toronto, Canada - Nov 10, 2022 (Virtual)
Salisbury, England – Nov 15, 2022 (In-Person)
Melbourne, Australia – Nov 29, 2022 (In-Person)
Toronto, Canada - Dec 1, 2022 (Virtual)
Dallas, TX – Dec 8, 2022 (In-Person)

COACHING:
Are you wondering if working with a coach is right for you? Take our Four Decisions Assessment to learn which type of coach is best for you.
All of our Scaling Up Certified Coaches™ are masters at guiding you and your leadership team through the implementation of the Scaling Up Performance. But our promise is a custom diagnostic approach from Day 1, including how we match you with a coach.

We even have a team member dedicated to helping you find the perfect Scaling Up Certified Coach.™ Schedule a complimentary, personal follow-up. Or check out our FAQ's. Additional questions can be sent to coaching@scalingup.com.

EDUCATION: 
Growth Institute Online Executive Education:
Master of Business Dynamics
Scaling Up Master Business Course
Exponential Organizations Master Business Course
Topgrading Master Business Course

Planning to Exit?
It's the most critical decision a business owner will make in their lifetime – and over my 40 years of helping firms, I've seen owners taken advantage of time and time again – leaving tens of millions on the table. You're up against sophisticated buyers who have done hundreds of acquisitions – whereas this is often your first rodeo. And these buyers have a formula for ripping you off – and it works. Seeking help, owners find the big M&A firms, especially those specializing in your industry, are more beholden to the buyers than the sellers (they will tell you otherwise). They are not your friend in the process, just another transaction. Email me to get a white paper on what to avoid when exiting verne@scalingup.com.

TECHNOLOGY: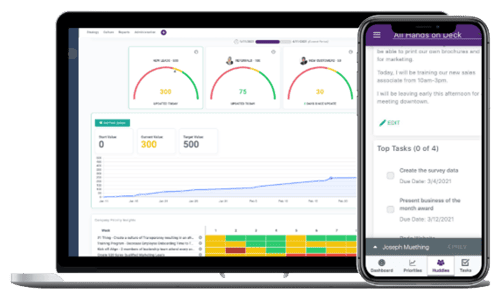 ScalingUp Scoreboard Integrated with Salesforce, Slack, and Zapier (allowing it to connect with 1000s of systems), use Scoreboard to provide your team (working remotely even more important!) a real-time visual dashboard of cascading priorities and metrics. Get a personalized tour of Scaling Up Scoreboard to see how you can use it to better implement Scaling Up in your business.

Better Book Club –
What's your team reading? Increase your books read per team member. Easy, Proven, and in the Cloud at http://www.BetterBookClub.com.

Write Your Own Book
Whether you want to make it to the bestseller lists or just sell a lot more of your goods or services, with a profound competitive edge over the competition, Book The Business: How to Make BIG Money With Your Book Without Selling a Single Copy is for you! Request your free copy of this ground-breaking book at advantagefamily.com/scalingup.

Did you miss previous insights? - read here

Read Verne's Insights on Kindle http://www.amazon.com/gp/product/B003SX13YI

Follow Verne on Instagram: @scalingup2.0

Sign up for Verne's Weekly Insights