(Cameron's on vacation – no quote video – but enjoy Seinfeld and Sheeran short videos!)

Brad Feld -- Building Effective Boards
Not just for startups, serial tech entrepreneurs and VC Brad Feld released, this week, his 2nd Edition of Startup Boards: A Field Guide to Building and Leading an Effective Board of Directors. Notes Brad: 
A lot has changed since the original book was published at the end of 2013 including the emphasis on independent board members, diversity at the board level, and openness to first-time or non-traditional board members.  We've also added a number of new voices to the book.
Professional Services Firm Exits $165 Million (Scaling Up Case Study)
This Scaleups.com article details how Greg Alexander utilized the Scaling Up Performance Platform to scale his sales advisory services firm, exiting to a PE firm for $165 million. Greg launched Sales Benchmark Index (now called SBI) in 2006 with his Georgia Tech classmate Aaron Bartels.

Daily Huddle – Again Key!! 3x Industry Profit
Implementing the daily huddle, utilizing the One-Page Strategic Plan (OPSP), and establishing Core Values, Greg and Aaron drove profitability to 3x their industry average with gross margins of 80% while scaling a compounded annual growth rate of 30% for a decade. Today Alexander helps other professional service firms scale through his firm Collective 54. Please take 2-minutes to read his story. And let us know if you're struggling with the daily huddle – one of our coaching partners will dial in for no charge to coach you through it. Hard to learn golf/tennis on your own – we're here to help!

Rule of 40 Back in Vogue
David Cummings, serial tech entrepreneur and founder of the 4th largest tech hub called Atlanta Tech Village, noted in his blog this week that the "rule of 40" is back given the recent collapse of the tech space. In short, a firm's growth rate plus profit margin should equal 40 i.e., 60% growth rate and -20% profit or 30% growth and 10% profit, etc. In an exchange with David, he also suggests it's a useful rule for scaleups, though maybe closer to 30?   How do you measure up against this benchmark? Clearly, Greg's professional services firm noted above, exceeded the rule of 40!! Again, let us help.

Seinfeld's 1-Minute Advice
It's all about having a performance system – enjoy this quick and fun Jerry Seinfeld moment!! And if you would like to get a deeper look into Jerry's system for creating his award-winning shows/acts, this Tim Ferriss segment (30 minutes) is worth the time. In short: 
He captures into a small notepad he carries with him
He processes the thoughts he captures and decides what, if anything, he should do with them
He organizes the results of the processing into a flow – He does this on a yellow legal pad (all freehand)
He reviews the material as he prepared to deliver it
He executes ("do") the stand-up routine, show, etc.
Thank you to Steelcase's Bob Hendriksen for sharing.

Ed Sheeran's 1-minute Advice
Singer-songwriter Ed Sheeran has an equally pithy piece of advice. Please take a minute to listen to his surprise recording– it's hideous and hilarious! Thanks to my son Cameron for sharing.

Order a box of 20 Scaling Up books
Want to save 50% over the price on Amazon? Go to this link.

SCALING UP WORKSHOPS:
Engage your team with interactive workshops to optimize your company's performance.
(list of workshops below)

India – June 22, 2022 (Virtual)
Salisbury, England -June 23, 2022 (In-Person)
Toronto, Canada - July 14, 2022 (Virtual)
Adelaide, Australia – July 26, 2022 (In-Person)
Melbourne, AUS – July 27, 2022 (In-Person Master Class)
Sydney, Australia – Aug 3, 2022 (In-Person)
Toronto, Canada - Aug 11, 2022 (Virtual)
Dallas, TX – Aug 25, 2022 (In-Person)
Toronto, Canada - Sep 8, 2022 (Virtual)
San Diego, CA – Sep 13, 2022 (In-Person)
Melbourne, Australia – Sep 13, 2022 (In-Person)
Columbus, OH – Sep 23, 2022 (In-Person)
Brisbane, Australia – Oct 5, 2022 (In-Person)
Toowoomba, Australia – Oct 6, 2022 (In-Person)
Toronto, Canada - Oct 13, 2022 (Virtual)
Sydney, Australia – Oct 26, 2022 (In-Person)
Toronto, Canada - Nov 10, 2022 (Virtual)
Salisbury, England – Nov 15, 2022 (In-Person)
Melbourne, Australia – Nov 29, 2022 (In-Person)
Toronto, Canada - Dec 1, 2022 (Virtual)

Planning to Exit?
It's the most critical decision a business owner will make in their lifetime – and over my 40 years of helping firms, I've seen owners taken advantage of time and time again – leaving tens of millions on the table. You're up against sophisticated buyers who have done hundreds of acquisitions – whereas this is often your first rodeo. And these buyers have a formula for ripping you off – and it works. Seeking help, owners find the big M&A firms, especially those specializing in your industry, are more beholden to the buyers than the sellers (they will tell you otherwise). They are not your friend in the process, just another transaction. Email me to get a white paper on what to avoid when exiting verne@scalingup.com.

COACHING:
Are you wondering if working with a coach is right for you? Take our Four Decisions Assessment to learn which type of coach is best for you.
All of our Scaling Up Certified Coaches™ are masters at guiding you and your leadership team through the implementation of the Scaling Up Performance. But our promise is a custom diagnostic approach from Day 1, including how we match you with a coach.

We even have a team member dedicated to helping you find the perfect Scaling Up Certified Coach.™ Schedule a complimentary, personal follow-up. Or check out our FAQ's. Additional questions can be sent to coaching@scalingup.com.

TECHNOLOGY: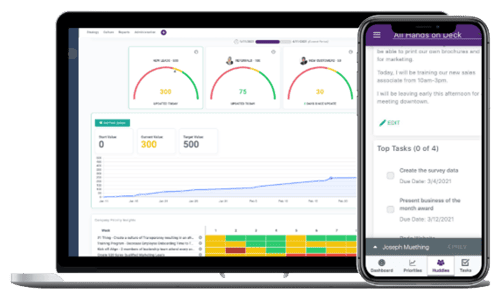 ScalingUp ScoreboardIntegrated with Salesforce, Slack, and Zapier (allowing it to connect with 1000s of systems), use Scoreboard to provide your team (working remotely even more important!) a real-time visual dashboard of cascading priorities and metrics. Get a personalized tour of Scaling Up Scoreboardto see how you can use it to better implement Scaling Up in your business.

EDUCATION: 
Growth Institute Online Executive Education:
Master of Business Dynamics
Scaling Up Master Business Course
Exponential Organizations Master Business Course
Topgrading Master Business Course

Better Book Club –
What's your team reading? Increase your books read per team member. Easy, Proven, and in the Cloud at http://www.BetterBookClub.com.

Write Your Own Book
Whether you want to make it to the bestseller lists or just sell a lot more of your goods or services, with a profound competitive edge over the competition, Book The Business: How to Make BIG Money With Your Book Without Selling a Single Copy is for you! Request your free copy of this ground-breaking book at advantagefamily.com/scalingup.

Did you miss previous insights? - read here

Read Verne's Insights on Kindle http://www.amazon.com/gp/product/B003SX13YI

Follow Verne on Instagram: @scalingup2.0

Sign up for Verne's Weekly Insights