Have no fear of perfection; you'll never reach it.
              Marie Curie

Selling is getting someone intellectually engaged in a future result that's good for them and getting them to emotionally commit to take action to achieve that result.
              Dan Sullivan

(Please take 10 minutes, grab a favorite beverage, and learn/enjoy)

Hiring Top Performers – Topgrading Webinar June 14, 12pm ET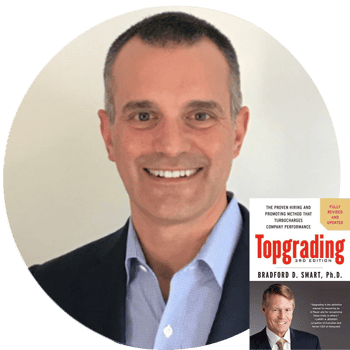 Hiring top performers is a challenge. Yet, it's possible to hire -- and retain -- top performers by making a few key changes to your recruiting, hiring, and engagement strategies. Our FREE webinar will show you how to find, hire, and engage your A-player team in 2022. Save Your Seat.

Inflation Easing – 3 Key Indicators
This Fortune article notes that shipping, fertilizer, and semiconductor chip prices are returning to normal levels – 3 key indicators that inflation is easing.

Frozen Drinks Africa – Deep Negative to 18% Profitability (Scaling Up Case Study)
Hit hard by the pandemic, with South Africa going into a hard lockdown, Wayne Spray's 25-year-old Frozen Drinks Africa business was on the verge of collapse. This ScaleUps.com article details how, with the help of Scaling Up coach Herb Cogliano, Wayne's team immediately upped their meeting rhythm with everyone in a daily huddle, bi-weekly meetings (Mondays and Fridays), monthly townhall meetings, and quarterly planning sessions.

Quicker Pulse, Quicker Decisions 
This quicker pulse at Frozen Drinks Africa drove quicker decisions to pivot to new sales channels, drive daily on their brand promise and KPIs, and ultimately return to pre-pandemic revenues (2022) with profitability that's gone from "deep negative" to 18%. Wayne also used Topgrading to bring on a new CFO and is taking a Conscious Capitalism approach to supporting his employees through training and development – providing them with opportunities they wouldn't otherwise experience. It's worth 2-minutes to read his inspiring story! (www.scaleups.com)

Insane Retention in Tough Industry
1.4% turnover of assistant managers; only 7 restaurant managers have left voluntarily over 33 years; fast-food chain Pal's defies all industry retention metrics. Notes this 2016 HBR article (sorry I missed this earlier!): 
…what can the rest of us learn from Pal's? First, the best companies hire for attitude and train for skill. Pal's 26 locations employ roughly 1,020 workers, 90 percent of whom are part-time, 40 percent of whom are between the ages of 16 and 18. It has developed and fine-tuned a screening system to evaluate candidates from this notoriously hard-to-manage demographic—a 60-point psychometric survey, based on the attitudes and attributes of Pal's star performers, that does an uncanny job of predicting who is most likely to succeed.
What precision are you bringing to the hiring process in your firm?

Pal's 10x Over Competition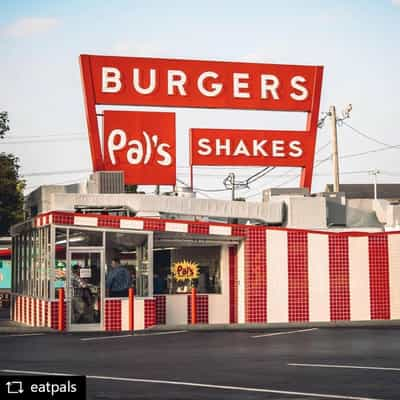 What is your 10x advantage over the competition? The HBR article goes on to note: 
Pal's makes a mistake only once in every 3,600 orders. That's ten times better the average fast-food joint, a level of excellence that creates unprecedented levels of customer loyalty, as well as loud acclaim from management experts. Indeed, back in 2001, Pal's became the first restaurant company of any kind to win the prestigious Malcolm Baldrige Quality Award—an award that's gone, over the years, to the likes of Cadillac, FedEx, and Ritz-Carlton.
120 Hours of Training is Key
New employees at Pal's receive 120 hours of training before they are allowed to work on their own – and must be certified in each job they do. Notes the HBR article:
Then, every day on every shift in every restaurant, a computer randomly generates the names of two to four employees to be recertified in one of their jobs—pop quizzes, if you will. They take a quick test, see whether they pass, and if they fail, get retrained for that job before they can do it again. (The average employee gets 2 or 3 pop quizzes per month.)
What is your onboarding and ongoing training process? Please take 2 minutes to read this HBR classic (and subscribe to HBR – it is the best biz pub!!).

Pal's Founder Pal Barger Passed Away 2020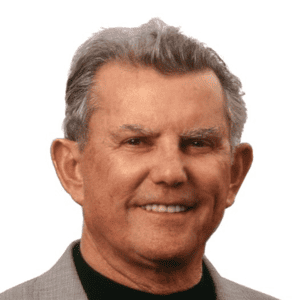 90 when he passed (eating good chili burgers and a Big Tea can't be that unhealthy!), Pal Barger had succession in place -- he had a system for everything. This 4-minute video is a classic – go to 3:00 for his secrets to success! It is often this simple!! Thank you to Scaling Up fan Tumwine Prosper Kahweza for sharing this wonderful story with me!! Next…
https://www.wjhl.com/news/local/pal-barger-founder-of-pals-sudden-service-dies-at-90/

…Bill Gates Top 5 Summer Books
Looking to take a break from biz books and enjoy some page-turning and insightful novels? Here's a list of Bill Gates recommended top 5 summer books.

Scaling Up's Growth Tools in Korean
The Scaling Up "Growth Tools" are now translated into Korean. Translating the book next. Access via the Growth Tools link next to the picture of the book on the homepage banner. www.scalingup.com

Weekend Countdown – 1-Minute of Wisdom
Enjoy this kickoff to your weekend – some bits of wisdom from a fresh set of wise teachers, updated each weekend.
https://vimeo.com/showcase/weekendcountdown

Order a box of 20 Scaling Up books
Want to save 50% over the price on Amazon? Go to this link.

SCALING UP WORKSHOPS:
Engage your team with interactive workshops to optimize your company's performance.
(list of workshops below)

Buffalo, NY - June 10, 2022 (In-Person)
Albuquerque, NM – June 14, 2022 (In-Person)
Hong Kong – June 15, 2022 (Virtual)
Hadley, MA - June 15, 2022 (In-Person or Virtual)
La Crosse, WI - June 15, 2022 (In-Person)
Melbourne, AUS – June 22, 2022 (In-Person Master Class)
India – June 22, 2022 (Virtual)
Salisbury, England -June 23, 2022 (In-Person)
Toronto, Canada - July 14, 2022 (Virtual)
Adelaide, Australia – July 26, 2022 (In-Person)
Sydney, Australia – Aug 3, 2022 (In-Person)
Toronto, Canada - Aug 11, 2022 (Virtual)
Dallas, TX – Aug 25, 2022 (In-Person)
Toronto, Canada - Sep 8, 2022 (Virtual)
San Diego, CA – Sep 13, 2022 (In-Person)
Melbourne, Australia – Sep 13, 2022 (In-Person)
Columbus, OH – Sep 23, 2022 (In-Person)
Brisbane, Australia – Oct 5, 2022 (In-Person)
Toowoomba, Australia – Oct 6, 2022 (In-Person)
Toronto, Canada - Oct 13, 2022 (Virtual)
Sydney, Australia – Oct 26, 2022 (In-Person)
Toronto, Canada - Nov 10, 2022 (Virtual)
Salisbury, England – Nov 15, 2022 (In-Person)
Melbourne, Australia – Nov 29, 2022 (In-Person)
Toronto, Canada - Dec 1, 2022 (Virtual)

EDUCATION: 
Growth Institute Online Executive Education:
Master of Business Dynamics
Scaling Up Master Business Course
Exponential Organizations Master Business Course
Topgrading Master Business Course

Planning to Exit?
It's the most critical decision a business owner will make in their lifetime – and over my 40 years of helping firms, I've seen owners taken advantage of time and time again – leaving tens of millions on the table. You're up against sophisticated buyers who have done hundreds of acquisitions – whereas this is often your first rodeo. And these buyers have a formula for ripping you off – and it works. Seeking help, owners find the big M&A firms, especially those specializing in your industry, are more beholden to the buyers than the sellers (they will tell you otherwise). They are not your friend in the process, just another transaction. Email me to get a white paper on what to avoid when exiting verne@scalingup.com.

TECHNOLOGY: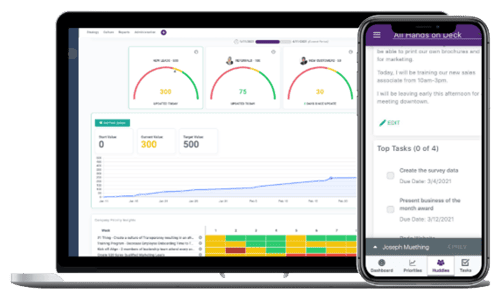 ScalingUp Scoreboard Integrated with Salesforce, Slack, and Zapier (allowing it to connect with 1000s of systems), use Scoreboard to provide your team (working remotely even more important!) a real-time visual dashboard of cascading priorities and metrics. Get a personalized tour of Scaling Up Scoreboard to see how you can use it to better implement Scaling Up in your business.

COACHING:
Are you wondering if working with a coach is right for you? Take our Four Decisions Assessment to learn which type of coach is best for you.
All of our Scaling Up Certified Coaches™ are masters at guiding you and your leadership team through the implementation of the Scaling Up Performance. But our promise is a custom diagnostic approach from Day 1, including how we match you with a coach.

We even have a team member dedicated to helping you find the perfect Scaling Up Certified Coach.™ Schedule a complimentary, personal follow-up. Or check out our FAQ's. Additional questions can be sent to coaching@scalingup.com.

Better Book Club –
What's your team reading? Increase your books read per team member. Easy, Proven, and in the Cloud at http://www.BetterBookClub.com.

Write Your Own Book
Whether you want to make it to the bestseller lists or just sell a lot more of your goods or services, with a profound competitive edge over the competition, Book The Business: How to Make BIG Money With Your Book Without Selling a Single Copy is for you! Request your free copy of this ground-breaking book at advantagefamily.com/scalingup.

Did you miss previous insights? - read here

Read Verne's Insights on Kindle http://www.amazon.com/gp/product/B003SX13YI

Follow Verne on Instagram: @scalingup2.0

Sign up for Verne's Weekly Insights