Wonder what your customer really wants? Ask. Don't tell.
               Lisa Stone

If you don't initiate the youth, they will burn down the village.
               African Proverb

3 Upcoming CEO Boot Camps – UK Sept 12-15; Vail Sept 20 – 23; YPO Nov 8 - 11
Limited to 8 CEOs and their #2s, it's an opportunity to spend small group time with me and a guest CEO for three intense days of learning, sharing, and fun in unique locations. A key focus, during my one-on-ones with each team, is to leverage my contacts (I'll often call an influencer while in the session) and knowledge to help each of you achieve a major leap in your business. Each boot camp has 3 or 4 spots left for a CEO and their #2. Details here.

Philippines Firm Scales Profit and New Product Line (Scaling Up Case Study)
This Scaleups.com article details how Dennis and Emily Balajadia, founders of Dragon Edge Group, added a line of clothing detergent for babies with sensitive skin as sales of their sunscreen products fell by 90% when beaches were closed in the Philippines. Today, with the help of Scaling Up coach Herb Cogliano, they are back to 2019 revenues and expect to double profits. Please take 1 minute to read how they improved operations, right-sized the team, scaled this new product line, and laser-focused on cash.

What Leaders Get Wrong About Resilience
This June HBR article expresses much of what I've felt is wrong when leaders admonish their teams to be resilient. First, everyone is tired of being resilient!! Second, it's not a character trait. Third, work first to eliminate what is causing the need for heroics (see "organizational debt" below). What you're striving for is a drama-free organization, easier when you have less, higher-paid, smart people – and you clean up your processes.   Thank you to serial entrepreneur and author of Outrageous Empowerment and Scaling Culture, Ron Lovett, for sharing this article. Hope you've read both of his books.

Organizational Debt
My key message of late, given the downturn and inflation, is to "right-size" the organization in terms of People and Process. Scaleups tend to build up a lot of "organizational debt" – like closets and garages getting junked up. This Medium article details some ways to eliminate organizational debt. The key? In preparation for the second half of 2022 survey your employees and ask them what we should start doing, stop doing, the keep doing? Then ask some customers. Both customers and employees experience this organizational debt firsthand!! Just ask!!

Like Removing Barnacles from a Ship
Thank you to Scaling Up coach Corwin Smith for sharing the above article. Notes Corwin: 
There's not nearly enough conversation about this "organizational debt" that we peel away as scaling up coaches. Like removing the barnacles from a ship so it flows through the water more smoothly.
What barnacles do you need to remove from your vessel to help your team more easily navigate the choppy waters?

Rites of Passage for Teen Boys (age 13 – 15) – Aug 5-7
A passion of mine, having taken my three sons through something similar, is Rites of Passage experiences for teen boys. This was at the heart of most previous cultures. Aug 5 – 7 at the Rolling Ridge Retreat Center in Harpers Ferry, WV (1700 acres of lush forest on the Appalachian Trail) is a program titled "First Rites – Young Men Rising", an introduction to Rites of Passage for men and their teen sons (ages 13 – 15). The cost is $300 to offset food and lodging. For more information https://www.illumandc.org/events/2022-first-rites

And you can email Dan Harris, the organizer, if you have specific questions -- pharris@me.com

Weekend Countdown – 1-Minute of Wisdom
Enjoy this kickoff to your weekend – some bits of wisdom from a fresh set of wise teachers, updated each weekend.
https://vimeo.com/showcase/weekendcountdown

Order a box of 20 Scaling Up books
Want to save 50% over the price on Amazon? Go to this link.

COACHING:
Are you wondering if working with a coach is right for you? Take our Four Decisions Assessment to learn which type of coach is best for you.
All of our Scaling Up Certified Coaches™ are masters at guiding you and your leadership team through the implementation of the Scaling Up Performance. But our promise is a custom diagnostic approach from Day 1, including how we match you with a coach.

We even have a team member dedicated to helping you find the perfect Scaling Up Certified Coach.™ Schedule a complimentary, personal follow-up. Or check out our FAQ's. Additional questions can be sent to coaching@scalingup.com.

TECHNOLOGY: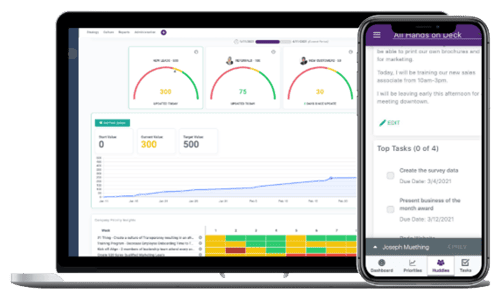 ScalingUp ScoreboardIntegrated with Salesforce, Slack, and Zapier (allowing it to connect with 1000s of systems), use Scoreboard to provide your team (working remotely even more important!) a real-time visual dashboard of cascading priorities and metrics. Get a personalized tour of Scaling Up Scoreboard to see how you can use it to better implement Scaling Up in your business.

SCALING UP WORKSHOPS:
Engage your team with interactive workshops to optimize your company's performance.
(list of workshops below)

Toronto, Canada - July 14, 2022 (Virtual)
Louisville, KY – July 21, 2022 (Virtual)
Adelaide, Australia – July 26, 2022 (In-Person)
Melbourne, AUS – July 27, 2022 (In-Person Master Class)
Sydney, Australia – Aug 3, 2022 (In-Person)
Toronto, Canada - Aug 11, 2022 (Virtual)
Nashville, TN – Aug 25, 2022 (Virtual)
Dallas, TX – Aug 25, 2022 (In-Person)
Toronto, Canada - Sep 8, 2022 (Virtual)
San Diego, CA – Sep 13, 2022 (In-Person)
Melbourne, Australia – Sep 13, 2022 (In-Person)
New Orleans, LA – Sept 22, 2022 (Virtual)
Columbus, OH – Sep 23, 2022 (In-Person)
Brisbane, Australia – Oct 5, 2022 (In-Person)
Rochester, NY-  Oct 6, 2022 (in-Person)
Toowoomba, Australia – Oct 6, 2022 (In-Person)
Toronto, Canada - Oct 13, 2022 (Virtual)
Annapolis, MD – Oct 25, 2022 (In-Person)
Sydney, Australia – Oct 26, 2022 (In-Person)
Phoenix, AZ-  Nov 3, 2022 (In-Person)
Toronto, Canada - Nov 10, 2022 (Virtual)
Salisbury, England – Nov 15, 2022 (In-Person)
Melbourne, Australia – Nov 29, 2022 (In-Person)
Toronto, Canada - Dec 1, 2022 (Virtual)
Dallas, TX – Dec 8, 2022 (In-Person)

Planning to Exit?
It's the most critical decision a business owner will make in their lifetime – and over my 40 years of helping firms, I've seen owners taken advantage of time and time again – leaving tens of millions on the table. You're up against sophisticated buyers who have done hundreds of acquisitions – whereas this is often your first rodeo. And these buyers have a formula for ripping you off – and it works. Seeking help, owners find the big M&A firms, especially those specializing in your industry, are more beholden to the buyers than the sellers (they will tell you otherwise). They are not your friend in the process, just another transaction. Email me to get a white paper on what to avoid when exiting verne@scalingup.com.

EDUCATION: 
Growth Institute Online Executive Education:
Master of Business Dynamics
Scaling Up Master Business Course
Exponential Organizations Master Business Course
Topgrading Master Business Course

Better Book Club –
What's your team reading? Increase your books read per team member. Easy, Proven, and in the Cloud at http://www.BetterBookClub.com.

Write Your Own Book
Whether you want to make it to the bestseller lists or just sell a lot more of your goods or services, with a profound competitive edge over the competition, Book The Business: How to Make BIG Money With Your Book Without Selling a Single Copy is for you! Request your free copy of this ground-breaking book at advantagefamily.com/scalingup.

Did you miss previous insights? - read here

Read Verne's Insights on Kindle http://www.amazon.com/gp/product/B003SX13YI

Follow Verne on Instagram: @scalingup2.0

Sign up for Verne's Weekly Insights