A professional does all parts of a job; an amateur does only the fun parts.
                                     Mountain Goat Software

Invitation to Female Founders in NYC – May 20
The #GoBigSummit hosted by Million Dollar Women is on May 20th in Manhattan and is the first in-person big event for women entrepreneurs since pre-pandemic! Join female founders who are scaling up. Network in person, learn from top industry experts about digital marketing, mindset and more, and watch five women pitch in the pitch competition. See full agenda and get your ticket at www.millionwomen.com/gobigsummit

New Energy Equity Attracts $165.5 Million Investment (Scaling Up Case study)
This Scaleups.com article highlights how solar firm New Energy Equity co-founder and CEO Matthew Hankey and his team have tripled profitability and scaled from 32 to 85 employees using the Scaling Up Performance Platform. With the support of Scaling Up Coach Greg Eisen since 2020, the firm just closed on a $165.5 million investment from ALLETE. Utilizing daily huddles, leading with Core Values and Purpose, and keeping everyone updated on big TV screens throughout their offices, New Energy Equity is doing all parts of Scaling Up.

New Energy's "Lift As We Climb" Foundation
New Energy Equity has added an element of fun to pursuing the company's Quarterly Goals by adopting Quarterly Themes. Often, these are built around entertaining competitions, where the prizes are experiential rewards for the organization and generous donations to charities. The Lift As We Climb Foundation, a charitable organization that the company's team created, resulted from one of these competitions. Employees presented to the New Energy Equity board of directors in a Shark Tank style competition their idea of how the company could support local organizations with "winnings" earned from achieving company goals set throughout the year. This year the Lift As We Climb Foundation has a goal to raise and donate $100,000 to these organizations.

Howard Schultz is Back Leading Starbucks
This Bloomberg article summarizes a 7-minute video Howard Schultz shared with employees upon his 3rd return as CEO of Starbucks (OK, I'm a little late with this story). His first order of business has been gathering first-hand intel via a series of employee meetings called "co-creation sessions." He hasn't been shy in criticizing what he's dubbed short-term decisions by the previous leadership putting Starbucks at long-term risk. He's promised to reverse this and make long-term decisions that will immediately benefit employees in the short run. Please take 1-minute to scan the article for some leadership insights/approaches.

19-Minute Leaked Video Featuring Schultz and Starbuck's Leadership Team
This badly labeled "leaked" video features Schultz and other executives addressing the employees. Pls watch the first few minutes – you'll see how a first-class CEO handles a series of delicate issues he's navigating as he attempts to turn the ship around. Learn through example.

Amateurs Have a Goal. Professionals Have a Process.
Amateurs have a goal. Professionals have a process. This is one of dozens of differences between having a professional vs. amateur mindset as outlined in this FS article. Here are a few more of my favorite: 
Amateurs focus on tearing other people down. Professionals focus on making everyone better.
Amateurs go with the first idea that comes into their heads. Professionals realize the first idea is rarely the best idea.
Amateurs show up inconsistently. Professionals show up every day.
Amateurs believe that the world should work the way they want it to. Professionals realize that they have to work with the world as they find it.
Please take 2-minutes to scan down through the list. It's a great list to read prior to a leadership team meeting or planning session. And please discuss with your children!

Difference Between Professionals and Amateurs
Researching the notion, especially during times of chaos (war, inflation, supply chain issues), that it's "no time for amateur hour" I came across the quote featured above. It reminded me how many of our competitors have dumbed down the Rockefeller Habits, de-emphasized the daily huddle, and claimed their process is simpler. Yet I'm thankful pilots and mechanics don't skip crucial steps in keeping us "drama-free." Be a pro!

(Registration Link Fixed!) May 18 Compensation Webinar – 12:22pm – 1:58pm ET
You can affect hundreds of percent top and bottom-line improvement by getting your compensation right – one of your largest expenses. My co-author Sebastian Ross will be joining me along with John Sommers of Allied Printing. Sign-up here.

Weekend Countdown – 1-Minute of Wisdom (speakers at Summit)
Enjoy this kickoff to your weekend – some bits of wisdom from a fresh set of wise teachers, updated each weekend.
https://vimeo.com/showcase/weekendcountdown

Order a box of 20 Scaling Up books
Want to save 50% over the price on Amazon? Go to this link.

COACHING:
Are you wondering if working with a coach is right for you? Take our Four Decisions Assessment to learn which type of coach is best for you.

All of our Scaling Up Certified Coaches™ are masters at guiding you and your leadership team through the implementation of the Scaling Up Performance. But our promise is a custom diagnostic approach from Day 1, including how we match you with a coach. 

We even have a team member dedicated to helping you find the perfect Scaling Up Certified Coach.™ Schedule a complimentary, personal follow-up. Or check out our FAQ's. Additional questions can be sent to coaching@scalingup.com.

SCALING UP WORKSHOPS:
Engage your team with interactive workshops to optimize your company's performance.
(list of workshops below)

Hadley, MA - May 19, 2022 (In-Person or Virtual)
Ann Arbor, MI – May 18, 2022 (In-Person)
Grand Rapids, MI - May 24, 2022 (In-Person)
London, UK – May 26, 2022 (In-Person)
Naples, FL - June 1, 2022 (In-Person)
Birmingham, AL - June 3, 2022 (In-Person)
Melbourne, Australia – June 7, 2022 (In-Person)
Amsterdam, NL – June 8, 2022
Toronto, Canada - June 9, 2022 (Virtual)
Buffalo, NY - June 10, 2022 (In-Person)
Albuquerque, NM – June 14, 2022 (In-Person)
Auckland, New Zealand – June 14 & 15, 2022 (In-Person 2 Day Master Class)
Hong Kong – June 15, 2022 (Virtual)
Hadley, MA - June 15, 2022 (In-Person or Virtual)
La Crosse, WI - June 15, 2022 (In-Person)
Melbourne, AUS – June 21, 2022 (In-Person Master Class)
India – June 22, 2022 (Virtual)
Salisbury, England -June 23, 2022 (In-Person)
Toronto, Canada - July 14, 2022 (Virtual)
Sydney, Australia – Aug 3, 2022 (In-Person)
Toronto, Canada - Aug 11, 2022 (Virtual)
Dallas, TX – Aug 25, 2022 (In-Person)
Toronto, Canada - Sep 8, 2022 (Virtual)
San Diego, CA – Sep 13, 2022 (In-Person)
Melbourne, Australia – Sep 13, 2022 (In-Person)
Columbus, OH – Sep 23, 2022 (In-Person)
Toronto, Canada - Oct 13, 2022 (Virtual)
Sydney, Australia – Oct 26, 2022 (In-Person)
Toronto, Canada - Nov 10, 2022 (Virtual)
Salisbury, England – Nov 15, 2022 (In-Person)
Melbourne, Australia – Nov 29, 2022 (In-Person)
Toronto, Canada - Dec 1, 2022 (Virtual)

TECHNOLOGY: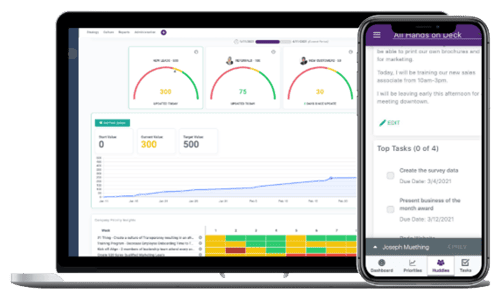 ScalingUp ScoreboardIntegrated with Salesforce, Slack, and Zapier (allowing it to connect with 1000s of systems), use Scoreboard to provide your team (working remotely even more important!) a real-time visual dashboard of cascading priorities and metrics. Get a personalized tour of Scaling Up Scoreboardto see how you can use it to better implement Scaling Up in your business.

Planning to Exit?
It's the most critical decision a business owner will make in their lifetime – and over my 40 years of helping firms, I've seen owners taken advantage of time and time again – leaving tens of millions on the table. You're up against sophisticated buyers who have done hundreds of acquisitions – whereas this is often your first rodeo. And these buyers have a formula for ripping you off – and it works. Seeking help, owners find the big M&A firms, especially those specializing in your industry, are more beholden to the buyers than the sellers (they will tell you otherwise). They are not your friend in the process, just another transaction. Email me to get a white paper on what to avoid when exiting verne@scalingup.com.

EDUCATION: 
Growth Institute Online Executive Education:
Master of Business Dynamics
Scaling Up Master Business Course
Exponential Organizations Master Business Course
Topgrading Master Business Course

Better Book Club –
What's your team reading? Increase your books read per team member. Easy, Proven, and in the Cloud at http://www.BetterBookClub.com.

Write Your Own Book
Whether you want to make it to the bestseller lists or just sell a lot more of your goods or services, with a profound competitive edge over the competition, Book The Business: How to Make BIG Money With Your Book Without Selling a Single Copy is for you! Request your free copy of this ground-breaking book at advantagefamily.com/scalingup.

Did you miss previous insights? - read here

Read Verne's Insights on Kindle http://www.amazon.com/gp/product/B003SX13YI

Follow Verne on Instagram: @scalingup2.0

Sign up for Verne's Weekly Insights