Celebrate what you want to see more of.
                                    Tom Peters

Your job as leader is to stay as close in touch as possible with those closest to the action.
                                    Kat Cole

YPO-Only Teams -- June 8-9, 2022 - Scaling Up New Orleans
Two team spots left, join other YPO-led executive teams for a fun and intense two days in New Orleans. This multi-award-winning Scaling Up (Rockefeller Habits 2.0) workshop hosted by YPO International (Steve Sansom Day Chair) and taught by me (Verne Harnish) and YPOer John Ratliff, has helped hundreds of YPO firms jumpstart and/or refresh their use of our tools/techniques in scaling without all the drama that comes with growth. We'll address hot topics like pricing, compensation, and the attraction/retention of talent. There is also plenty of networking and learning from each other's teams and evenings of "only in YPO" events including a Tuesday evening YPO member-only dinner in the famous Rex room (king of Mardi Gras).
Click here for event details and registration

More Than One Lesson – Golf, Tennis, Music, Dance
Why do biz leaders think if they read a book years ago or attended a workshop that they "learned" the subject? Any other activity, if you want to get good, requires years of lessons and lots of repetition. Same with Scaling Up. Below are listed dozens of additional Scaling Up workshops hosted around the globe for you and your teams to refresh your knowledge of our tools/techniques. Outlearn the competition!

Now this is a Core Customer Definition – Trader Joe's
Yes, Trader Joe's was founded by a guy named Joe– Joe Coulombe. This CNN piece shares some practical business insights from the founding of this iconic brand in 1967. It starts with Joe describing his core customer: 
I have an ideal audience in mind…This is a person who got a Fulbright scholarship, went to Europe for a couple of years, and developed a taste for something other than Velveeta, ordinary beer and Folgers coffee.
Understanding your core customer to this depth is important – not just some consultant exercise. Please grab your favorite beverage and enjoy additional (and entertaining) insights that have led to a niche store generating $16.5 billion via 530 locations. It's worth knowing some business history! Thx to Scaling Up coach Bill Gallagher for sharing.

How Can You Trust Marketing Claims? Blockchain!!
How much can we trust the hype and labels claiming freshness, sustainability, etc.? Peroni Beer's 12 brands are using blockchain and NFTs to prove to their customers they can validate their claims. This is going to be a KEY use of blockchain technology for all of us to use. Please take 2-minutes to scan this MIT Sloan School article and see where you should apply blockchain verification to your business. Thx to Scaling Up coaching partner Jonathon Mond for sharing with our community.

Most Important Skill to Look for in Hiring
This interview with Accenture CEO Julie Sweet explores several hiring and talent practices insightful for all of us (they've hired 200,000 in the last 18 months!):
When hiring, the most important skill Accenture looks for in any employee, regardless of their expertise level is the ability to learn.
Accenture uses AI to find out who in the organization can be reskilled to adapt the org to changing market needs (it's one of the tactics they use to answer talent demand). Within 6 months of the pandemic, they upskilled 100,000 employees.
Accenture does not experience a talent shortage because they use AI to predict what skills will be needed in the market in the future and they reskill their employees for that in advance.
It's a 39-minute HBR interview, so better to go on a walk, drive, or treadmill and listen. Thank you to Scaling Up coach Karol Popa for sharing.

Weekend Countdown – 1-Minute of Wisdom
Enjoy this kickoff to your weekend – some bits of wisdom from a fresh set of wise teachers, updated each weekend.
https://vimeo.com/showcase/weekendcountdown

Order a box of 20 Scaling Up books
Want to save 50% over the price on Amazon? Go to this link.

SCALING UP WORKSHOPS:
Engage your team with interactive workshops to optimize your company's performance.
(list of workshops below)

Grand Rapids, MI - May 24, 2022 (In-Person)
London, UK – May 26, 2022 (In-Person)
Naples, FL - June 1, 2022 (In-Person)
Birmingham, AL - June 3, 2022 (In-Person)
Melbourne, Australia – June 7, 2022 (In-Person)
Amsterdam, NL - June 7, 2022 (In-Person)
London, UK - June 8, 2022 (In-Person)
Amsterdam, NL – June 8, 2022
Toronto, Canada - June 9, 2022 (Virtual)
Buffalo, NY - June 10, 2022 (In-Person)
Albuquerque, NM – June 14, 2022 (In-Person)
Hong Kong – June 15, 2022 (Virtual)
Hadley, MA - June 15, 2022 (In-Person or Virtual)
La Crosse, WI - June 15, 2022 (In-Person)
Melbourne, AUS – June 21, 2022 (In-Person Master Class)
India – June 22, 2022 (Virtual)
Salisbury, England -June 23, 2022 (In-Person)
Toronto, Canada - July 14, 2022 (Virtual)
Sydney, Australia – Aug 3, 2022 (In-Person)
Toronto, Canada - Aug 11, 2022 (Virtual)
Dallas, TX – Aug 25, 2022 (In-Person)
Toronto, Canada - Sep 8, 2022 (Virtual)
San Diego, CA – Sep 13, 2022 (In-Person)
Melbourne, Australia – Sep 13, 2022 (In-Person)
Columbus, OH – Sep 23, 2022 (In-Person)
Toronto, Canada - Oct 13, 2022 (Virtual)
Sydney, Australia – Oct 26, 2022 (In-Person)
Toronto, Canada - Nov 10, 2022 (Virtual)
Salisbury, England – Nov 15, 2022 (In-Person)
Melbourne, Australia – Nov 29, 2022 (In-Person)
Toronto, Canada - Dec 1, 2022 (Virtual)

TECHNOLOGY: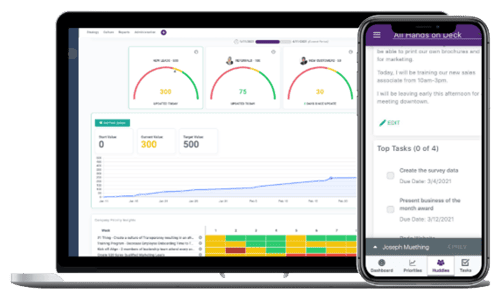 ScalingUp ScoreboardIntegrated with Salesforce, Slack, and Zapier (allowing it to connect with 1000s of systems), use Scoreboard to provide your team (working remotely even more important!) a real-time visual dashboard of cascading priorities and metrics. Get a personalized tour of Scaling Up Scoreboardto see how you can use it to better implement Scaling Up in your business.

Planning to Exit?
It's the most critical decision a business owner will make in their lifetime – and over my 40 years of helping firms, I've seen owners taken advantage of time and time again – leaving tens of millions on the table. You're up against sophisticated buyers who have done hundreds of acquisitions – whereas this is often your first rodeo. And these buyers have a formula for ripping you off – and it works. Seeking help, owners find the big M&A firms, especially those specializing in your industry, are more beholden to the buyers than the sellers (they will tell you otherwise). They are not your friend in the process, just another transaction. Email me to get a white paper on what to avoid when exiting verne@scalingup.com.

COACHING:
Are you wondering if working with a coach is right for you? Take our Four DecisionsAssessment to learn which type of coach is best for you.
All of our Scaling Up Certified Coaches™ are masters at guiding you and your leadership team through the implementation of the Scaling Up Performance. But our promise is a custom diagnostic approach from Day 1, including how we match you with a coach.

We even have a team member dedicated to helping you find the perfect Scaling Up Certified Coach.™ Schedule a complimentary, personal follow-up. Or check out our FAQ's. Additional questions can be sent to coaching@scalingup.com.

EDUCATION: 
Growth Institute Online Executive Education:
Master of Business Dynamics
Scaling Up Master Business Course
Exponential Organizations Master Business Course
Topgrading Master Business Course

Better Book Club –
What's your team reading? Increase your books read per team member. Easy, Proven, and in the Cloud at http://www.BetterBookClub.com.

Write Your Own Book
Whether you want to make it to the bestseller lists or just sell a lot more of your goods or services, with a profound competitive edge over the competition, Book The Business: How to Make BIG Money With Your Book Without Selling a Single Copy is for you! Request your free copy of this ground-breaking book at advantagefamily.com/scalingup.

Did you miss previous insights? - read here

Read Verne's Insights on Kindle http://www.amazon.com/gp/product/B003SX13YI

Follow Verne on Instagram: @scalingup2.0

Sign up for Verne's Weekly Insights