The function of leadership is to produce more leaders, not more followers.
                                            Ralph Nader

Logic will get you from A to B. Imagination will take you everywhere.
                                            Albert Einstein
Implementing Scaling Up (Rockefeller Habits 2.0) Webinar – March 17, 3pm ET
Join me for 45 minutes next Thursday, March 17, 3pm ET where I'll share the quickest and most effective ways to implement Scaling Up, generating 3x – 5x industry average profits and cash – while getting your life back! More info below…

How Scaling Up Saved Doug Wick's Life (case study)
Life changed overnight when Doug was diagnosed with an illness and given a 2% chance of surviving. Please take 2-minutes to read this Scaleups.com article (scaleups.com) detailing how he used the techniques of Scaling Up to both survive and thrive his bout with myeloid leukemia. Today Doug is a Scaling Up Certified coach, noting "When you're in the hospital and facing the possibility of dying, it brings about a whole different aspect to what your One Thing is and how committed you need to be to achieving that One Thing." This is why we do what we do.

Warren Buffett's Three Attributes for Hiring
This Inc. article highlights the three things Warren Buffett looks for in hiring anyone. Notes Buffett, "We look for intelligence, we look for initiative or energy, and we look for integrity. And if they don't have the latter, the first two will kill you, because if you're going to get someone without integrity, you want them lazy and dumb!" Please take 2-minutes to read the details on the three reasons he puts integrity ahead of everything else – and what you can expect (or not expect) from an employee when it comes to integrity.

Top 5 Reasons People Leave
Fortune reported this morning on why 4 million people are moving jobs in the US each month since last July -- the latest from Pew Research Center (I tend to trust their numbers). The top 5 reasons: 
First: It is about money. 37% of those surveyed gave "pay was too low" as a "major reason" they left, and 26% more said it was a "minor reason."
Second: Opportunity for advancement was cited by 33% as a major reason and 30% as a minor reason.
Third: Respect.  Feeling "disrespected at work" was a major reason for 35% and a minor reason for 21%.
Fourth: Childcare issues. That was a major issue for 24%, and a minor issue for 24%.
Fifth: Not enough flexibility to choose when to put in working hours. A major issue for 24%, and a minor issue for 21%.
Thank you to Scaling Up Coach Greg Eisen for sending me this info.

1/3 Left for Lower Pay!
Yesterday, at Bloomberg's Summit, it was noted that a third of people are leaving and taking lower-paying jobs. So, it's important to get your compensation right – perceived fairness is the key, the research is showing (and Principle 2 in Scaling Up Compensation). Then it's getting the other things right as mentioned above, along with the culture. BTW, "opportunity for advancement" can be code for "how can I earn more." That's why it's important to have wide pay bands for each position, with clear metrics on how someone can earn twice as much in the same position without having to move up in the organization.

3x – 5x industry average profits, doubling cash flow, and getting your life back!
This is my fourth decade of helping firms achieve these outsized results. We have over a hundred case studies on scaleups.com representing most industries and size firms. The tools and techniques we've curated have proven effective in over 80,000 organizations around the globe through the efforts of our over 200 coaching partners on six continents.

Implementing Scaling Up with Verne Harnish – March 17, 3pm ET
Join me next Thursday where I'll detail the easiest and most practical ways to implement Scaling Up. It shouldn't be a question of whether you should or shouldn't, 40 years of success has proven that. It's more, what's the sequence of steps/options. In this webinar, I'll share:
How our approach is supported by over 25 years of research
The 3 decisions that determine how quickly you can implement
The investment needed and expected ROI (return on investment)
Common mistakes teams make that stall implementation
An extensive Q&A session (willing to discuss competition)
Register now.

Weekend Countdown – 1-Minute of Wisdom
Enjoy this kickoff to your weekend – some bits of wisdom from a fresh set of wise teachers, updated each weekend.
https://vimeo.com/showcase/weekendcountdown

Order a box of 20 Scaling Up books
Want to save 50% over the price on Amazon? Go to this link.

COACHING:
We are over halfway through Q1, are you on track to meet your goals this year?
If not, consider working with a Coach! Scaling a company is hard, but you don't have to go it alone. Our Scaling Up Certified Coaches™ are masters at guiding you and your leadership team through the implementation of the Scaling Up Performance Platform, all with a custom and diagnostic approach to each unique company.

We even have a team member dedicated to helping you find the perfect Scaling Up Certified Coach.™ Schedule a complimentary, personal follow-up. CLICK HERE! Or check out our FAQ's. Additional questions can be sent to coaching@scalingup.com.

EDUCATION: 
Growth Institute Online Executive Education:
Master of Business Dynamics
Scaling Up Master Business Course
Exponential Organizations Master Business Course
Topgrading Master Business Course

Planning to Exit?
It's the most critical decision a business owner will make in their lifetime – and over my 40 years of helping firms I've seen owners taken advantage of time and time again – leaving tens of millions on the table. You're up against sophisticated buyers who have done hundreds of acquisitions – whereas this is often your first rodeo. And these buyers have a formula for ripping you off – and it works. Seeking help, owners find the big M&A firms, especially those specializing in your industry, are more beholden to the buyers than the sellers (they will tell you otherwise). They are not your friend in the process, just another transaction. Email me to get a white paper on what to avoid when exiting verne@scalingup.com.

TECHNOLOGY: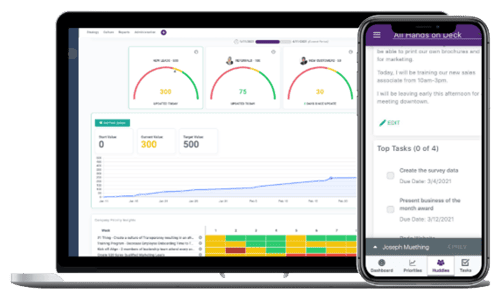 ScalingUp ScoreboardIntegrated with Salesforce, Slack, and Zapier (allowing it to connect with 1000s of systems), use Scoreboard to provide your team (working remotely even more important!) a real-time visual dashboard of cascading priorities and metrics. Get a personalized tour of Scaling Up Scoreboard to see how you can use it to better implement Scaling Up in your business.

We're still in business coaching and training firms:
Sydney, Australia – March 21 & 22, 2022 (2 Day In-Person Workshop)
Amsterdam – March 22, 2022 (New Cohort starts)
Brisbane, Australia – March 23, 2022 (In-Person)
Sydney, Australia – April 6, 2022 (In-Person)
Auckland, New Zealand – May 11 & 12, 2022 (In-Person 2 Day Master Class)
Melbourne, Australia – June 7, 2022 (In-Person)
Salisbury, England -June 23, 2022
Sydney, Australia – Aug 3, 2022 (In-Person)
Dallas, TX – Aug 25, 2022
Melbourne, Australia – Sep 13, 2022 (In-Person)
Sydney, Australia – Oct 6, 2022 (In-Person)
Salisbury, England – Nov 15, 2022
Melbourne, Australia – Nov 22, 2022 (In-Person)

Better Book Club –
What's your team reading? Increase your books read per team member. Easy, Proven, and in the Cloud at http://www.BetterBookClub.com.

Write Your Own Book
Whether you want to make it to the bestseller lists or just sell a lot more of your goods or services, with a profound competitive edge over the competition, Book The Business: How to Make BIG Money With Your Book Without Selling a Single Copy is for you! Request your free copy of this ground-breaking book at advantagefamily.com/scalingup.

Did you miss previous insights? - read here

Read Verne's Insights on Kindle http://www.amazon.com/gp/product/B003SX13YI

Follow Verne on Instagram: @scalingup2.0

Sign up for Verne's Weekly Insights