What makes you different or weird, that's your strength.
                                                Meryl Streep
The ants are not choking on smog or stuck in traffic. The fungi aren't counting carbon credits or worrying about the Pacific Garbage Patch. All have grown and prospered for hundreds of millions of years, through all kinds of radical change with the same metabolic needs we have. We know it can be done.
                                                Tamsin Woolley-Barker

4 Key Decisions for 2022 – Tuesday 4pm ET
Next Tuesday I'll share a clever place to find talent; what's the most important strategy decision to make; the three discipline fundamentals; and the best way to quickly increase cash flow – plus the biggest threat to our businesses as we sail into 2022. Join me for 90-minutes including Q&A time – no charge – here to help.

Fortune Future 50 List
Leading Fortune's Future 50 list is cybersecurity firm CrowdStrike Holdings. Also making the Top 10 -- Airbnb, DocuSign, and Block (the new name for Square, emphasizing their focus on supporting cryptocurrencies). For a glance into what is hot, take one minute to scan the list. Companies making peoples' lives safer and easier is a common thread – how could you do more of that to scale your business?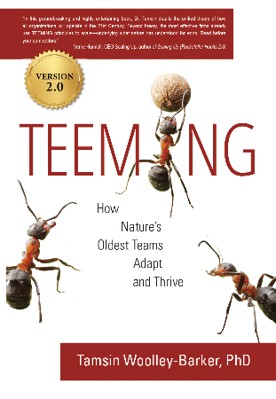 Teeming 2.0 Released Today
The most important book written for businesspeople this century, Dr. Tamsin Woolley-Barker significantly updated her original classic. Titled Teeming 2.0: How Nature's Oldest Teams Adapt and Thrive, her five principles for scaling any organization mirror what most unicorn companies have done to scale quicker – principles all of us can use to make it easier to scale.

Leading@Scale -- Feb 22, 2022 Joint YPO/EO Virtual Event
To bring these principles alive, the first-ever official joint YPO/EO event is set for Feb 22. Open to members and their teams, I'll be moderating a group of 8 keynoters including Warren Buffett's protégé' who scaled to 100,000 people NOT on her payroll; a YPOer who used the crowd to source $6 billion in gold; and the Oscar-winning production manager for My Octopus Teacher – all sharing lessons that align with Dr. Woolley-Barker's five principles. Offered at no charge – for more information and to register.

Free Book Offer – 1000 copies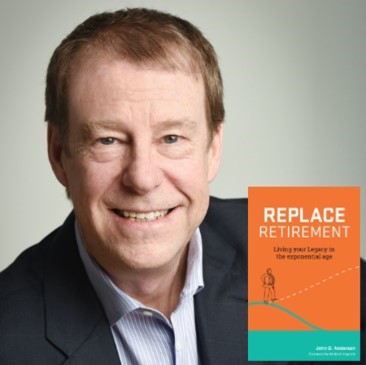 John Anderson, our first-ever coaching partner and author of Replace Retirement: Living Your Legacy, is giving away 1000 copies of his book for the holidays. In Replace Retirement, John teaches readers of all ages to look at their future through an exponential lens and create a purposeful, rewarding, and inspired plan, charting a course for a fuller, richer life today, and continue making the world a better place for years to come. Email him at john@replaceretirement.com with a shipping address. Thank you, John!

Weekend Countdown – 1-Minute of Wisdom
Enjoy this kickoff to your weekend – some bits of wisdom from a fresh set of wise teachers, updated each weekend.
https://vimeo.com/showcase/weekendcountdown

Order a box of 20 Scaling Up books
Want to save 50% over the price on Amazon? Go to this link.
Planning to Exit?
It's the most critical decision a business owner will make in their lifetime – and over my 40 years of helping firms I've seen owners taken advantage of time and time again – leaving tens of millions on the table. You're up against sophisticated buyers who have done hundreds of acquisitions – whereas this is often your first rodeo. And these buyers have a formula for ripping you off – and it works. Seeking help, owners find the big M&A firms, especially those specializing in your industry, are more beholden to the buyers than the sellers (they will tell you otherwise). They are not your friend in the process, just another transaction. Email me to get a white paper on what to avoid when exiting verne@scalingup.com.
TECHNOLOGY: 
ScalingUp Scoreboard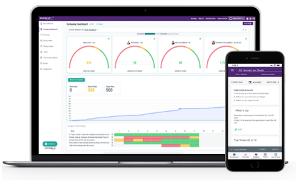 Integrated with Salesforce, Slack, and Zapier (allowing it to connect with 1000s of systems), use Scoreboard to provide your team (working remotely even more important!) a real time visual dashboard of cascading priorities and metrics. Get a personalized tour of Scaling Up Scoreboard to see how you can use it to better implement Scaling Up in your business.

EDUCATION: 
Growth Institute Online Executive Education:
Master of Business Dynamics
Scaling Up Master Business Course
Exponential Organizations Master Business Course
Topgrading Master Business Course

We're still in business coaching and training firms:
Chapel Hill, NC – Jan 19, 2022 (Virtual)
Ann Arbor, MI – Jan 27, 2022 (Virtual)
Indianapolis, IN– Feb 17, 2022 (Virtual)
Dallas, TX - Feb 24, 2022 (In-Person)
Brisbane, Australia – March 23, 2022 (In-Person)

Better Book Club –
What's your team reading? Increase your books read per team member. Easy, Proven, and in the Cloud at http://www.BetterBookClub.com.

Write Your Own Book
Whether you want to make it to the bestseller lists or just sell a lot more of your goods or services, with a profound competitive edge over the competition, Book The Business: How to Make BIG Money With Your Book Without Selling a Single Copy is for you! Request your free copy of this ground-breaking book at advantagefamily.com/scalingup.

COACHING:
Ready to scale but looking for guidance?
Work with a Coach! Scaling a company is hard, but you don't have to go it alone. Our Scaling Up Certified Coaches™ are masters at guiding you and your leadership team through the implementation of the Scaling Up Operating system, all with a custom and diagnostic approach to each unique company. 
Learn more about what it's like to work with a Scaling Up Certified Coach™ by scheduling a complimentary, personal follow-up. CLICK HERE! Or check out our FAQ's. Additional questions can be sent to coaching@scalingup.com. 

Did you miss previous insights? - read here

Read Verne's Insights on Kindle http://www.amazon.com/gp/product/B003SX13YI 

Follow Verne on Instagram: @scalingup2.0