Gratitude is riches. Complaining is poverty.
                                                  Doris Day
And though I ebb in worth, I'll flow in thanks.
                                                  John Taylor

CEO Boot Camp – Jan 11 – 14
2 spots left for CEOs and their #2. Join Verne Harnish and John Ratliff, along with 6 other CEOs/#2s, for 3 intense days of working on the business in preparation for 2022. www.ceo-bootcamp.com

Politeness vs. Kindness – Important Distinction
Please read this a few times -- quoting Adam Grant this week "With Thanksgiving approaching in the U.S., it's worth remembering that politeness is not the same as kindness. Being polite is saying what makes people feel good today. Being kind is doing what helps people get better tomorrow. In polite cultures, people bite their tongues on disagreement and criticism. In kind cultures, people speak their minds respectfully.

Bill Gates' Top 5 Books
Notes Bill in his blog: "My holiday reading list this year includes two terrific science fiction stories. One takes place nearly 12 light-years away from our sun, and the other is set right here in the United States—but both made me think about how people can use technology to respond to challenges. I've also included a pair of non-fiction books about cutting-edge science and a novel that made me look at one of history's most famous figures in a new light." 

Hourly Workers Millionaires
From Forbes this week: "Food maker Chobani has filed to go public, an event that could lead some of its hourly workers to make $1 million or more in stock awards—an uncommon outcome in an industry rarely lauded for its treatment of employees." This is the new competition for workers – and why I'm pushing industries to rollup and go public via SPACs. We need this equity arrow in our quiver of compensation tools – something we've added to our Scaling Up Master Class teachings.

Week of Giving Thanks
It's a short week in the US with my favorite holiday of the year – Thanksgiving. This is the week we prepare our list of top influencers (150), gather updated mailing addresses, and choose our annual gift – this year the famous Tom Cruise Bundt Cake. I added his example to my presentation on the topic this year and through this would be a great way to reinforce the importance of every firm making a list, checking it twice, and rewarding those that have been nice to you!

Weekend Countdown – 1-Minute of Wisdom
Enjoy this kickoff to your weekend – some bits of wisdom from a fresh set of wise teachers, updated each weekend.
https://vimeo.com/showcase/weekendcountdown

Order a box of 20 Scaling Up books
Want to save 50% over the price on Amazon? Go to this link.
Planning to Exit?
It's the most critical decision a business owner will make in their lifetime – and over my 40 years of helping firms I've seen owners taken advantage of time and time again – leaving tens of millions on the table. You're up against sophisticated buyers who have done hundreds of acquisitions – whereas this is often your first rodeo. And these buyers have a formula for ripping you off – and it works. Seeking help, owners find the big M&A firms, especially those specializing in your industry, are more beholden to the buyers than the sellers (they will tell you otherwise). They are not your friend in the process, just another transaction. Email me to get a white paper on what to avoid when exiting [email protected].
TECHNOLOGY: 
ScalingUp Scoreboard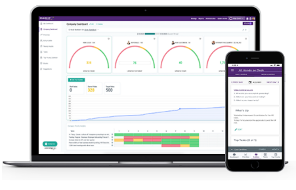 Integrated with Salesforce, Slack, and Zapier (allowing it to connect with 1000s of systems), use Scoreboard to provide your team (working remotely even more important!) a real time visual dashboard of cascading priorities and metrics. Get a personalized tour of Scaling Up Scoreboard to see how you can use it to better implement Scaling Up in your business.

EDUCATION: 
Growth Institute Online Executive Education:
Master of Business Dynamics
Scaling Up Master Business Course
Exponential Organizations Master Business Course
Topgrading Master Business Course

We're still in business coaching and training firms:
London, UK - Nov 25, 2021 (in-person)
Ann Arbor, MI – Jan 27, 2022 (Virtual)
Indianapolis, IN– Feb 17, 2022 (Virtual)
Dallas, TX - Feb 24, 2022 (In-Person)
Brisbane, Australia – March 23, 2022 (In-Person)

Better Book Club –
What's your team reading? Increase your books read per team member. Easy, Proven, and in the Cloud at http://www.BetterBookClub.com.

Write Your Own Book
Whether you want to make it to the bestseller lists or just sell a lot more of your goods or services, with a profound competitive edge over the competition, Book The Business: How to Make BIG Money With Your Book Without Selling a Single Copy is for you! Request your free copy of this ground-breaking book at advantagefamily.com/scalingup.

COACHING:
Ready to scale but looking for guidance?
Work with a Coach! Scaling a company is hard, but you don't have to go it alone. Our Scaling Up Certified Coaches™ are masters at guiding you and your leadership team through the implementation of the Scaling Up Operating system, all with a custom and diagnostic approach to each unique company. 
Learn more about what it's like to work with a Scaling Up Certified Coach™ by scheduling a complimentary, personal follow-up. CLICK HERE! Or check out our FAQ's. Additional questions can be sent to [email protected]. 

Did you miss previous insights? - read here

Read Verne's Insights on Kindle http://www.amazon.com/gp/product/B003SX13YI 

Follow Verne on Instagram: @scalingup2.0