We tend to believe that things are impossible that are very possible.
                                                  Jim McKelvey, co-founder Square
Don't just look to change your business, look to change your industry.
                                                  Ron Lovett, serial entrepreneur and author of Scaling Culture
Scaling Up+ Summit Today – 3:21pm – 5:05pm ET
Register for free includes replay. Billionaire Jim McKelvey; Liz Wiseman; Ron Lovett; and Eric Partaker – four accomplished biz leaders with outstanding new books. Outlearn the competition in 90 minutes – with a fun "Happy Half-Hour" with SongDivision at 5:05 pm ET. Join the over 2800 CEOs/CXOs registered.
CEO Jill Belconis, 30-year Veteran of Biz, Makes a Pivot
Many YPOers know Jill Belconis as the first woman International Chair of YPO. This article details how after scaling 500-employee Shelter Mortgage as CEO and exiting to a PE firm, Belconis began getting calls to help other biz leaders. Choosing to certify with Scaling Up, because it wasn't prescriptive like other approaches, today Belconis has a thriving coaching practice – a path many other accomplished CEOs have taken with Scaling Up. Please take two minutes to read how Belconis made the transition and then email me if interested in doing something similar verne@scalingup.com.
Hagerty's Evolution as Leader and Company
Another former YPO International Chair, McKeel Hagerty is CEO of a family business that went from basement startup insuring wooden boats to a public powerhouse valued at $3 billion, having just gone public via a SPAC. This article details their journey as a business. Coached by Scaling Up Coach Andy Bailey, McKeel first engaged us by attending our CEO Boot Camp (www.ceo-bootcamp.com) as he was coming off his chairmanship of YPO. Please take 3-minutes to read this inspiring story.
Tony Lee, CEO of Taiwan-based Sintai Group (Scaling Up Case study)
After bringing his team to the Scaling Up Master Class in Shenzhen, China, outdoor furniture manufacturer CEO Tony Lee attempted a DIY approach to implementing the tools/techniques. As he notes at the 2:30 mark in this video (with Mandarin subtitles) "So we tried for six months and then this thing just disappeared into thin air like a lot of the practices I tried to initiate in the company." That's when he brought on Jeremy Han, one of our Scaling UP coaching partners in Southeast Asia.
It's About Momentum – Doubles Revenues in 24 Months (Sintai Case Continued)
Tony is very open in this short video about the difficulties of implementing a new way of scaling a company – old habits are hard to change. And "we only know what we know." The course was the catalyst, and the coach was the support. In the end, after what is still an ongoing 2-year engagement, Sintai doubled revenues. Notes Tony "we used the momentum of someone outside to help us build a new momentum inside."
3 Sales Growth Principles with Jack Daly – Oct 28 Virtual Workshop
Have your head of sales attend hyper sales growth guru Jack Daly's workshop next Thursday. When it comes to growing sales, a change in tactics can give you great short-term results.
But what about a big-picture view of your sales systems, processes, and culture? For over 30 years, Jack has been growing sales organizations and bottom lines in small businesses and large organizations. And next Thursday, he'll share the 3 biggest sales growth principles behind that success in this free live training. If you're ready to get serious about your sales engine; register for the training here: https://hubs.li/H0ZnQxP0
Weekend Countdown – 1-Minute of Wisdom
Enjoy this kickoff to your weekend – some bits of wisdom from a fresh set of wise teachers, updated each weekend.
https://vimeo.com/showcase/weekendcountdown
Order a box of 20 Scaling Up books
Want to save 50% over the price on Amazon? Go to this link.
Planning to Exit?
It's the most critical decision a business owner will make in their lifetime – and over my 40 years of helping firms I've seen owners taken advantage of time and time again – leaving tens of millions on the table. You're up against sophisticated buyers who have done hundreds of acquisitions – whereas this is often your first rodeo. And these buyers have a formula for ripping you off – and it works. Seeking help, owners find the big M&A firms, especially those specializing in your industry, are more beholden to the buyers than the sellers (they will tell you otherwise). They are not your friend in the process, just another transaction. Email me to get a white paper on what to avoid when exiting verne@scalingup.com.
TECHNOLOGY: 
ScalingUp Scoreboard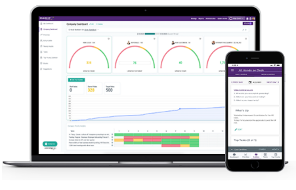 Integrated with Salesforce, Slack, and Zapier (allowing it to connect with 1000s of systems), use Scoreboard to provide your team (working remotely even more important!) a real time visual dashboard of cascading priorities and metrics. Get a personalized tour of Scaling Up Scoreboard to see how you can use it to better implement Scaling Up in your business.

EDUCATION: 
Growth Institute Online Executive Education:
Master of Business Dynamics
Scaling Up Master Business Course
Exponential Organizations Master Business Course
Topgrading Master Business Course

We're still in business coaching and training firms:
Annapolis, MD - Oct 26, 2021 (Virtual)
Vancouver, BC - Oct 27, 2021
West Chester, PA - Oct 27, 2021 (In-Person)
Lowell, Michigan - Nov 4, 2021
Sydney, Australia - Nov 17, 2021 (In-Person)
Salisbury, England - Nov 18, 2021
The New Forest/Wiltshire, England – Nov 18, 2021
Melbourne, VIC, AUS - Nov 23, 2021 (Virtual)
Dallas, TX - Feb 24, 2022 (In-Person)

Better Book Club –
What's your team reading? Increase your books read per team member. Easy, Proven, and in the Cloud at http://www.BetterBookClub.com.

Write Your Own Book
Whether you want to make it to the bestseller lists or just sell a lot more of your goods or services, with a profound competitive edge over the competition, Book The Business: How to Make BIG Money With Your Book Without Selling a Single Copy is for you! Request your free copy of this ground-breaking book at advantagefamily.com/scalingup.

COACHING:
Ready to scale but looking for guidance?
Work with a Coach! Scaling a company is hard, but you don't have to go it alone. Our Scaling Up Certified Coaches™ are masters at guiding you and your leadership team through the implementation of the Scaling Up Operating system, all with a custom and diagnostic approach to each unique company. 
Learn more about what it's like to work with a Scaling Up Certified Coach™ by scheduling a complimentary, personal follow-up. CLICK HERE! Or check out our FAQ's. Additional questions can be sent to coaching@scalingup.com. 

Did you miss previous insights? - read here

Read Verne's Insights on Kindle http://www.amazon.com/gp/product/B003SX13YI 

Follow Verne on Instagram: @scalingup2.0