To handle yourself, use your head; to handle others; use your heart. 
Eleanor Roosevelt
In the business world, the rearview mirror is always clearer than the windshield.
Warren Buffett
Evacuation Orders Lifted – One Seat Open Lake Tahoe
A seat has opened up due to an attendee selling their firm (CEO and #2) for the Sept 28 – Oct 1 CEO Boot Camp in Lake Tahoe, CO. Spend 3 days with Verne Harnish, Bill Gallagher and 7 other CEO/CXOs working "on" their businesses in prep for 2022 and beyond. For more info www.ceo-bootcamp.com
Hagerty Insurance Going Public Via SPAC
Announced a few weeks ago, I wanted to chat with CEO Boot Camper McKeel Hagerty (former YPO International Chair) before announcing, which I did this week. Valued at $3 billion, one of the key benefits to going public, as noted in my new book Scaling Up Compensation, is to attract top talent. McKeel shared that the compensation reason was initially 5 or 6 on his list – but now #2 if not the #1 benefit. Being public (symbol HGTY around Thanksgiving) gives him the liquid currency to reward the kind of talent he needs to scale beyond his current revenues and reach. And the Scaling Up methodology already provides the quarterly rhythm needed to be public, so he's not worried about the reporting requirements.
For More on SPACs – a Better Way to go Public
There were many reasons McKeel chose a SPAC to go public – one being that you can share forward looking projections. He was also able to utilize a follow-on PIPE to raise additional funds. This Deloitte whitepaper provides an excellent primer on SPACs. And Fortune reported how a recently announced SPAC deal could award billionaire status to the founder of a company projected to be generating $0 revenue this year. In Scaling Up Compensation we share a firm that went public at $3 million. It's the hot trend – and a useful tool!
From Tragedy to $100 Million (Scaling Up Case Study)
4th generation Chicago area Home Run Inn, a family pizzeria chain and frozen pizza business, was languishing. Their CEO had a sudden heart attack so Dan Costello stepped in and immediately sought out Scaling Up Certified coach Jill Belconis. Speed forward 2 years and the $100 million 500-employee firm is thriving and profitable. This Scaleups.com article  details how they nailed their flywheel, established an effective meeting rhythm with KPIs cascading through the organization, and a commitment to remain multi-generational. Jill, BTW, is also a former YPO International Chair and led her own family owned, generational business, to new heights.
Brian Scudamore's Latest Daily Huddle Video
In addition to helping Home Run Inn scale profitably, O2E (1-800-Got Junk, etc.) has been using daily huddles for decades – CEO Brian Scudamore and his team are masters. Want to see a daily huddle in action and hear from participants the value? Share this 3-minute video with your team. Thank you to Scaling Up Certified coach Roberto Erario for sharing.
Scaling Up Master Class with Verne – Las Vegas Sept 21 – 23
Twice a year I lead a full in-person Scaling Up Master Class – a deep and comprehensive dive into the tools and techniques that have helped over 80,000 firms around the world scale easier and more profitably – like those mentioned above. There are hundreds of case studies from all size firms and industries at www.scaleups.com showing the immediate and long-term positive impact of Scaling Up (Rockefeller Habits 2.0) on the trajectory of your firm. Invest two days (and an evening before for the CEO) and join me in Las Vegas Sept 21 – 23 co-hosted by YPO Las Vegas.
Weekend Countdown – 1-Minute of Wisdom
Enjoy this kickoff to your weekend – some bits of wisdom from a fresh set of wise teachers, updated each weekend.
https://vimeo.com/showcase/weekendcountdown
*As an Amazon Associate, I may earn revenue from qualified purchases made through this link.
Order a box of 20 Scaling Up books
Want to save 50% over the price on Amazon? Go to this link.

TECHNOLOGY: 
ScalingUp Scoreboard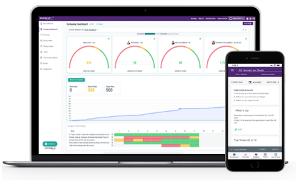 Integrated with Salesforce, Slack, and Zapier (allowing it to connect with 1000s of systems), use Scoreboard to provide your team (working remotely even more important!) a real time visual dashboard of cascading priorities and metrics. Get a personalized tour of Scaling Up Scoreboard to see how you can use it to better implement Scaling Up in your business.

EDUCATION: 
Growth Institute Online Executive Education:
Master of Business Dynamics
Scaling Up Master Business Course
Exponential Organizations Master Business Course
Topgrading Master Business Course

We're still in business coaching and training firms:
Brisbane, Australia - Sep 22, 2021 (In-Person)
Lowell, Michigan - Sep 22, 2021
Ann Arbor, MI - Oct 6, 2021
Vancouver, BC - Oct 13, 2021 (Virtual)
Atlanta (Woodstock), GA - Oct 14, 2021 (In-Person)
London, England - Oct 14, 2021 (In-Person)
Los Angeles, CA - Oct 14, 2021
Annapolis, MD - Oct 26, 2021 (Virtual)
Vancouver, BC - Oct 27, 2021
West Chester, PA - Oct 27, 2021 (In-Person)
Lowell, Michigan - Nov 4, 2021
Sydney, Australia - Nov 17, 2021 (In-Person)
Salisbury, England - Nov 18, 2021
Melbourne, VIC, AUS - Nov 23, 2021 (Virtual)
Dallas, TX - Feb 24, 2022 (In-Person)

Better Book Club –
What's your team reading? Increase your books read per team member. Easy, Proven, and in the Cloud at http://www.BetterBookClub.com.

Write Your Own Book
Whether you want to make it to the bestseller lists or just sell a lot more of your goods or services, with a profound competitive edge over the competition, Book The Business: How to Make BIG Money With Your Book Without Selling a Single Copy is for you! Request your free copy of this ground-breaking book at advantagefamily.com/scalingup.

COACHING:
Ready to scale but looking for guidance?
Work with a Coach! Scaling a company is hard, but you don't have to go it alone. Our Scaling Up Certified Coaches™ are masters at guiding you and your leadership team through the implementation of the Scaling Up Operating system, all with a custom and diagnostic approach to each unique company. 
Learn more about what it's like to work with a Scaling Up Certified Coach™ by scheduling a complimentary, personal follow-up. CLICK HERE! Or check out our FAQ's. Additional questions can be sent to coaching@scalingup.com. 

Did you miss previous insights? - read here

Read Verne's Insights on Kindle http://www.amazon.com/gp/product/B003SX13YI 

Follow Verne on Instagram: @scalingup2.0
Sign up for Verne's Weekly Insights