Hope it's been a productive and purposeful week for you. Here are some insights to help you outlearn/outthink our reaction to the virus.

Maybe the problem is we don't have enough capitalism.
Gary Hamel, yesterday's Summit 
"Free" replay of Summit 2.0 –
4476 CEOs and CXOs from YPO, EO, and our database participated in yesterday's Summit 2.0. At the last-minute Roger Hardy, founder of Kits.com, offered everyone a free pair of glasses if they were registered for the Summit. So, if you purchase the replay (Branson, Blecharczyk, Friar, Galloway, Grant, Hamel, and me) you'll get the code for a free pair of glasses (up to $69), worth almost the cost of the replay. Consider the optional blue blocker lens for your children (and you), given all the screen time. Learn and enjoy!

Kits.com and Roger Hardy –
You might recognize YPOer Roger Hardy's name from my book. Roger founded Coastal Contacts (highlighted in Scaling Up) which he scaled and sold as the largest e-commerce deal in the history of Canada. He's at it again – Kits has scaled from $60 million to $100 million run rate in 2020 given their phenomenal pricing and service. Enjoy your free pair on us and Roger for registering for the Summit replay!

Airbnb's Stakeholder Letters --
Airbnb's co-founder Nate Blecharczyk shared so many rich ideas yesterday in his final interview of the Summit – how the senior team went into a 7-day per week daily huddle; set four rules (which he shared) for dealing with the crisis; and how their specific (including KPIs) focus on supporting all stakeholders is being implemented. Here are links to the two open letters regarding Airbnb's commitment to serve all stakeholders and become a "21st Century Company:"
January 2018: https://news.airbnb.com/brian-cheskys-open-letter-to-the-airbnb-community-about-building-a-21st-century-company/
January 2020: https://news.airbnb.com/serving-all-stakeholders/
Please grab some time this weekend and read through – and then consider writing a similar letter to your community. 

Is CEO a Two-Person Job? –
Nate also addressed how he and his co-founders Joe and Brian handle their joint executive roles – and the real power that three co-founders provide Airbnb. I feel it's a real strength and why co-founders scale further/faster than a lone entrepreneur. This Sept. HBR article digs into this topic and asks "Is CEO a Two-Person Job" written by the co-CEOs of The Harris Poll organization. Very thoughtful and well written – pls read if your CEO! 

Broke Billionaire – As He Wished –
You want inspired? Good news to counter all the bad being promoted? Please spend 3-minutes to read this excellent Forbes article how Chuck Feeney, co-founder of Duty Free Shops, made and then gave away $8 billion – and couldn't be happier! Accolades from Buffett, Gates, Jobs (Lauren), and others included in this inspirational story. And it was Chuck's story (and the book The Billionaire Who Wasn't)that inspired our One-Page Personal Plan (OPPP) and the ultimate measure of success – the number of people you've helped in your life – the KPI that matters most. Thank you for Scaling Up Certified coach Chuck Kocher for suggesting the article. 

Order a box of 20 Scaling Up books –
Want to save 50% over the price on Amazon? Go to this link. 

Write Your Own Book –
Whether you want to make it to the bestseller lists or just sell a lot more of your goods or services, with a profound competitive edge over the competition, Book The Business: How to Make BIG Money With Your Book Without Selling a Single Copy is for you!

Request your free copy of this ground-breaking book at advantagefamily.com/scalingup.
EDUCATION: 


We're Still in Business Coaching and Training Firms:
Brisbane City, Australia - Sep 23, 2020
Georgia – Sep 24, 2020 (Virtual)
New Orleans, LA - Oct 1, 2020 (Virtual)
Wellington, New Zealand - Oct 1, 2020
Waltham, MA – Oct 6, 2020
Charlotte/Raleigh NC - Oct 7, 2020 (Virtual)
Adelaide, Australia - Oct 7, 2020
New York, NY & CT - Oct 7, 2020 (Virtual)
Colorado Springs, CO - Oct 8, 2020 (Virtual)
Vancouver, BC, CAN - Oct 14, 2020 (Virtual)
Stockholm, Sweden - Oct 15, 2020
Phoenix, AZ - Oct 15, 2020 (Virtual)
Sydney, Australia - Oct 15, 2020
Louisville, KY - Oct 15, 2020 (Virtual)
Tampa Bay Area, FL - Nov 18, 2020 (Virtual)
Columbus, OH - Oct 21, 2020 (Virtual)
Lancaster, PA - Oct 27, 2020 (Virtual)
San Antonio, TX - Oct 27 (Virtual & In-Person)
Colombia - Oct 27 & 28, 2020
Franklin, TN - Oct 29, 2020 (Virtual)
Salisbury, England - Nov 3, 2020
Chicago, IL - Nov 10, 2020 (Virtual)
Costa Mesa, CA - Nov 10, 2020
Melbourne, Australia - Nov 10, 2020
Mexico City - Nov 10 & 11, 2020
Grand Rapids, MI - Nov 11, 2020  (Virtual)
Phoenix, AZ - Nov 12, 2020 (Virtual)
Guadalajara, Mexico - Nov 12 & 13, 2020
Sydney, AUS - Nov 19, 2020
Franklin, TN - Dec 3, 2020 (Virtual)
Atlanta, GA - Dec 9, 2020
Sydney, Australia - Dec 10, 2020
San Diego, CA - Dec 16, 2020
San Francisco, CA - Dec 17, 2020 (Virtual)
Waltham, MA – Jan 14, 2021
Salisbury, England - Jan 14, 2021
Salisbury, England - Feb 18, 2021

COACHING:

Have you ever wondered if working with a coach might accelerate your company's growth, exponentially? Do you have what it takes to move the dial from good to great? The Scaling Up team is prepared to support you. We have helped 40,000 other organizations over the past 30+ years, in scaling up their organizations through coaching, workshops, online training and more.

We would like to offer you a complimentary, personal follow-up from our Scaling Up team to share how we can support you in scaling your organization. 
YES! I WOULD LIKE TO LEARN MORE ABOUT COACHING & RECEIVE A COMPLIMENTARY FOLLOW-UP (CLICK HERE)

For questions or more information contact us at coaching@scalingup.com

TECHNOLOGY: 


ScalingUp Scoreboard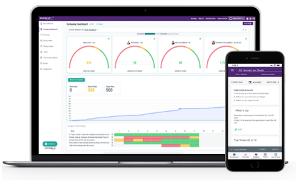 Integrated with Salesforce, Slack, and Zapier (allowing it to connect with 1000s of systems), use Scoreboard to provide your team (working remotely even more important!) a real time visual dashboard of cascading priorities and metrics. Get a personalized tour of Scaling Up Scoreboard to see how you can use it to better implement Scaling Up in your business.

Better Book Club – What's your team reading? Increase your books read per team member. Easy, Proven, and in the Cloud at http://www.BetterBookClub.com.

Growth Institute Online Executive Education:
Master of Business Dynamics
Scaling Up Master Business Course
Exponential Organizations Master Business Course
Topgrading Master Business Course


Did you miss previous insights? - read here 
  
Read Verne's Insights on Kindle http://www.amazon.com/gp/product/B003SX13YI 

Sign up for Verne's Weekly Insights