We need to learn how to feel intrigued instead of defensive when we encounter some information that contradicts our beliefs.
               Julia Galef, author of The Scout Mindset

Ask yourself this; if there was zero chance of failure, what would you do? Now, go do that.
               Josh Linkner, author of Big Little Breakthroughs

Weekly Minute – Quotes to Ponder
Enjoy this one-minute countdown to your weekend – lots of wisdom in small packages.
McKinsey Report – Organizations Post Pandemic Use Daily Meetings
McKinsey's view of the future of organizations, and how they operate, aligns with the Scaling Up methodology. It's why franchisors, PE firms, and governments all noticed that the firms practicing our tools seemed to thrive during the pandemic vs. others. This specific quote from the report caught my attention:
As one executive we spoke with observes: "Our senior team meets every morning for 30 minutes. It's incredibly productive. We make decisions and go. We don't have full information, but that's OK—we can't afford not to move."
If you want to move faster; pulse faster. Sadly, our competition has dumbed down our process in the name of simplicity – when it's just simplistic and harmful. Thank you to Scaling Up coaching partner Andy Clayton for sharing this report.

Three Questions
Who are we? How do we operate? How do we grow? These are the three questions that anchor McKinsey's framework for scaling post the pandemic. Like many McKinsey reports, it's lengthy (15 minutes to read), but always insightful – and the detail behind the three questions, again, aligns with what you're already doing with Scaling Up. If you're using our tools/techniques -- you're good to Scale!

Alan Mulally Led Boeing through 9/11 and Ford through Great Recession
Alan was simply great yesterday, sharing his wisdom on leading in a crisis on our virtual Scaling Up+ Summit. In my phone call with Alan leading up to the interview, he noted unprompted, "I've read every page of Scaling Up and it's the one book that comes closest to how I scaled Boeing and Ford." And during the interview, he specifically talked us through his one-page "Working Together" framework which he used at Boeing and Ford. Here's a link to the one-pager. 

There is a 7th Influence Principle
The "godfather of influence" Dr. Robert Cialdini was insightful and practical with his insights. Yesterday he noted that his extensively updated edition of Influence (over 5 million copies sold) releasing May 5 includes a new 7th principle of persuasion – Unity. Cialdini shared how this new principle works in action and included some specific examples. Also critical for all of you relying on social media and online marketing – the new book shares research that underpins how using the principles of influence vs. other techniques drives the best results by magnitudes. All 8-minutes of his presentation is worth the time (see below how to access)

The Other Three – Free Access
In earlier insights I highlighted Josh Linkner (Breakthroughs), Justin Roff-Marsh (Sales); and Julia Galef (Intel). All were outstanding yesterday in addition to Mulally and Cialdini. To gain access to the replays of each – and a professional summary of the summit – register at https://scalingup.com/april-22-summit/. Over 3100 have already registered – hope it's not your competition outlearning you! Sharpen the saw this next week and absorb 90-minutes of new ideas/techniques/insights – just one is all you need to make it worth your time. 

Turnaround Guru Greg Brenneman – How Golf Guided His 3 Decades
Sports Illustrated's Don Yaeger interviewed Greg Brenneman, Home Depot's lead director and Chairman of one of the world's top PE firms (who also keynoted our first virtual summit in the crisis last year). In short, Greg notes that you can't overthink a turnaround. Notes Brenneman: "Time is tight; money is tighter. If you sit around devising elegant and complex strategies and then try to execute them through a series of flaw-less decisions, you're doomed." Lessons from golf – how you can't let one bad hole turn into two – helped guide Brenneman on his approach to crisis management. Enjoy the interview.

High Stakes Negotiations Course– Last Day for Early Bird Discount
Dr. Medvec and her expert coach Sara Soderstrom are leading a 10-week negotiations course with Growth Institute and today is the last day to receive a $700 early bird discount. I've applied many of Dr. Medvec's techniques to win significant contracts up against impressive competitors, to help improve margins with customers and to walk away with even stronger relationships. There is no other course that has made/saved me more money than Dr. Medvec's "High Stakes Negotiation." Learn more here. https://hubs.ly/H0LLy-L0

Bring the Rest Up-To-Speed and Outlearn the Competition
Prepare for the second half of 2021 (and the Roaring 20s) -- Scaling Up is 10x easier to implement if more people in the firm are on-board with the tools/techniques. I'm teaching the next Scaling Up Master Class mid-May. 1.5 hours for the CEO-only (May 18); 3 hours May 19; 3 hours May 20. Over 750 CEOs and CXOs participated in December. Outlearn the competition! 

Order a box of 20 Scaling Up books
Want to save 50% over the price on Amazon? Go to this link.

EDUCATION: 
We're still in business coaching and training firms:
Louisville, KY - May 6, 2021 (Virtual)
Cairns, Queensland, AUS - May 11, 2021
Townsville, Queensland, AUS - May 12, 2021
Columbus, OH - May 14, 2021 (Virtual)
Franklin, TN - May 14, 2021 (Virtual)
Lowell, Michigan – May 20, 2021
San Francisco, CA - May 20, 2021 (Virtual)
Amsterdam - June 3, 2021
Sydney, Australia - June 3, 2021
Phoenix, AZ – June 3, 2021 (In-Person)
Atlanta, GA – June 8, 2021 (Virtual)
Colorado Springs, CO - June 9, 2021 (Virtual)
WNY, Ontario, Great Lakes – June 11, 2021 (Virtual)
Melbourne, VIC, AUS - June 15, 2021 (Virtual)
Lowell, Michigan - Jul 22, 2021
Salisbury, England - July 6, 2021
Dallas, TX - Aug 12, 2021
Sydney, Australia - Aug 25, 2021
Melbourne, VIC, AUS - Sep 7, 2021 (Virtual)
Lancaster, PA - Oct 26, 2021
Sydney, Australia - Oct 27, 2021
Salisbury, England - Nov 18, 2021
Melbourne, VIC, AUS - Nov 23, 2021 (Virtual)

Growth Institute Online Executive Education:
Master of Business Dynamics
Scaling Up Master Business Course
Exponential Organizations Master Business Course
Topgrading Master Business Course

Better Book Club – What's your team reading? Increase your books read per team member. Easy, Proven, and in the Cloud at http://www.BetterBookClub.com.

Write Your Own Book
Whether you want to make it to the bestseller lists or just sell a lot more of your goods or services, with a profound competitive edge over the competition, Book The Business: How to Make BIG Money With Your Book Without Selling a Single Copy is for you! Request your free copy of this ground-breaking book at advantagefamily.com/scalingup.
Did you miss previous insights? - read here 

Follow our new Instagram account: @scalingup2.0 

TECHNOLOGY: 
ScalingUp Scoreboard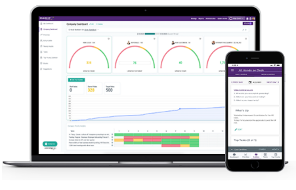 Integrated with Salesforce, Slack, and Zapier (allowing it to connect with 1000s of systems), use Scoreboard to provide your team (working remotely even more important!) a real time visual dashboard of cascading priorities and metrics. Get a personalized tour of Scaling Up Scoreboard to see how you can use it to better implement Scaling Up in your business.

COACHING:
Ready to scale but looking for guidance?
Work with a Coach! Scaling a company is hard, but you don't have to go it alone. Elevate your business with the only end-to-end solution for entrepreneurs that are ready to move past the plateau and get exponential results. Whether you're in growth mode, planning strategy, raising capital, or navigating a complex economic landscape, Scaling Up's globally recognized coaches leverage effective tools and an evidence-based methodology to empower you to achieve results. Over 70,000 businesses have done it!

Learn more about what it's like to work with a Scaling Up Certified Coach™ by scheduling a complimentary, personal follow-up. CLICK HERE! Or check out our FAQ's. Additional questions can be sent to [email protected]. 


Read Verne's Insights on Kindle http://www.amazon.com/gp/product/B003SX13YI 

Sign up for Verne's Weekly Insights