If you are bent on revenge, plan on digging two graves.
Chinese Proverb
By far the best investment you can make is in yourself.
Warren Buffett
YPOer Strips Out Middle Management -- $4 Million Savings
From 400 down to 250 employees, a Latin American Scaling Up* fan (his team participated, again, in our latest Scaling Up Master Class) took Gary Hamel's Humanocracy to heart and stripped out the middle management of his firm. With the balance of his 250 employees organized into teams, with 30 team leaders (and five top executives), the firm's engagement, speed, productivity, and profits have soared. As John, the CEO noted to me in a call this week, "the pandemic was a forcing function to make changes I've wanted to make for a while." The key is training and development; a tech platform that keeps everyone connected; and an effective meeting rhythm. John also produces a 4-minute video each Sunday that updates his employees spread throughout the region. The fundamentals.

Team Leads in Monthly Forums
What John is doing next, based on Ron Lovett's experience doing the same with his 1500 employee private security guard firm (detailed in his book Outrageous Empowerment*), is putting the 30 team leads into YPO-like monthly forums. This provides them a place to share experiences and seek help – replacing what "managers" did before. This organizational revolution is real and important as talent is getting more difficult to recruit and retain. Let us help.

"Off Season Training" – Negotiations and Hiring – Save 25% on Bundle
The two most important leadership skills are your ability to negotiate while strengthening the relationship – and hiring A Players. Our two best-selling self-paced Master Courses are Dr. Victoria Medvec's "High Stakes Negotiation" and Brad Smart's "Topgrading" (the latter offered for two-decades, updated several times). Please take time this summer (or winter) to invest in yourself and others on your team -- sit back and brush up on these two important executive skills that will make or save you millions. 25% savings if purchased as a bundle. Learn more here. 

Ginger's Revenge (Scaling Up Case Study)
David and Christina Ackley are riding the comeback wave of ginger beer, making it gluten-free and with 95% organic ingredients. Launched in 2017, they've used Scaling Up to pass the $1 million mark despite the pandemic's impact on their brew pub. With a Q1 theme of getting their "Ducks in a Row" in anticipation of demand picking up, they had their best month ever in April by 20%. This Scaleups.com article details their meeting rhythm, bonus plan, pivots to retail distribution and BHAG of having every bar, restaurant, and grocery store distributing ginger beer!

Pie Five Turnaround
The power of building community and employee relationships – and transparency -- shines through this Entrepreneur article about the turnaround of this Pie Five Pizza franchisee. In many ways, the father and son team mirrors the approach Hubert Joly took in turning around Best Buy. The fundamentals are the fundamentals – whether scaling a small ginger beer firm, pizza restaurant, or major retailer. Please take 2-minutes to be inspired.  

Replay of Hubert Joly Fireside Chat
If you have an hour – tune-in to this replay of my fireside chat with Hubert Joly, Glassdoor's Top 10 CEO; Barron's Top 30; and one of the top 100 in the world. Chock full of specifics – ranging from how you don't have a strategy unless you've named it; the four responsibilities of a CEO; the two movies he referenced with his team when Best Buy hit a disastrous point in their turnaround; how you coach frontline employees; and the final line in his email to employees when he left Best Buy last summer. And please take time "in your off-season" to read his book The Heart of Business*.

Warren Buffett's 3 Decisions in Life
So much has been written about Warren Buffett, yet I found this Inc. article a good reminder of his 3 life rules that separate success and failure – one of those represented by his quote above. As for your "inner scorecard" mine is doing "simple things with friends and family." What is your inner score? Please take 1 minute to read the article for his third decision – hint: love. Thank you to YPOer Paul Berman for sharing this article with me – one I sent to all my children to read as well (no, they don't tend to read my insights!).

Sept and Dec in-Person Scaling Up Master Classes with Verne – Vegas and Dallas
Today more than 80,000 scaleups around the globe ranging from solopreneurs to Fortune 500 firms use Scaling Up's tools/techniques to align and energize their teams. And with economies raging back, the disciplines and focus are even more important. Races are won by hundredths of a second (watched some of the Olympic trials last night) – and the proper training/conditioning is key. Fine tune your organization Sept 21 – 23 Las Vegas; Dec 7 – 9 Dallas. For more information and to register (like a concert earlier registrations and bigger teams means better seating).

Weekend Countdown – 1-Minute of Wisdom
Enjoy this kickoff to your weekend – some bits of wisdom from a fresh set of wise teachers, updated each weekend. https://vimeo.com/showcase/weekendcountdown


*As an Amazon Associate, I may earn revenue from qualified purchases made through this link.

Order a box of 20 Scaling Up books
Want to save 50% over the price on Amazon? Go to this link.

EDUCATION: 
Growth Institute Online Executive Education:
Master of Business Dynamics
Scaling Up Master Business Course
Exponential Organizations Master Business Course
Topgrading Master Business Course

We're still in business coaching and training firms:
Lowell, Michigan - Jul 22, 2021
Salisbury, England - July 6, 2021
Hong Kong, China, India, Middle East - July 14 OR 15 (Virtual)
California - July 19 & 20, 2021 - 2 Day Master Class (Virtual)
Dallas, TX - Aug 12, 2021
Sydney, Australia - Aug 25, 2021
Phoenix, AZ - Aug 26, 2021 (In-Person)
Melbourne, VIC, AUS - Sep 7, 2021 (Virtual)
Brisbane, Australia - Sep 22, 2021 (In-Person)
Lowell, Michigan - Sep 22, 2021
Lancaster, PA - Oct 26, 2021
Sydney, Australia - Oct 27, 2021
Lowell, Michigan - Nov 4, 2021
Salisbury, England - Nov 18, 2021
Melbourne, VIC, AUS - Nov 23, 2021 (Virtual)

Better Book Club – What's your team reading? Increase your books read per team member. Easy, Proven, and in the Cloud at http://www.BetterBookClub.com.

Write Your Own Book
Whether you want to make it to the bestseller lists or just sell a lot more of your goods or services, with a profound competitive edge over the competition, Book The Business: How to Make BIG Money With Your Book Without Selling a Single Copy is for you! Request your free copy of this ground-breaking book at advantagefamily.com/scalingup.
Did you miss previous insights? - read here 

COACHING:
Ready to scale but looking for guidance?
Work with a Coach! Scaling a company is hard, but you don't have to go it alone. Elevate your business with the only end-to-end solution for entrepreneurs that are ready to move past the plateau and get exponential results. Whether you're in growth mode, planning strategy, raising capital, or navigating a complex economic landscape, Scaling Up's globally recognized coaches leverage effective tools and an evidence-based methodology to empower you to achieve results. Over 70,000 businesses have done it!

Learn more about what it's like to work with a Scaling Up Certified Coach™ by scheduling a complimentary, personal follow-up. CLICK HERE! Or check out our FAQ's. Additional questions can be sent to [email protected]. 
Follow our new Instagram account: @scalingup2.0 

TECHNOLOGY: 
ScalingUp Scoreboard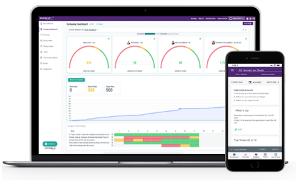 Integrated with Salesforce, Slack, and Zapier (allowing it to connect with 1000s of systems), use Scoreboard to provide your team (working remotely even more important!) a real time visual dashboard of cascading priorities and metrics. Get a personalized tour of Scaling Up Scoreboard to see how you can use it to better implement Scaling Up in your business.
Read Verne's Insights on Kindle http://www.amazon.com/gp/product/B003SX13YI 
Sign up for Verne's Weekly Insights