If you are not embarrassed by the first version of your product, you've launched too late.
Reid Hoffman
The goal isn't more money. The goal is living life on your terms.
Chris Brogan
Best Buy Turnaround – CEO Hubert Joly June 23, 1:30 – 2:20pm ET
Leading the #1 turnaround of the last decade, I'm hosting a complimentary fireside chat with Hubert Joly next Tuesday – more below – register here for LIVE or to get replay.

Feeling Overwhelmed? The Virtual Hub (Scaling Up Case Study)
With a brand promise to "eradicate overwhelm" Barbara Turley accidentally launched Virtual Hub to connect busy leaders with well-trained and qualified virtual assistants (VAs). Using Scaling Up she's scaled to over 200 VAs. This ScaleUps.com article details how she's gamified learning for these assistants; leads them remotely via KPIs and a set meeting rhythm (the VAs are based in the Philippines); and aligns them around a set of core values that were at first "wishy washy" but she's tightened them up. I'm impressed how innovative Barbara has been in all aspects of implementing Scaling Up – please take 2 minutes to pick up a couple ideas from her – or contract a VA (I get no commissions – just a fan!).

Bill Gates Summer Reading List
Here's a link to his list of five books. I'm most anxious to read Lights Out: Pride, Delusion, and the Fall of General Electric*. It's rare someone writes about failure – we tend to only talk about the successes. Gates suggests there are a number of practical lessons for all leaders. There is also a book about our immune system titled An Elegant Defense*. I'm curious if it addresses how western medicine has dramatically reduced the anti-fragile design of our immune system – starting with the misuse of aspirin (which killed so many people in the last pandemic) to the massive overuse of antibiotics (including soaps) tied to the much higher death rate in this pandemic -- and other ways that now make us more dependent on the drugs meant to help us.   

My Favorite Book of the Year (so far)
It has been a while since I've digitally highlighted almost an entire book – let alone complete a business book. French born CEO Hubert Joly's The Heart of Business* describes in detail the steps he took to turnaround Best Buy – driving the stock from $11 to $110 and transforming this dying retailer into a purpose driven firm engaging over 100,000+ "Blue Shirts" to serve customers as if they were their grandmother. 

Discuss Customer and Employee Data FIRST
I've even updated our suggested weekly meeting agenda based on Hubert's routine of sharing customer and employee feedback/data always FIRST in all leadership meetings! That means you need to be collecting it weekly – not just once a year. We'll discuss the details of this during my fireside chat next week.

Hubert Joly Fireside Chat June 23, 1:30pm – 2:30pm ET – No Charge
It's why I'm excited to host Hubert next Wednesday to share his wisdom with you. I chatted with him earlier this week and we plan to go deep and very specific on how he gathered market intel; how he ran his meetings; his process for determining and reinforcing Best Buy's purpose; strategic decisions he made and his four roles as CEO. And we'll leave time for you to ask questions. Register here to learn from a leader who has turned around five firms – and his playbook for doing it. 

Sept and Dec in-Person Scaling Up Master Classes with Verne – Vegas and Dallas
Today more than 80,000 scaleups around the globe ranging from solopreneurs to Fortune 500 firms use Scaling Up's tools/techniques to align and energize their teams. And with economies raging back, the disciplines and focus are even more important. Races are won by hundredths of a second (watched some of the Olympic trials last night) – and the proper training/conditioning is key. Fine tune your organization Sept 21 – 23 Las Vegas; Dec 7 – 9 Dallas. For more information and to register (like a concert, earlier registrations and bigger teams means better seating).

Weekend Countdown – 1-Minute of Wisdom
Enjoy this kickoff to your weekend – some bits of wisdom from a fresh set of wise teachers, updated each weekend. https://vimeo.com/showcase/weekendcountdown

*As an Amazon Associate, I may earn revenue from qualified purchases made through this link.

Order a box of 20 Scaling Up books
Want to save 50% over the price on Amazon? Go to this link.

TECHNOLOGY: 
ScalingUp Scoreboard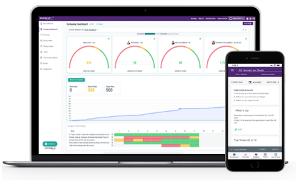 Integrated with Salesforce, Slack, and Zapier (allowing it to connect with 1000s of systems), use Scoreboard to provide your team (working remotely even more important!) a real time visual dashboard of cascading priorities and metrics. Get a personalized tour of Scaling Up Scoreboard to see how you can use it to better implement Scaling Up in your business.

EDUCATION: 
Growth Institute Online Executive Education:
Master of Business Dynamics
Scaling Up Master Business Course
Exponential Organizations Master Business Course
Topgrading Master Business Course

We're still in business coaching and training firms:
Lowell, Michigan - Jul 22, 2021
Salisbury, England - July 6, 2021
Hong Kong, China, India, Middle East - July 14 OR 15 (Virtual)
California - July 19 & 20, 2021 - 2 Day Master Class (Virtual)
Dallas, TX - Aug 12, 2021
Sydney, Australia - Aug 25, 2021
Phoenix, AZ - Aug 26, 2021 (In-Person)
Melbourne, VIC, AUS - Sep 7, 2021 (Virtual)
Brisbane, Australia - Sep 22, 2021 (In-Person)
Lowell, Michigan - Sep 22, 2021
Lancaster, PA - Oct 26, 2021
Sydney, Australia - Oct 27, 2021
Lowell, Michigan - Nov 4, 2021
Salisbury, England - Nov 18, 2021
Melbourne, VIC, AUS - Nov 23, 2021 (Virtual)

Better Book Club – What's your team reading? Increase your books read per team member. Easy, Proven, and in the Cloud at http://www.BetterBookClub.com.

Write Your Own Book
Whether you want to make it to the bestseller lists or just sell a lot more of your goods or services, with a profound competitive edge over the competition, Book The Business: How to Make BIG Money With Your Book Without Selling a Single Copy is for you! Request your free copy of this ground-breaking book at advantagefamily.com/scalingup.
Did you miss previous insights? - read here 

COACHING:
Ready to scale but looking for guidance?
Work with a Coach! Scaling a company is hard, but you don't have to go it alone. Elevate your business with the only end-to-end solution for entrepreneurs that are ready to move past the plateau and get exponential results. Whether you're in growth mode, planning strategy, raising capital, or navigating a complex economic landscape, Scaling Up's globally recognized coaches leverage effective tools and an evidence-based methodology to empower you to achieve results. Over 70,000 businesses have done it!

Learn more about what it's like to work with a Scaling Up Certified Coach™ by scheduling a complimentary, personal follow-up. CLICK HERE! Or check out our FAQ's. Additional questions can be sent to coaching@scalingup.com. 
Follow our new Instagram account: @scalingup2.0 
Read Verne's Insights on Kindle http://www.amazon.com/gp/product/B003SX13YI