There is no traffic jam along the extra mile.
Roger Staubach
Until you're ready to look foolish, you'll never have the possibility of being great.
Cher
Your Corporate University – Scaling Up Master Class Next Week
Twice a year I personally teach a Scaling Up Master Class. Do you have new employees or maybe you need a refresher? It's virtual next week. Just 3 hours Wed May 19 and 3 hours Thurs May 20 (90 minutes each for People, Strategy, Execution, and Cash) – plus a special 90-minute CEOs-only session Tuesday May 18 – and it's recorded so you can review. 
Marc Benioff Says a Ranch May Be What Salesforce's Work Culture Needs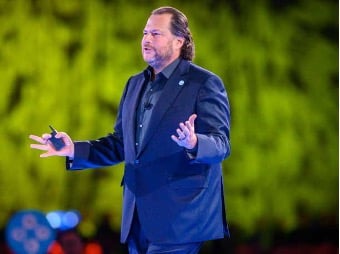 This WSJ article notes Salesforce's plans include the possible purchase of a large property to use for team and culture-building activities, as well as employee orientations and training sessions. "We're looking at maybe buying a large piece of land, maybe a large ranch in the United States or some other type of acreage where we can build the next generation of Crotonville (GE's fabled training center)," notes Marc Benioff, founder and CEO of Salesforce. Does your team have a go-to-place, in nature, to refresh, host quarterly planning sessions, etc.? PE firm K1 uses Terranea Resort – so you don't have to own the place! Thanks to Scaling Up coach Bill Gallagher for pointing me to this article.

Congratulations Hermann Simon – New Business School in China
Author of Hidden Champions of the 21st Century*, founder of the world's largest pricing consultancy, and mentor Hermann Simon has a new business school named after him in China. Notes this Simon-Kucher announcement:
The initiator of the new business school is the Chinese entrepreneur Yang Shuren, who consistently led his company according to the Hidden Champions principles of specialization and globalization. With this strategy, Yang Shuren's company succeeded in becoming the world market leader in several specialty chemicals.
This SlideShare set of 75 slides summarizes the strategy of dominating a niche globally – start on slide 30. This is critical information – and only wish that Hermann's school was in the US, though it's providing virtual lectures! 

Elon Musk Hosts SNL
Cher would be proud (see quote above) – Elon's hosting of Saturday Night Live last weekend was epic. With the third highest ratings this season; live streamed for the first time on YouTube to 100 countries; and concerns with SNL being LIVE and what Elon might say as a public company CEO, he acknowledged all this by exclaiming:
"I could say something truly shocking — like I drive of Prius!"  
He's so comfortable, in an awkward way, in his own skin – and vulnerable enough to admit he has Asperger syndrome. That explains a lot. As Pat Lencioni (Five Dysfunctions of a Team*) details, vulnerability builds trust. We strangely trust Elon to drive us down the road and take us to Mars. 

Power of Deception
"The most expensive baseball player in history is a con artist" states this BBC Sport article. Trevor Bauer, pitcher for the LA Dodgers, isn't the fastest, but he's the most deceptive pitcher in the league. And he's achieved these results through relentless analysis. Notes BBC Sport:
Insatiable and unorthodox in his quest to improve, he follows the science in searching for new forms of deceit. He has pitched blindfolded. He pitched with one eye shut in a pre-season match in March. And he has worn virtual reality goggles to face his own deliveries - all to analyse his own game.
 Pete Sampras trained in a similar way – to hide the direction of his serve. Please take 3-minutes to marvel in the depth of understanding Trevor has achieved in his craft. Are you doing similar work to master yours? 

Scaling Up Wins Two Golds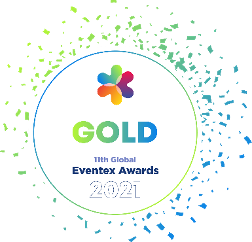 516 entries from 37 countries competing for the 11th Global Eventex Awards 2021. Scaling Up brought home two gold medals – winning the best "Online Education Event" and "Webinar" for our series of Scaling Up+ Summits in 2020. Thank you to the over 18,000 that attended these executive education events – to help you outlearn the competition!

Weekend Countdown – 1-Minute of Wisdom
Enjoy this kickoff to your weekend – some bits of wisdom from a new set of wise teachers: https://vimeo.com/548600929 

*As an Amazon Associate, I may earn revenue from qualified purchases made through this link.

Order a box of 20 Scaling Up books
Want to save 50% over the price on Amazon? Go to this link.
EDUCATION: 
We're still in business coaching and training firms:
Latin America - May 13 & 14, 2021 (Virtual)
Columbus, OH - May 14, 2021 (Virtual)
Franklin, TN - May 14, 2021 (Virtual)
Lowell, Michigan - May 20, 2021
San Francisco, CA - May 20, 2021 (Virtual)
Amsterdam - June 3, 2021
Sydney, Australia - June 3, 2021
Phoenix, AZ – June 3, 2021 (In-Person)
Atlanta, GA – June 8, 2021 (In-Person)
Colorado Springs, CO - June 9, 2021 (Virtual)
WNY, Ontario, Great Lakes – June 11, 2021 (Virtual)
Melbourne, VIC, AUS - June 15, 2021 (Virtual)
Lowell, Michigan - Jul 22, 2021
Salisbury, England - July 6, 2021
Dallas, TX - Aug 12, 2021
Sydney, Australia - Aug 25, 2021
Melbourne, VIC, AUS - Sep 7, 2021 (Virtual)
Lowell, Michigan - Sep 22, 2021
Lancaster, PA - Oct 26, 2021
Sydney, Australia - Oct 27, 2021
Lowell, Michigan - Nov 4, 2021
Salisbury, England - Nov 18, 2021
Melbourne, VIC, AUS - Nov 23, 2021 (Virtual)

Growth Institute Online Executive Education:
Master of Business Dynamics
Scaling Up Master Business Course
Exponential Organizations Master Business Course
Topgrading Master Business Course

Better Book Club – What's your team reading? Increase your books read per team member. Easy, Proven, and in the Cloud at http://www.BetterBookClub.com.

Write Your Own Book
Whether you want to make it to the bestseller lists or just sell a lot more of your goods or services, with a profound competitive edge over the competition, Book The Business: How to Make BIG Money With Your Book Without Selling a Single Copy is for you! Request your free copy of this ground-breaking book at advantagefamily.com/scalingup.
Did you miss previous insights? - read here 

TECHNOLOGY: 
ScalingUp Scoreboard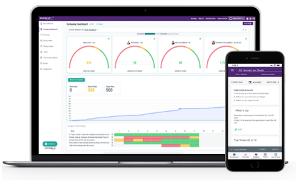 Integrated with Salesforce, Slack, and Zapier (allowing it to connect with 1000s of systems), use Scoreboard to provide your team (working remotely even more important!) a real time visual dashboard of cascading priorities and metrics. Get a personalized tour of Scaling Up Scoreboard to see how you can use it to better implement Scaling Up in your business.

COACHING:
Ready to scale but looking for guidance?
Work with a Coach! Scaling a company is hard, but you don't have to go it alone. Elevate your business with the only end-to-end solution for entrepreneurs that are ready to move past the plateau and get exponential results. Whether you're in growth mode, planning strategy, raising capital, or navigating a complex economic landscape, Scaling Up's globally recognized coaches leverage effective tools and an evidence-based methodology to empower you to achieve results. Over 70,000 businesses have done it!

Learn more about what it's like to work with a Scaling Up Certified Coach™ by scheduling a complimentary, personal follow-up. CLICK HERE! Or check out our FAQ's. Additional questions can be sent to coaching@scalingup.com. 


Follow our new Instagram account: @scalingup2.0 
Read Verne's Insights on Kindle http://www.amazon.com/gp/product/B003SX13YI 

Sign up for Verne's Weekly Insights