I finally figured out the only reason to be alive is to enjoy it.
Rita Mae Brown
It's through curiosity and looking at opportunities in new ways that we've always mapped our path.
Michael Dell
Growth Tools and Scaling Up Book in Farsi 
PhD candidate Faezeh Hanifzadeh, U of Tehran, has translated Scaling Up into Farsi, including the Growth Tools which are posted on our website. She is also coaching firms in Iran on the tools – it's the 21st language! Thank you Faezeh.  

Unique Approach to Compensation? Need Examples for New Book
What is your approach to compensation? Something clever you do that works? And would you be willing to share your ideas with others? We have a new book coming out on compensation and need several mid-market company examples of compensation schemes. Email me a quick two-sentence description and we'll follow-up: verne@scalingup.com

Overcome Price Objections – Selling the #1 Focus – March 16 Webinar 2pm ET
Our informal surveys are showing that sales/selling is the #1 focus of scaleups right now – so join our Mastering the Complex Sale complimentary webinar next Tuesday March 16, 2pm ET, focused on new material from Jeff Thull on overcoming price objections. 

Bank Tripled Credit Line After Seeing OPSP (Scaling Up Case Study)
P&G veteran Kevin Rhodes has scaled his luxury formulation and contract manufacturing firm 29.2% annually (2014 – 2020) to $25 million and 148 employees with the support of Scaling Up coach Greg Eisen.  Preparing to attend his second CEO Boot Camp in June, Kevin and his team have set a bold BHAG, used quarterly themes, implemented daily huddles, and used the One-Page Strategic Plan to get their bank to triple their credit line – all detailed in this Scaleups.com article.  

Core Customer and Customer Experience Process – 20 Tixs
Kevin's team has also been focused on better defining and going after more core customers – and then fixing/documenting the process of servicing them. This streamlining is helping them deliver on a promise to deliver within 24 hours on any core customer request – their theme for this quarter. And knowing that stronger customers lead to stronger business, Kevin paid for 20 of his customers to attend our last Scaling Up Master Class. Note's Kevin:
My passion is turning even more toward really helping our customers in a much broader sense than just making and filling bottles for them.
 Again, more details in this scaleups.com article. 

Chief Executive's Growth Summit – April 1 – Verne Harnish
How do effective leaders build organizations primed for growth in today's landscape? I'll be sharing the blueprint you need in an exclusive event for chief executives and their teams to work smarter – not harder, and to capture opportunity and scale your business forward. I'll be joined by Jonathan Byrnes, Author of Choose Your Customer and Kara Goldin, Founder and CEO of Hint Inc. and Bill Bartlett, Senior Vice President of Sandler Training, to provide an esteemed half-day of learning. Register and learn more

Scaling Up+ Free Virtual Summit - April 22 - Alan Mulally + More... 
Join top Scaling Up partners from around the globe for our second Scaling Up+ Summit of the year, April 22, 2:44pm-4:22pm ET. Speakers include Alan Mulally (former CEO of The Ford Motor Company), Justin Roff-Marsh (founder of Ballistix and author of The Machine), Julia Galef (co-founder of Center for Applied Rationality and author of The Scout Mindset), and Josh Linkner (NYT Bestselling Author and innovation expert). Register for free and learn more. 

Order a box of 20 Scaling Up books
Want to save 50% over the price on Amazon? Go to this link.

TECHNOLOGY: 
ScalingUp Scoreboard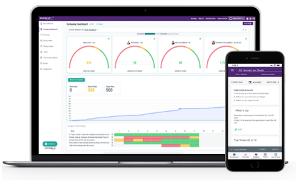 Integrated with Salesforce, Slack, and Zapier (allowing it to connect with 1000s of systems), use Scoreboard to provide your team (working remotely even more important!) a real time visual dashboard of cascading priorities and metrics. Get a personalized tour of Scaling Up Scoreboard to see how you can use it to better implement Scaling Up in your business.

EDUCATION: 
We're still in business coaching and training firms:
March 16, 2021 - Melbourne, VIC, Australia (Virtual)
March 18, 2021 - Nashville, TN (Virtual)
Colorado Springs, CO – March 18, 2021 (Virtual)
Brisbane, Australia - March 24 & 25, 2021 (2 Day Master Class) 
Los Angeles, CA - March 25, 2021 (Virtual)
Oklahoma City, OK - March 26, 2021 (Virtual)
Scottsdale, AZ - April 1, 2021
April 1, 2021 - Nashville, TN (Virtual)
San Antonio, TX - April 7, 2021
Wellington, NZ - April 9, 2021
Ann Arbor, MI / Indianapolis, IN - April 15, 2021 (Virtual)
April 16, 2021 - Nashville, TN (Virtual)
April 22, 2021 - Tweed Heads / Byron Bay, Australia
May 11, 2021 - Cairns, Queensland, Australia
May 12, 2021 - Townsville, Queensland, Australia
Lowell, Michigan – May 20, 2021
Sydney, Australia - June 9, 2021
June 15, 2021 - Melbourne, VIC, Australia (Virtual)
Jul 22, 2021 - Lowell, Michigan
Salisbury, England - July 6, 2021
Sydney, Australia - Aug 25, 2021
Sep 7, 2021 - Melbourne, VIC, Australia (Virtual)
Lancaster, PA - Oct 26, 2021
Sydney, Australia - Oct 27, 2021
Salisbury, England - Nov 18, 2021
Nov 23, 2021 - Melbourne, VIC, Australia (Virtual) 

Growth Institute Online Executive Education:
Master of Business Dynamics
Scaling Up Master Business Course
Exponential Organizations Master Business Course
Topgrading Master Business Course

Better Book Club – What's your team reading? Increase your books read per team member. Easy, Proven, and in the Cloud at http://www.BetterBookClub.com.

Write Your Own Book
Whether you want to make it to the bestseller lists or just sell a lot more of your goods or services, with a profound competitive edge over the competition, Book The Business: How to Make BIG Money With Your Book Without Selling a Single Copy is for you! Request your free copy of this ground-breaking book at advantagefamily.com/scalingup.
Did you miss previous insights? - read here 

COACHING:
Ready to scale but looking for guidance?
Work with a Coach! Scaling a company is hard, but you don't have to go it alone. Elevate your business with the only end-to-end solution for entrepreneurs that are ready to move past the plateau and get exponential results. Whether you're in growth mode, planning strategy, raising capital, or navigating a complex economic landscape, Scaling Up's globally recognized coaches leverage effective tools and an evidence-based methodology to empower you to achieve results. Over 70,000 businesses have done it!
Learn more about what it's like to work with a Scaling Up Certified Coach™ by scheduling a complimentary, personal follow-up. CLICK HERE! Or check out our FAQ's. Additional questions can be sent to coaching@scalingup.com. 

Follow our new Instagram account: @scalingup2.0 

Read Verne's Insights on Kindle http://www.amazon.com/gp/product/B003SX13YI 

Sign up for Verne's Weekly Insights