Fearlessness is like a muscle. I know from my own life that the more I exercise it the more natural it becomes to not let my fears run me.
Arianna Huffington
If your dreams do not scare you, they are not big enough.
Ellen Johnson Sirleaf
Leveraging Women Leadership – March 31, 3pm ET
In December 2020 alone, women accounted for 100% of the 140,000 jobs shed in the US – a staggering statistic, but one of many that deserves to be addressed in a live conversation. Next Wednesday, March 31 at 3 PM EST, Growth Institute will bring together a panel of women business thought leaders as they discuss what the future holds for women in business. They'll share the huge challenges women face in the workplace and bring forth recommendations for how women can develop their unique leadership style. You can save your spot for this free live panel here: https://hubs.ly/H0JRgbv0

Woman-Owned Vietnam-based Education Firm 10x's (Scaling Up Case Study)
Scaling from 300 to over 3500 students, Vo Thi Ngoc Hanh details how she did it in this 14-minute interview with her Scaling Up Certified coach Jeremy Han, with whom she's worked for 5 years. Right at the 4-minute mark she shares the most important lessons learned and applied from Scaling Up and the workshop Jeremy led. And at the 10:30 mark she shares results – more time with her family, financial freedom, and she's able to work on the business instead of in it! Her enthusiasm and thirst for learning is contagious – it actually brought tears to my eyes – this is why we do what we do! 

Woman-Owned Toy Manufacturer Grew 80% in 2020 (Scaling Up Case Study)
Mia Galison, CEO of NYC-based eeBoo, with 3 children under three, wanted to create a new paradigm for what it meant to be a working mother. Starting in her basement, over the next two decades she scaled to $7 million her toy manufacturing firm specializing in useful, beautiful, and well-made educational games, puzzles, and gifts. 

3800 Distribution Points Closed
Deciding the end of 2019 that Galison wanted to pursue more aggressive growth, she brought on Scaling Up Certified coaches Cheryl Beth Kuchler and Jill Huentelman – just in time for the pandemic to hit. With most of her 3800 distribution points closed, her coaches helped her pivot, in 90 days, to a direct-to-consumer approach and grew revenue 80% in 2020! The meeting rhythm was one of the keys. This article details how she and her team did it – please take 2-minutes to read.

C200 Top Women Entrepreneurs
For years Scaling Up has led an accelerator program for the C200 which helps women entrepreneurs scale to $20 million to qualify for membership in this top women's entrepreneur organization. Led by Scaling Up Certified coach Lisa Ridley, Mia Galison was first exposed to the Scaling Up Performance Platform in her C200 Protégé class.

Jessieleigh Freeman Dominates a Unique Niche – Vintage Saturns!
Representing one of the most interesting car collections, 26-year-old Jessieleigh Freeman has restored 27 Saturn automobiles. What a niche and proves the power of specialization and "owning a word or two" in the minds of a market – in Jessieleigh's case "Saving Saturn" which is on the bottom of her skateboard she carries around and is all over her Instagram appropriately called Saving Saturn – and with each car named after one of the planet Saturn's moons! Please take 3 minutes to scan this entertaining and colorfully photographed Hagerty (Scaling Up client) article. No better example of hyper-focus!!! What two words do you own? What is your hyper-focus? 

Scaling Up Master Class with Verne -- April 6-8 - Southeast Asia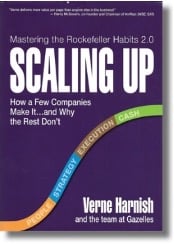 The next virtual Scaling Up Master Class is taking place April 6-8, Singapore Time. 90 minutes for the CEO, then 6 hours spread across two days (90-minutes each on People, Strategy, Execution, and Cash). This workshop will help educate you and your leadership team on how to implement the methods that have helped 80k companies scale, in an intimate virtual setting with myself and other experts from my Scaling Up team. Just $1995 for a team of 8. Refresher or for new people you need to bring up to speed – and the CEO, if attended once, gets to always attend for free. 

Scaling Up+ Free Virtual Summit - April 22 - Alan Mulally + More... 
Join top Scaling Up partners from around the globe for our second Scaling Up+ Summit of the year, April 22, 2:44pm-4:22pm ET. Speakers include Alan Mulally (former CEO of The Ford Motor Company), Justin Roff-Marsh (founder of Ballistix and author of The Machine), Julia Galef (co-founder of Center for Applied Rationality and author of The Scout Mindset), and Josh Linkner (NYT Bestselling Author and innovation expert). Register for free and learn more. 

Order a box of 20 Scaling Up books
Want to save 50% over the price on Amazon? Go to this link.
Better Book Club – What's your team reading? Increase your books read per team member. Easy, Proven, and in the Cloud at http://www.BetterBookClub.com.

Write Your Own Book
Whether you want to make it to the bestseller lists or just sell a lot more of your goods or services, with a profound competitive edge over the competition, Book The Business: How to Make BIG Money With Your Book Without Selling a Single Copy is for you! Request your free copy of this ground-breaking book at advantagefamily.com/scalingup.
Did you miss previous insights? - read here 

Follow our new Instagram account: @scalingup2.0 

COACHING:
Ready to scale but looking for guidance?
Work with a Coach! Scaling a company is hard, but you don't have to go it alone. Elevate your business with the only end-to-end solution for entrepreneurs that are ready to move past the plateau and get exponential results. Whether you're in growth mode, planning strategy, raising capital, or navigating a complex economic landscape, Scaling Up's globally recognized coaches leverage effective tools and an evidence-based methodology to empower you to achieve results. Over 70,000 businesses have done it!
Learn more about what it's like to work with a Scaling Up Certified Coach™ by scheduling a complimentary, personal follow-up. CLICK HERE! Or check out our FAQ's. Additional questions can be sent to [email protected]. 

TECHNOLOGY: 
ScalingUp Scoreboard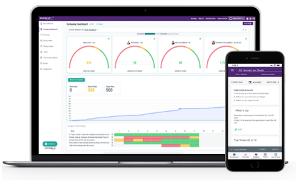 Integrated with Salesforce, Slack, and Zapier (allowing it to connect with 1000s of systems), use Scoreboard to provide your team (working remotely even more important!) a real time visual dashboard of cascading priorities and metrics. Get a personalized tour of Scaling Up Scoreboard to see how you can use it to better implement Scaling Up in your business.

EDUCATION: 
We're still in business coaching and training firms:
Oklahoma City, OK - March 26, 2021 (Virtual)
Scottsdale, AZ - April 1, 2021
April 1, 2021 - Nashville, TN (Virtual)
San Antonio, TX - April 7, 2021
Wellington, NZ - April 9, 2021
Ann Arbor, MI / Indianapolis, IN - April 15, 2021 (Virtual)
April 14, 2021 - Gold Coast, Queensland Australia
April 16, 2021 - Nashville, TN (Virtual)
April 22, 2021 - Tweed Heads / Byron Bay, Australia
May 11, 2021 - Cairns, Queensland, Australia
May 12, 2021 - Townsville, Queensland, Australia
Lowell, Michigan – May 20, 2021
Sydney, Australia - June 9, 2021
June 15, 2021 - Melbourne, VIC, Australia (Virtual)
Jul 22, 2021 - Lowell, Michigan
Salisbury, England - July 6, 2021
Aug 12, 2021 - Dallas, TX
Sydney, Australia - Aug 25, 2021
Sep 7, 2021 - Melbourne, VIC, Australia (Virtual)
Lancaster, PA - Oct 26, 2021
Sydney, Australia - Oct 27, 2021
Salisbury, England - Nov 18, 2021
Nov 23, 2021 - Melbourne, VIC, Australia (Virtual) 

Growth Institute Online Executive Education:
Master of Business Dynamics
Scaling Up Master Business Course
Exponential Organizations Master Business Course
Topgrading Master Business Course


Read Verne's Insights on Kindle http://www.amazon.com/gp/product/B003SX13YI