Think before you speak. Read before you think.
Fran Lebowitz, humorist, author


Management is about getting people to do something for you; leadership is about getting people to do something for themselves.
Monty Moran, former co-CEO Chipoltle
3 Barriers to Growth – Feb 10, 5pm ET
Join me Wednesday for a complimentary Growth Institute webinar where I'll detail the 3 Barriers to growth – and how to turn each into the engines that drive profitability, remove complexity, and achieve predictability. Avoid being blindsided by these 3 "growth killers." Register here

Love is Free; Guac is Extra
Monty Moran scaled Chipotle from 8 restaurants to well over 2,000; from a few hundred employees to over 70,000; and powered the stock from less than a dollar to over $750 – leading to a market cap of over $23 billion before he retired as co-CEO in 2017. The keys? Love, vulnerability, and truth as detailed in his newly released book Love is Free, Guac is Extra*. His opening story in the book delineates how he differentiated management from leadership.

Management vs Leadership…and Priorities
I'm continuing my campaign to rid the planet of the term "manager" and Monty seems to agree (I'm to meet him in Boulder in a couple weeks). Notes Monty:

Management is about getting people to do something for you; leadership is about getting people to do something for themselves.

For $9.99 get the Kindle version and go right to Chapter 7 titled "Priorities." Monty discerned his #1 priority that would drive all his actions – in this case what I would label his "one-phrase strategy" – and the rest is history. What is your "one thing" that will drive the most value for decades? Then enjoy the rest of his story.

Monty Opening Keynote -- Feb 24 Virtual Summit
Monty will share his leadership lessons with all of us Feb 24 – 2:24pm – 4:04pm ET. Register you and your team for free. You'll join over 5000 CEOs and CXOs who are committed to "outlearning the competition" as Monty joins Kevin Oakes and Emily Balcetis (25 minutes each, I'll moderate) to bring you the latest in scaling your business.

Tom Brady --12 Leadership Lessons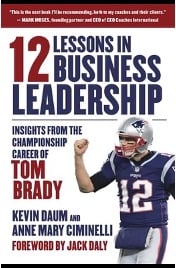 Saturday Night Live had a fun skit last weekend detailing how nothing works in the U.S. – the government, stock market, social networks, vaccine distribution, etc. But what they did say "works all the time" is Tom Brady – you can count on him to win! And he has, leading his new team, Tampa Bay, into the Super Bowl this weekend. Kevin Daum and Anne Mary Ciminelli distilled Tom's success down to 12 lessons from his Championship career* in this quick read and well-written insider book. 

Muscle Pliability – Read Epilogue First
Tom, for instance, focused on building muscle pliability that makes muscles long, soft, and resilient – prepared to take hits – which is why he's accomplishing what he is at age 43. Anyway, a great read prior to the Super Bowl this Sunday – and read the Epilogue first – on how he went about deciding and negotiating a spot with Tampa Bay – great to be informed. Go Chiefs! (OK, I'm a bigger Patrick Mahomes fan!)

Family vs. Professional Sports Team Model for Biz
I've mentioned repeatedly at our CEO Boot Camps a couple weeks ago and this week, how the family analogy is often used in business re: "we all feel like family in this business." However, most family dynamics I wouldn't wish on anyone – and it doesn't scale. The better analogy is that of professional sports teams and leagues. They are some of the best performing and most valuable organizations on the planet. With clearly defined goal lines, KPIs (data analytics now), training, scoreboards, and coaching – with very little "management" on the ball field – the sports model is how almost all work will be structured moving forward. Consider using this analogy vs. that of "being a family." Then apply Brady's principles to your organization.

Alive Studios Zoo School – for Preschoolers Just $15
Do you have a preschooler age 3 – 5? Cynthia Kaye and her team at Alive Studios (note, I'm an investor – Cynthia scaled her previous education firm to $98 million) are using the art of the pivot to offer their in-class supplemental reading curriculum online via the up and comer, Outschool. A highly engaging and interactive phonics program taught in schools, Letters alive® is now available through virtual learning camps over an internet connection. The Letters and Sounds Zoo Camp is offered 2 or 4 days a week for a half-hour to 3-5 year-olds and is getting great reviews. Kids learn more than just letters and sounds, the camps also teach about animals and their characteristics, habitats, colors, how to read and write, and social-emotional skills! At only $15 a class, Alive Studios is helping close the Covid learning gap caused by the interruption in instruction. Click here to learn more.
* As an Amazon Associate, I may earn revenue from qualified purchases made through this link.

Order a box of 20 Scaling Up books
Want to save 50% over the price on Amazon? Go to this link.

COACHING:
Have you ever wondered if working with a coach might accelerate your company's growth, exponentially? Do you have what it takes to move the dial from good to great? The Scaling Up team is prepared to support you. We have helped 40,000 other organizations over the past 30+ years, in scaling up their organizations through coaching, workshops, online training and more.
We would like to offer you a complimentary, personal follow-up from our Scaling Up team to share how we can support you in scaling your organization. 

YES! I WOULD LIKE TO LEARN MORE ABOUT COACHING & RECEIVE A COMPLIMENTARY FOLLOW-UP (CLICK HERE)
For questions or more information contact us at coaching@scalingup.com

TECHNOLOGY: 
ScalingUp Scoreboard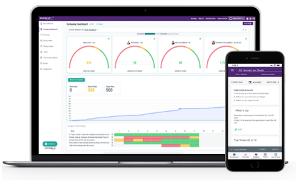 Integrated with Salesforce, Slack, and Zapier (allowing it to connect with 1000s of systems), use Scoreboard to provide your team (working remotely even more important!) a real time visual dashboard of cascading priorities and metrics. Get a personalized tour of Scaling Up Scoreboard to see how you can use it to better implement Scaling Up in your business.

EDUCATION: 
We're still in business coaching and training firms:
New Orleans, LA - Feb 12, 2021 (Virtual)
Newport Beach, CA - Feb 18, 2021 (Virtual)
Chapel Hill, NC - Feb 23, 2021 (Virtual)
Irving, TX – Feb 25, 2021
New York, NY - March 3, 2021 (Virtual)
Lowell, MI - March 4, 2021
Lancaster, PA - March 9, 2021 (Virtual)
Toronto, Canada - March 9, 2021 (Virtual)
Sydney, Australia - March 10, 2021
Wellington, NZ - March 11, 2021
Columbus, Ohio - March 12, 2021 (Virtual)
Salisbury, England - March 18, 2021
Brisbane, Australia - March 24 & 25, 2021 (2 Day Master Class) 
Los Angeles, CA - March 25, 2021 (Virtual)
Oklahoma City, OK - March 26, 2021 (Virtual)
Scottsdale, AZ - April 1, 2021
San Antonio, TX - April 7, 2021
Ann Arbor, MI / Indianapolis, IN - April 15, 2021 (Virtual)
Sydney, Australia - June 9, 2021
Salisbury, England - July 6, 2021
Sydney, Australia - Aug 25, 2021

Lancaster, PA - Oct 26, 2021
Sydney, Australia - Oct 27, 2021
Salisbury, England - Nov 18, 2021

Growth Institute Online Executive Education:
Master of Business Dynamics
Scaling Up Master Business Course
Exponential Organizations Master Business Course
Topgrading Master Business Course

Better Book Club – What's your team reading? Increase your books read per team member. Easy, Proven, and in the Cloud at http://www.BetterBookClub.com.

Write Your Own Book
Whether you want to make it to the bestseller lists or just sell a lot more of your goods or services, with a profound competitive edge over the competition, Book The Business: How to Make BIG Money With Your Book Without Selling a Single Copy is for you! Request your free copy of this ground-breaking book at advantagefamily.com/scalingup.
Did you miss previous insights? - read here 

Follow our new Instagram account: @scalingup2.0 

Read Verne's Insights on Kindle http://www.amazon.com/gp/product/B003SX13YI