Life is either a daring adventure or nothing at all.
Helen Keller


My one thing is I continue to be interested and want to be a student. I don't want to be a master. When I'm learning something, I'm in my element.
Chick Corea, jazz great, RIP
Hear from the (Likely) Future President of the US?
More below, but first…

3 Breakthrough Authors -- Scaling Up+ Summit Next Wed Feb 24
Monty Moran, Emily Balcetis, and Kevin Oakes will keynote (25 minutes each) next week's complimentary Scaling Up+ Summit. Learn from these biz leaders/recent authors before the competition does. More details below, but second…

Alltite Slashes Cash Conversion Cycle by 60% (Scaling Up Case Study)
Wichita-based Alltite pivoted to bolt tightening for the wind energy industry (riches in niches – someone has to do it) and was able to double, overnight, the size of their firm – from 50 to 100 employees. With Scaling Up coach Rob Garibay's support, they also slashed their cash conversion cycle from 222 days to 94 days and inventory losses from $400,000 to just $9000. This article details the specifics on how they accomplished all of this in under 12 months – and includes their much more aggressive and better aligned-to-strategy BHAG. Is your BHAG aligned with your strategy? Are you focused, like Alltite, on reviewing cash every day? Are you pursuing a growth industry? Please take 2 minutes to mine some ideas. 

Daily Huddle Powers Canada's Largest Home Improvement Franchise Network
If you're struggling with the daily huddle – why it's useful, how to structure – then please take 2-minutes to read this Forbes article on how Steven Knight, new member of EO Edmonton, is using the daily huddle to streamline his own efforts and remove bottlenecks throughout Mosaic Home Services on a daily basis. Steven details the agenda, gives ample examples, and shares how and why he initially struggled with this indispensable 10-minute daily routine. In general, every minute in a daily huddle saves 10 minutes – so a 10-minute huddle saves everyone over an hour and a half of time each day!! If you're struggling with this habit, we can help – email us at coaching@scalingup.com   

Future President of the US?  Monty Moran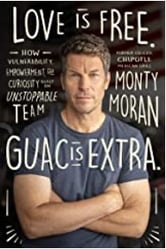 Tuesday evening in Boulder, I spent three-hours with former co-CEO of Chipotle Monty Moran, who scaled the firm to $23 billion in market cap and endured several major crises in the process. The key to his success? Curiosity – listening – conversation – learning – trust – love. And it's not just me, but much more influential people are encouraging Monty to make a run for President, which I believe he will. A successful trial attorney, who scaled his law firm, he has just produced a 6-part PBS television series titled "Connected: A Search for Unity" where he connects with the most down-to-earth and disaffected people in North America – including time with the parents of Ahmaud Arbery, a young black man murdered – and those rallying around the Confederate flag – and discovers love, mutual respect, and dignity – not what the media wants to paint as massive division in our country (are we all fed up with that?). Hear from Monty next Wednesday…
Monty Moran, Emily Balcetis, and Kevin Oakes – Feb 24 Scaling Up+ Summit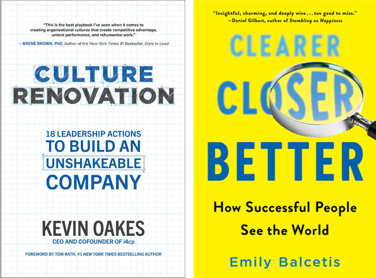 …Monty will open our Scaling Up+ virtual Summit next Wed – 2:24pm ET – followed by NY Stern professor (yes, same college as crazy Scott Galloway) Emily Balcetis, author of Clearer, Closer, Better:* How Successful People See the World, who will detail how the successful really do see things differently than others. Closing out the Summit (ending 4:04pm ET) is Kevin Oakes, who took his company public and has written the finest culture book to-date titled Culture Renovation:* 18 Leadership Actions to Build an Unshakable Company.  Sign up for this complimentary 90-minutes -- and outlearn the competition.

* As an Amazon Associate, I may earn revenue from qualified purchases made through this link.

Order a box of 20 Scaling Up books
Want to save 50% over the price on Amazon? Go to this link.

Better Book Club – What's your team reading? Increase your books read per team member. Easy, Proven, and in the Cloud at http://www.BetterBookClub.com.

Write Your Own Book
Whether you want to make it to the bestseller lists or just sell a lot more of your goods or services, with a profound competitive edge over the competition, Book The Business: How to Make BIG Money With Your Book Without Selling a Single Copy is for you! Request your free copy of this ground-breaking book at advantagefamily.com/scalingup.
Did you miss previous insights? - read here 

COACHING:
Have you ever wondered if working with a coach might accelerate your company's growth, exponentially? Do you have what it takes to move the dial from good to great? The Scaling Up team is prepared to support you. We have helped 40,000 other organizations over the past 30+ years, in scaling up their organizations through coaching, workshops, online training and more.
We would like to offer you a complimentary, personal follow-up from our Scaling Up team to share how we can support you in scaling your organization. 

YES! I WOULD LIKE TO LEARN MORE ABOUT COACHING & RECEIVE A COMPLIMENTARY FOLLOW-UP (CLICK HERE)
For questions or more information contact us at coaching@scalingup.com

TECHNOLOGY: 
ScalingUp Scoreboard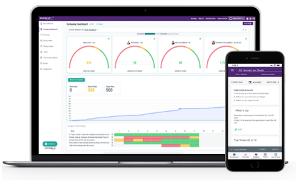 Integrated with Salesforce, Slack, and Zapier (allowing it to connect with 1000s of systems), use Scoreboard to provide your team (working remotely even more important!) a real time visual dashboard of cascading priorities and metrics. Get a personalized tour of Scaling Up Scoreboard to see how you can use it to better implement Scaling Up in your business.

EDUCATION: 
We're still in business coaching and training firms:
Chapel Hill, NC - Feb 23, 2021 (Virtual)
Irving, TX – Feb 25, 2021
New York, NY - March 3, 2021 (Virtual)
Lowell, MI - March 4, 2021
Lancaster, PA - March 9, 2021 (Virtual)
Toronto, Canada - March 9, 2021 (Virtual)
Sydney, Australia - March 10, 2021
Wellington, NZ - March 11, 2021
Columbus, Ohio - March 12, 2021 (Virtual)
Salisbury, England - March 18, 2021
Colorado Springs, CO – March 18, 2021 (Virtual)
Brisbane, Australia - March 24 & 25, 2021 (2 Day Master Class) 
Los Angeles, CA - March 25, 2021 (Virtual)
Oklahoma City, OK - March 26, 2021 (Virtual)
Scottsdale, AZ - April 1, 2021
San Antonio, TX - April 7, 2021
Ann Arbor, MI / Indianapolis, IN - April 15, 2021 (Virtual)
Lowell, Michigan – May 20, 2021
Sydney, Australia - June 9, 2021
Salisbury, England - July 6, 2021
Sydney, Australia - Aug 25, 2021
Lancaster, PA - Oct 26, 2021
Sydney, Australia - Oct 27, 2021
Salisbury, England - Nov 18, 2021

Growth Institute Online Executive Education:
Master of Business Dynamics
Scaling Up Master Business Course
Exponential Organizations Master Business Course
Topgrading Master Business Course

Follow our new Instagram account: @scalingup2.0 

Read Verne's Insights on Kindle http://www.amazon.com/gp/product/B003SX13YI