Love doesn't make the world go round. Love is what makes the ride worthwhile.
Franklin P. Jones, PR Exec


Everyone wants to live on top of the mountain, but all the happiness and growth occurs while you're climbing it.
Andy Rooney, radio and TV personality
CEO Boot Camp June 1 – 4, Marathon, FL
John Ratliff and I just wrapped up two successful CEO Boot Camps – and given the thirst to get in community to learn, we've scheduled another June 1 – 4, Marathon, FL. Limited to 8 CEOs (three spots already taken). 

#2 Book in the World – Think Again
Adam Grant has done it yet again – another huge best-seller – this time nudging us to unlearn and rethink more often. More below, including link to a 5-minute free quiz to assess your ability to unlearn/thing again….

Ashton Kutcher and Adam Grant – and Being Sexy
…and Tuesday night I shared an hour with my daughter Jade (17) watching Ashton Kutcher's interview/dialogue with Adam Grant. I knew Adam was brilliant, but wow, Kutcher exudes insight and intelligence that's off the scale. But I've always been a Kutcher fan, ever since his Teen Choice Awards speech which I've shared with every teenager I could, including my own. His explanation of what is sexy is a lesson for all, including how to create a sexy brand! 

ProHygiene Prestigious Latin America Award (Scaling Up Case Study)
Rodrigo Labbé is ProHygiene´s General Manager, a professional hygiene systems company, which has successfully kept growing throughout the pandemic crisis with the mentoring of Scaling Up Coaches Mari Soler and Jose Muñoz. This blog details how the focus on the 4 Decisions has allowed his team to win INSIGNE Trophy as the Top operation Franchise in Latin America and to maintain their focus on the ProHygiene Culture throughout the changes and challenges in this new economy.

17 Seconds of Adults Acting Like Children
The details of ProHygiene's success includes a 17-second video showing how they celebrated the successful competition of their quarterly goals/theme – adults having fun like children!!  Important to never lose this ability!!!!  Please take a quarter-minute to relish in their fun – then plan some fun of your own – virtual or in-person. 

03 March Latin American Scaling Up Summit
Join me, along with our Latin American coaching partners, for this virtual "Titanes" Scaling Up Summit. 

Adam Grant's Book – 5-Minute Quiz
Thank you to those who have invested in your own learning by investing with us. Our top customers are receiving a letter from Adam Grant along with a copy of his book. Notes Adam: 
"…if you want to assess your approach to rethinking, I've created a fun 5-minute quiz." He goes on to explain:

The past year has forced us to rethink many of our basic assumptions—from how we work to where kids learn to what it takes to stay healthy. Yet in our daily lives, too many of us still favor the comfort of conviction over the discomfort of doubt.

We listen to opinions that make us feel good, instead of ideas that make us think hard. We see disagreement as a threat to our egos, rather than an opportunity to learn. We surround ourselves with people who agree with our conclusions, when we should be gravitating toward those who challenge our thought process. We need to develop the skill—and the will—to rethink our views.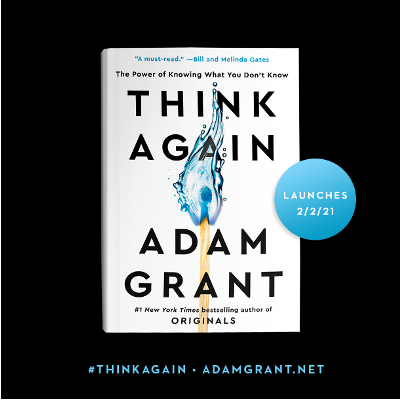 That's the focus of my new book, Think Again*. It's about how we can develop the humility to know what we don't know and the mental flexibility to question opinions we've long taken for granted. It's also about how we can cultivate that same openness and curiosity in others, and build workplaces, schools, and communities of lifelong learners.

At the virtual Scaling Up Summit in September, I gave a sneak preview of one of the key points. To make rethinking the norm in workplaces, it's not enough for leaders to ask for ideas and feedback. When leaders have the humility to criticize themselves out loud, it signals that they're open to rethinking and creates the psychological safety for their teams to speak up.

Rethinking is something Verne does with gusto, and I'm thrilled for you to be one of the first readers to receive a copy of the book. Here's to making 2021 the year of thinking again.

Daily Minute of Music and Motivation
Enjoy this one-minute of quotes to send you into a Valentine's weekend of love and growth – and sign-up to get each morning to kick off your day with some quick wisdom.

* As an Amazon Associate, I may earn revenue from qualified purchases made through this link.

Order a box of 20 Scaling Up books
Want to save 50% over the price on Amazon? Go to this link.

Write Your Own Book
Whether you want to make it to the bestseller lists or just sell a lot more of your goods or services, with a profound competitive edge over the competition, Book The Business: How to Make BIG Money With Your Book Without Selling a Single Copy is for you! Request your free copy of this ground-breaking book at advantagefamily.com/scalingup.
Did you miss previous insights? - read here 

COACHING:
Have you ever wondered if working with a coach might accelerate your company's growth, exponentially? Do you have what it takes to move the dial from good to great? The Scaling Up team is prepared to support you. We have helped 40,000 other organizations over the past 30+ years, in scaling up their organizations through coaching, workshops, online training and more.
We would like to offer you a complimentary, personal follow-up from our Scaling Up team to share how we can support you in scaling your organization. 

YES! I WOULD LIKE TO LEARN MORE ABOUT COACHING & RECEIVE A COMPLIMENTARY FOLLOW-UP (CLICK HERE)
For questions or more information contact us at coaching@scalingup.com

TECHNOLOGY: 
ScalingUp Scoreboard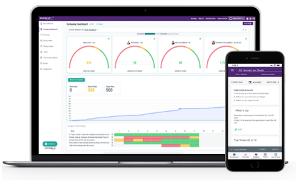 Integrated with Salesforce, Slack, and Zapier (allowing it to connect with 1000s of systems), use Scoreboard to provide your team (working remotely even more important!) a real time visual dashboard of cascading priorities and metrics. Get a personalized tour of Scaling Up Scoreboard to see how you can use it to better implement Scaling Up in your business.

EDUCATION: 
We're still in business coaching and training firms:
New Orleans, LA - Feb 12, 2021 (Virtual)
Newport Beach, CA - Feb 18, 2021 (Virtual)
Chapel Hill, NC - Feb 23, 2021 (Virtual)
Irving, TX – Feb 25, 2021
New York, NY - March 3, 2021 (Virtual)
Lowell, MI - March 4, 2021
Lancaster, PA - March 9, 2021 (Virtual)
Toronto, Canada - March 9, 2021 (Virtual)
Sydney, Australia - March 10, 2021
Wellington, NZ - March 11, 2021
Columbus, Ohio - March 12, 2021 (Virtual)
Salisbury, England - March 18, 2021
Colorado Springs, CO – March 18, 2021 (Virtual)
Brisbane, Australia - March 24 & 25, 2021 (2 Day Master Class) 
Los Angeles, CA - March 25, 2021 (Virtual)
Oklahoma City, OK - March 26, 2021 (Virtual)
Scottsdale, AZ - April 1, 2021
San Antonio, TX - April 7, 2021
Ann Arbor, MI / Indianapolis, IN - April 15, 2021 (Virtual)
Sydney, Australia - June 9, 2021
Salisbury, England - July 6, 2021
Sydney, Australia - Aug 25, 2021

Lancaster, PA - Oct 26, 2021
Sydney, Australia - Oct 27, 2021
Salisbury, England - Nov 18, 2021

Growth Institute Online Executive Education:
Master of Business Dynamics
Scaling Up Master Business Course
Exponential Organizations Master Business Course
Topgrading Master Business Course

Better Book Club – What's your team reading? Increase your books read per team member. Easy, Proven, and in the Cloud at http://www.BetterBookClub.com.


Follow our new Instagram account: @scalingup2.0 

Read Verne's Insights on Kindle http://www.amazon.com/gp/product/B003SX13YI