We met at the YPO event in Melbourne, just before the COVID shitstorm hit. I must thank you. We implemented the techniques you taught, and we grew our revenue by 120% in our Asian offices (SG, HK, KL, TH) and hired over 350 new staff, whilst others in our industry downsized.
Nick Bell, Director, Australia-based Appscore (email Tuesday)
Spurs Secret Dinners
Sometimes the title of an article says it all "Michelin restaurants and fabulous wines: Inside the secret team dinners that have built the Spurs' dynasty." Carey Smith, iconic founder of Big Ass Fans, used weekly dinners with employees to do the same. It's a lengthy 6-minute ESPN article, but a great lesson in generosity, passion, connection, and success.

Jerry Threat
And the article above has a great side story – how a server named Jerry Threat rose to restaurant fame just by doing a little research – it's the opening story of the article – 30 seconds! And a powerful lesson of how you can capture the attention of anyone (and your boss!).

Culture Renovation – Finally a Great Culture Book
I have about as much disdain for books on culture as I do leadership books! So, when I heard Kevin Oakes, who is one of us – a successful CEO and founder of Click2Learn, SumTotal, etc. – had a new book coming out, I figured it would be fantastic – and it is.  First, take the title Culture Renovation* – like me, he thinks the term "culture change" is misguided – so he's chosen a more precise term "renovation." There are lots of parts of a culture you want to keep, so keep them!

18 Leadership Actions
Again, he got it right – it's the actions you take, like Ben Horowitz suggested, that matter when it comes to culture. Each of the 18 leadership actions he details are anchored with a real case story of how it's implemented – and ALL are entertaining and instructive. I appreciate that Kevin has worked with many of the most recognized companies in doing this work so its real-world stuff! I learned so much that was insightful about these various companies. It's like reading 18 mini-company biographies – stealing ideas from the best. 

If Employees Work for Your Organization the Next Two Years…
…Will They Be Healthier? This is one of six key questions Tom Rath, who wrote the Foreword to Kevin's book, asks about your culture. Start with Rath's Foreword, then keep reading (though Chapter 4 is my favorite if you want to skip to it!). 

Feb 24, Complimentary Webinar with Kevin (and two others)
This is why I booked Kevin to keynote, for 25 minutes, our next Scaling Up+ Summit. Kevin, along with Emily Balcetis and a mystery celebrity CEO, will round out 90 minutes of fresh new ideas – and all at no charge. Register to be there LIVE and/or get the recording – 2:24pm – 4:04pm ET Wednesday, Feb 24. 


* As an Amazon Associate, I may earn revenue from qualified purchases made through this link.

Order a box of 20 Scaling Up books
Want to save 50% over the price on Amazon? Go to this link.

EDUCATION: 
We're still in business coaching and training firms:
Atlanta, GA - Jan 26, 2021 (Virtual)
Ontario, Canada Region - Jan 28, 2021 (Virtual)
New Orleans, LA - Feb 12, 2021 (Virtual)
Newport Beach, CA - Feb 18, 2021 (Virtual)
Chapel Hill, NC - Feb 23, 2021 (Virtual)
Irving, TX – Feb 25, 2021
New York, NY - March 3, 2021 (Virtual)
Lowell, MI - March 4, 2021
Lancaster, PA - March 9, 2021 (Virtual)
Sydney, Australia - March 10, 2021
Wellington, NZ - March 11, 2021
Columbus, Ohio - March 12, 2021 (Virtual)
Salisbury, England - March 18, 2021
Brisbane, Australia - March 24 & 25, 2021 (2 Day Master Class) 
Los Angeles, CA - March 25, 2021 (Virtual)
Oklahoma City, OK - March 26, 2021 (Virtual)
Scottsdale, AZ - April 8, 2021
Ann Arbor, MI / Indianapolis, IN - April 15, 2021 (Virtual)
Sydney, Australia - June 9, 2021
Salisbury, England - July 6, 2021
Sydney, Australia - Aug 25, 2021

Lancaster, PA - Oct 26, 2021
Sydney, Australia - Oct 27, 2021
Salisbury, England - Nov 18, 2021

Growth Institute Online Executive Education:
Master of Business Dynamics
Scaling Up Master Business Course
Exponential Organizations Master Business Course
Topgrading Master Business Course

Better Book Club – What's your team reading? Increase your books read per team member. Easy, Proven, and in the Cloud at http://www.BetterBookClub.com.

Write Your Own Book
Whether you want to make it to the bestseller lists or just sell a lot more of your goods or services, with a profound competitive edge over the competition, Book The Business: How to Make BIG Money With Your Book Without Selling a Single Copy is for you! Request your free copy of this ground-breaking book at advantagefamily.com/scalingup.
Did you miss previous insights? - read here 

COACHING:
Have you ever wondered if working with a coach might accelerate your company's growth, exponentially? Do you have what it takes to move the dial from good to great? The Scaling Up team is prepared to support you. We have helped 40,000 other organizations over the past 30+ years, in scaling up their organizations through coaching, workshops, online training and more.
We would like to offer you a complimentary, personal follow-up from our Scaling Up team to share how we can support you in scaling your organization. 

YES! I WOULD LIKE TO LEARN MORE ABOUT COACHING & RECEIVE A COMPLIMENTARY FOLLOW-UP (CLICK HERE)
For questions or more information contact us at coaching@scalingup.com
TECHNOLOGY: 
ScalingUp Scoreboard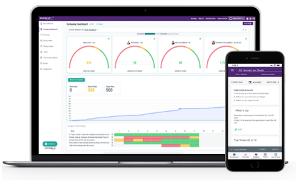 Integrated with Salesforce, Slack, and Zapier (allowing it to connect with 1000s of systems), use Scoreboard to provide your team (working remotely even more important!) a real time visual dashboard of cascading priorities and metrics. Get a personalized tour of Scaling Up Scoreboard to see how you can use it to better implement Scaling Up in your business.

  
Read Verne's Insights on Kindle http://www.amazon.com/gp/product/B003SX13YI 

Sign up for Verne's Weekly Insights