Some people walk in the rain, others just get wet.
Roger Miller, singer-songwriter


Opportunity is missed by most people because it is dressed in overalls and looks like work.
Thomas A. Edison, inventor
Asia Scaling Up Master Class (Virtual) April 6 – 8 – Singapore Time
90-minute CEO-only session April 6; then 3 hours April 7 and April 8 for the entire exec team – same as the Scaling Up Master Class we hosted last December. Taught by Verne and his partners, immerse you and your team in the tools/techniques that have helped 70,000+ mid-market firms scale successfully. Hosted at convenient times for Asia/Oceanic firms. For more info and pricing, click here.

Taipei-based Teamson 10x Profit/Revenue (Scaling Up Case Study)
This 8-minute video details how William Su, CEO of Teamson, and his team have scaled their global firm 10x in both profit and revenue since 2017 (actually 11x and its significant revenues) using Scaling Up/Rockefeller Habits. Supported by Singapore coaching partner Jeremy Han, William also explains how Scaling Up has helped him navigate the crisis – the meeting rhythms, especially the daily, being the most critical (4:20 in the video). Huddles and habits are the key in good times and bad!!

Scale Through Acquisition – 5x in 36 months
Nathan Spearman, a veteran manufacturing CFO, made the leap and purchased a plastics extrusion firm doing $2.5 million in 2017. Using Scaling Up with the coaching support of Rob Garibay – and purchasing a rival firm – he reached $13 million in 2020 and is on track for $19 million this year. Acquisition is an excellent way to both launch and scale a business if you can get the integration right. Please take 2-minutes to read this detailed article on how Nathan scaled and the Scaling Up tools that have been the most helpful. Values, innovation, and cash flow have been key.

Mindset and Motion
The lens through which you see things/events/people/situations (re: the first quote above) and your willingness to put in the effort (second quote) summarizes success. Enjoy more quotes/music in this "Daily Minute" to kick off your weekend. 

Prolonged Mask Usage – Care for Your Employees
Even doctors/nurses never wore masks for extended periods in "normal" times – not like the 8 hours/day some people are enduring. Here's a link to Dr. John Briggs' latest blog on the health effects of extended mask wearing and some ways to address as a business owner.

EOer Mandy Gilbert's Just Go with It
A quick read, Mandy Gilbert has written a book, Just Go with It,* sharing her entrepreneurial journey as she's scaled Creative Niche which uses the latest in digital, marketing, and creative recruiting to land you talent – over 14,000 placements. Stephen M.R. Covey's (Speed of Trust author) endorsement provides a nice reason to read her book over the weekend: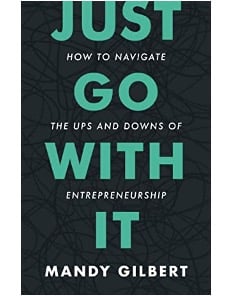 A very real and honest take on the peaks and valleys of the entrepreneurial journey. A clear example of why vulnerability is a major strength, not a weakness. Every leader should take a page out of Mandy's book. 

Congratulations, Mandy, on sharing your journey with all of us. 

Our Bernie Meme – Now We Know!!
What's your favorite Scaling Bernie Meme? We've posted our favorites to our new instagram account, here.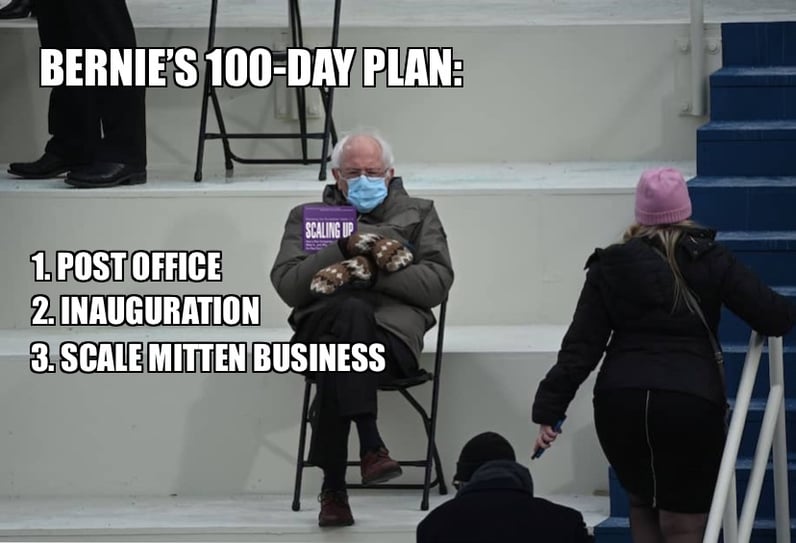 * As an Amazon Associate, I may earn revenue from qualified purchases made through this link.

Order a box of 20 Scaling Up books
Want to save 50% over the price on Amazon? Go to this link.

TECHNOLOGY: 

ScalingUp Scoreboard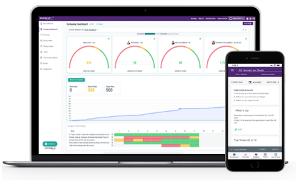 Integrated with Salesforce, Slack, and Zapier (allowing it to connect with 1000s of systems), use Scoreboard to provide your team (working remotely even more important!) a real time visual dashboard of cascading priorities and metrics. Get a personalized tour of Scaling Up Scoreboard to see how you can use it to better implement Scaling Up in your business.

EDUCATION: 
We're still in business coaching and training firms:
New Orleans, LA - Feb 12, 2021 (Virtual)
Newport Beach, CA - Feb 18, 2021 (Virtual)
Chapel Hill, NC - Feb 23, 2021 (Virtual)
Irving, TX – Feb 25, 2021
New York, NY - March 3, 2021 (Virtual)
Lowell, MI - March 4, 2021
Lancaster, PA - March 9, 2021 (Virtual)
Sydney, Australia - March 10, 2021
Wellington, NZ - March 11, 2021
Columbus, Ohio - March 12, 2021 (Virtual)
Salisbury, England - March 18, 2021
Brisbane, Australia - March 24 & 25, 2021 (2 Day Master Class) 
Los Angeles, CA - March 25, 2021 (Virtual)
Oklahoma City, OK - March 26, 2021 (Virtual)
Scottsdale, AZ - April 1, 2021
San Antonio, TX - April 7, 2021
Ann Arbor, MI / Indianapolis, IN - April 15, 2021 (Virtual)
Sydney, Australia - June 9, 2021
Salisbury, England - July 6, 2021
Sydney, Australia - Aug 25, 2021

Lancaster, PA - Oct 26, 2021
Sydney, Australia - Oct 27, 2021
Salisbury, England - Nov 18, 2021

Growth Institute Online Executive Education:
Master of Business Dynamics
Scaling Up Master Business Course
Exponential Organizations Master Business Course
Topgrading Master Business Course

Better Book Club – What's your team reading? Increase your books read per team member. Easy, Proven, and in the Cloud at http://www.BetterBookClub.com.

Write Your Own Book
Whether you want to make it to the bestseller lists or just sell a lot more of your goods or services, with a profound competitive edge over the competition, Book The Business: How to Make BIG Money With Your Book Without Selling a Single Copy is for you! Request your free copy of this ground-breaking book at advantagefamily.com/scalingup.
Did you miss previous insights? - read here 

COACHING:
Have you ever wondered if working with a coach might accelerate your company's growth, exponentially? Do you have what it takes to move the dial from good to great? The Scaling Up team is prepared to support you. We have helped 40,000 other organizations over the past 30+ years, in scaling up their organizations through coaching, workshops, online training and more.
We would like to offer you a complimentary, personal follow-up from our Scaling Up team to share how we can support you in scaling your organization. 

YES! I WOULD LIKE TO LEARN MORE ABOUT COACHING & RECEIVE A COMPLIMENTARY FOLLOW-UP (CLICK HERE)
For questions or more information contact us at coaching@scalingup.com

Read Verne's Insights on Kindle http://www.amazon.com/gp/product/B003SX13YI 

Sign up for Verne's Weekly Insights