The bad news is time flies. The good news is you're the pilot.
Michael Altshuler


I don't know where I'm going from here, but I promise it won't be boring.
David Bowie
YPO-Only CEO/#2 Boot Camp – Quail Ridge Lodge
2 spots left – Jan 19 – 22. Join 8 other YPOers and their #2s at YPOer Davis Taylor's hunting lodge in Mississippi. Enjoy three days of learning, conversation, and fun as John Ratliff and I go deep with the Scaling Up tools/techniques – bringing millions of dollars of value as it has the past five years to hundreds of CEOs. We also have 2 seats left for our "public" CEO Boot Camp Feb 2 – 5, Marathon, FL. For details www.ceo-bootcamp.com  

7 Things You Say That Kill Your Credibility
"I know how you feel" is just one of several phrases we often (and naturally) use in conversation – yet hurts your credibility. This Forbes article details six more dangerous phrases and what you should say instead. Give it a one-minute scan. 

USC Group Scales from $70 million to $120 million (Scaling Up case study)
Stephen Ellich's Australia-based USC Group has continued to scale in this pandemic, like most of our clients. Coached by Rob Nankervis, this article details their specific People, Strategy, Execution, and Cash (a "culture of cash" as they call it) decisions that have continued to propel the business – worth 2-minutes to reinforce the fundamentals as you go into 2021. My favorite specific:

…emblazoning its walls with graffiti art made by street artists. The artists created four separate but linked murals depicting the Brand Promise, Purpose, Core Values, history and service lines. 

Read the article to see what their 3 brand promises, core values, and purpose are – three of the key components of an effective vision.

Make it Local First – Why Buffett/Bezos/Dimon Failed
Haven, the healthcare company Buffett, Bezos, and Dimon launched with famed MD Atul Gawande is shutting its doors in a few weeks. Why did it fail? Setting aside that healthcare in the US is so lucrative that no one, including our Congress, wants to fix it (we pay the most -- $1.3 trillion/yr -- and get the least outcomes of any western country in the world); the other reason is Haven tried to be too big from the start! No less than a dozen times over the last few months I've had calls discussing this same issue with a bunch of entrepreneurs. You have to make it local first!! In the end, each of the companies – Amazon, Berkshire Hathaway, and JPMorgan – ended up doing their own thing – and Amazon was most successful in their Seattle-only pilot program.

Airbnb Made the Same Mistake
The three Airbnb founders tried to be global from day one as well – and it would seem to make sense given their business model. However, after wasting five years trying, Y Combinator's Paul Graham advised them to go to New York, where they had 20 "beds" and figure out how to make it work in that one market. They did, grew NYC to 200 "beds", and the rest is history – they are a public company as of a month ago. 

I Learned the Same Lesson
It wasn't until I focused on "making it" in Washington, DC – hosting local workshops and coaching local firms – that Gazelles (now Scaling Up) was able to gain momentum.  Interestingly, I grew my local workshops from 20 to 200 attendees, almost the same dynamic as Airbnb, though I've yet to go public! There is something about building a local "tribe" first – a tribe being 150 – before going bigger. Another way to think about it is "securing a base."

Even Intel Tested Local
One of my favorite stories in The Greatest Business Decisions of All Time,* which I authored with Fortune magazine, is how Intel arrived at the decision to spend $250 million on a consumer ad campaign to brand "Intel Inside." It's a crazy idea to think they could get the consumer to care!! Yet they did – and it started with a series of billboards in Denver, CO. It was a low-cost local campaign (shoot bullets vs. cannon balls) they tweaked until they could see positive results – then they went big. Where are you being too ambitious – and need to test/stay local first? 

Happy New Year Scaleups!
Scaleups are the key to our economic recovery – so thank you to the thousands of firms our 190+ coaching partners had the privilege of working with in 2020, including the 738 leaders that participated in our last Scaling Up Master Class. You're "doing the work!"

* As an Amazon Associate, I may earn revenue from qualified purchases made through this link.

Order a box of 20 Scaling Up books
Want to save 50% over the price on Amazon? Go to this link.

COACHING:
Have you ever wondered if working with a coach might accelerate your company's growth, exponentially? Do you have what it takes to move the dial from good to great? The Scaling Up team is prepared to support you. We have helped 40,000 other organizations over the past 30+ years, in scaling up their organizations through coaching, workshops, online training and more.
We would like to offer you a complimentary, personal follow-up from our Scaling Up team to share how we can support you in scaling your organization. 

YES! I WOULD LIKE TO LEARN MORE ABOUT COACHING & RECEIVE A COMPLIMENTARY FOLLOW-UP (CLICK HERE)
For questions or more information contact us at coaching@scalingup.com

TECHNOLOGY: 
ScalingUp Scoreboard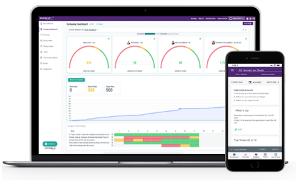 Integrated with Salesforce, Slack, and Zapier (allowing it to connect with 1000s of systems), use Scoreboard to provide your team (working remotely even more important!) a real time visual dashboard of cascading priorities and metrics. Get a personalized tour of Scaling Up Scoreboard to see how you can use it to better implement Scaling Up in your business.
EDUCATION: 
We're still in business coaching and training firms:
Oxford, UK - Jan 13, 2021 (Virtual)
Colorado Springs, CO - Jan 13, 2021 (Virtual)
Waltham, MA – Jan 14, 2021
Louisville, KY - Jan 15, 2021 (Virtual)
Oklahoma City, OK - Jan 15, 2021 (Virtual)
Ann Arbor, MI / Indianapolis, IN – Jan 20, 2021 (Virtual)
Washington, DC - Jan 21, 2021 (Virtual)
Oakland, CA - Jan 21, 2021 (Virtual)
Columbus, OH - Jan 21, 2021 (Virtual)
Atlanta, GA - Jan 26, 2021 (Virtual)
Ontario, Canada Region - Jan 28, 2021 (Virtual)
New Orleans, LA - Feb 12, 2021 (Virtual)
Chapel Hill, NC - Feb 23, 2021 (Virtual)
Irving, TX – Feb 25, 2021
Lancaster, PA - March 2, 2021 (Virtual)
Salisbury, England - March 18, 2021
Brisbane, Australia - Mar 24 & 25, 2021 (2 Day Master Class) 
Oklahoma City, OK - March 26, 2021 (Virtual)
Salisbury, England - July 6, 2021
Lancaster, PA - Oct 26, 2021
Salisbury, England - Nov 18, 2021

Growth Institute Online Executive Education:
Master of Business Dynamics
Scaling Up Master Business Course
Exponential Organizations Master Business Course
Topgrading Master Business Course

Better Book Club – What's your team reading? Increase your books read per team member. Easy, Proven, and in the Cloud at http://www.BetterBookClub.com.

Write Your Own Book
Whether you want to make it to the bestseller lists or just sell a lot more of your goods or services, with a profound competitive edge over the competition, Book The Business: How to Make BIG Money With Your Book Without Selling a Single Copy is for you! Request your free copy of this ground-breaking book at advantagefamily.com/scalingup.
Did you miss previous insights? - read here 
  
Read Verne's Insights on Kindle http://www.amazon.com/gp/product/B003SX13YI 

Sign up for Verne's Weekly Insights