Service to others is the rent you pay for your room here on earth.
Muhammad Ali


Grace is a gift that seasoned leaders give themselves first.
YPOer Michael Maddox
Look at Cash Daily
If you've ever run out of cash, you never want to experience that again. It happened to me in 2001, losing a million in a few weeks following 9/11. That is when I woke up and got serious about "following the money." It helps to figure out anything – your business, politics, cheats, etc. I started literally tracking my cash on a daily basis – seeing what was flowing in and out. And for the first time I had a real feel for the dynamics of my business model. With banking apps on your phone, it makes it even easier. Are you tracking your cash daily?

20,000 Firms Using the Cash "Power of One" Tool – Latest Firm 5x EBIT/Cash
We're writing up the case study of how one Scaling Up client, focusing on just one of the 7 Levers of Cash, drove EBIT in 2020 from $8 million to $40 million – which is generating them a lot of cash. Cash has never been more vital to your business. As the leader, you are responsible to have the cash flow needed to keep the company operating. However, your leadership team needs to have a deep understanding of the company's financials, in order to make decisions that support increasing your cash flow. 

Wed 3pm ET, Jan 20th, 7 Levers to 2X Cash
To help you and your team get control of your cash, we've partnered with Alan Miltz (he wrote one of the key Cash chapters in Scaling Up) for a free training on Jan 20th: The 7 Levers to 2X Cash Flow, 3X Profit, & 10X Your Valuation. His Power of One Tool, which he will dive into during the training, has been a game-changer for the over 20,000 companies already using it. Click here to save your seat and I'll see you there!

From 112 Hours to 18 Hours Time to Ship (Scaling Up Case Study)
John Webber's Elkhart, IN based firm Carved (love the name of the company!), which creates one-of-a-kind wooden products – iPhone cases, bracelets, even phone chargers! – is successfully utilizing Scaling Up, with the help of mentor Doug Rassi, to navigate the crisis. This article, details how a focus on cash allowed his team to pay off two new CNC machines in 30 days; and reduce from 112 hours to 18 hours the time to ship a custom product, which also speeds up cash flow. What is your 10x internal improvement for 2021? Please take two minutes to pick up some ideas to improve your firm.

Heartfelt 10 Lessons from 2020
As if 2020 wasn't tough enough, YPOer Michael Maddox's wife was diagnosed with brain cancer a couple months ago. In the spirit of "for the good of the whole…" last week Michael wrote a very personal article for Forbes detailing 10 lessons he's carrying into 2021. Please take 2-minutes to scan down through the ten – #1 being the importance of giving ourselves the gift of grace. Thank you, Mike, for giving back to our community.
Order a box of 20 Scaling Up books
Want to save 50% over the price on Amazon? Go to this link.

TECHNOLOGY: 
ScalingUp Scoreboard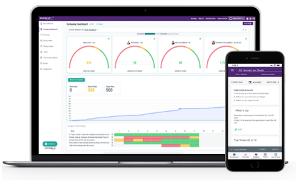 Integrated with Salesforce, Slack, and Zapier (allowing it to connect with 1000s of systems), use Scoreboard to provide your team (working remotely even more important!) a real time visual dashboard of cascading priorities and metrics. Get a personalized tour of Scaling Up Scoreboard to see how you can use it to better implement Scaling Up in your business.

EDUCATION: 
We're still in business coaching and training firms:
Ann Arbor, MI / Indianapolis, IN – Jan 20, 2021 (Virtual)
Washington, DC - Jan 21, 2021 (Virtual)
Oakland, CA - Jan 21, 2021 (Virtual)
Columbus, OH - Jan 21, 2021 (Virtual)
Atlanta, GA - Jan 26, 2021 (Virtual)
Ontario, Canada Region - Jan 28, 2021 (Virtual)
New Orleans, LA - Feb 12, 2021 (Virtual)
Newport Beach, CA - Feb 18, 2021 (Virtual)
Chapel Hill, NC - Feb 23, 2021 (Virtual)
Irving, TX – Feb 25, 2021
New York, NY - March 3, 2021 (Virtual)
Lancaster, PA - March 9, 2021 (Virtual)
Sydney, Australia - March 10, 2021
Salisbury, England - March 18, 2021
Brisbane, Australia - Mar 24 & 25, 2021 (2 Day Master Class) 
Oklahoma City, OK - March 26, 2021 (Virtual)
Sydney, Australia - June 9, 2021
Salisbury, England - July 6, 2021
Sydney, Australia - Aug 25, 2021

Lancaster, PA - Oct 26, 2021
Sydney, Australia - Oct 27, 2021
Salisbury, England - Nov 18, 2021

Growth Institute Online Executive Education:
Master of Business Dynamics
Scaling Up Master Business Course
Exponential Organizations Master Business Course
Topgrading Master Business Course

Better Book Club – What's your team reading? Increase your books read per team member. Easy, Proven, and in the Cloud at http://www.BetterBookClub.com.

Write Your Own Book
Whether you want to make it to the bestseller lists or just sell a lot more of your goods or services, with a profound competitive edge over the competition, Book The Business: How to Make BIG Money With Your Book Without Selling a Single Copy is for you! Request your free copy of this ground-breaking book at advantagefamily.com/scalingup.
Did you miss previous insights? - read here 

COACHING:
Have you ever wondered if working with a coach might accelerate your company's growth, exponentially? Do you have what it takes to move the dial from good to great? The Scaling Up team is prepared to support you. We have helped 40,000 other organizations over the past 30+ years, in scaling up their organizations through coaching, workshops, online training and more.
We would like to offer you a complimentary, personal follow-up from our Scaling Up team to share how we can support you in scaling your organization. 

YES! I WOULD LIKE TO LEARN MORE ABOUT COACHING & RECEIVE A COMPLIMENTARY FOLLOW-UP (CLICK HERE)
For questions or more information contact us at coaching@scalingup.com

  
Read Verne's Insights on Kindle http://www.amazon.com/gp/product/B003SX13YI 

Sign up for Verne's Weekly Insights