Learning's a gift, even when pain is your teacher.
Michael Jordan 


We cannot hold a torch to light another's path without brightening our own.
Ben Sweetland
Holiday Gift of Excellence
Enjoy this one-hour replay of Ritz Carlton famed Horst Schulze's presentation on Excellence Wins from last week's Master Class. The first half-hour is theory, the second half-hour is practical and story filled (his story of removing a customer from the hotel is classic!). Excellence always wins!! Share with the team and prepare the right mindset for 2021

CEO Boot Camps – Two Public, One YPO-only
Spend 3 days with 6 other CEOs, John Ratliff, and Verne Harnish going deep in how to scale – including some one-on-one time with Verne and John. Two seats opened-up for Jan 12 – 15, Marathon, FL; and four seats open for Feb 2 – 5, Marathon. YPO Southern 7 is hosting a private YPO-only CEO/COO Boot Camp Jan 19 – 22. Open to ten YPOers and their #2, five teams are already signed up – so five more spots. For more info, visit www.ceo-bootcamp.com.

Top Five Business Books 2020 and Crisis
My pick for the top 5 business books for 2020 – and the top 5 for dealing with any crisis – are listed here along with my recommended chapters to prioritize and make your reading more relevant/easy! 

Reflection On 2020
At the end of my top book list, I share the following reflection:

Nature would have never done to itself what our leaders have imposed on the human race in 2020. No ant colony or beehive would lock down so insanely (vs. selectively). I lay the blame on the "experts" – a term I've come to despise in 2020. What many of the books above point to is that the crowd/tribe is so much wiser than any leader/expert. We know what to do if the leaders would just get off their money/power trips and let us be. Ok, Verne, just breathe!

There, I feel better – and hope we continue to turn to the tribe for guidance, like we do in choosing restaurants and products and experiences. 

Happiest of Holidays!
I'm taking the next couple of weeks off from writing the insights – back Jan 7. Happy New Year!

Order a box of 20 Scaling Up books
Want to save 50% over the price on Amazon? Go to this link.
Write Your Own Book
Whether you want to make it to the bestseller lists or just sell a lot more of your goods or services, with a profound competitive edge over the competition, Book The Business: How to Make BIG Money With Your Book Without Selling a Single Copy is for you! Request your free copy of this ground-breaking book at advantagefamily.com/scalingup.

COACHING:
Have you ever wondered if working with a coach might accelerate your company's growth, exponentially? Do you have what it takes to move the dial from good to great? The Scaling Up team is prepared to support you. We have helped 40,000 other organizations over the past 30+ years, in scaling up their organizations through coaching, workshops, online training and more.
We would like to offer you a complimentary, personal follow-up from our Scaling Up team to share how we can support you in scaling your organization. 

YES! I WOULD LIKE TO LEARN MORE ABOUT COACHING & RECEIVE A COMPLIMENTARY FOLLOW-UP (CLICK HERE)
For questions or more information contact us at [email protected]

TECHNOLOGY: 
ScalingUp Scoreboard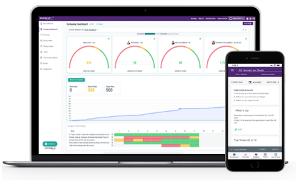 Integrated with Salesforce, Slack, and Zapier (allowing it to connect with 1000s of systems), use Scoreboard to provide your team (working remotely even more important!) a real time visual dashboard of cascading priorities and metrics. Get a personalized tour of Scaling Up Scoreboard to see how you can use it to better implement Scaling Up in your business.
EDUCATION: 
We're still in business coaching and training firms:
Oxford, UK - Jan 13, 2021 (Virtual)
Colorado Springs, CO - Jan 13, 2021 (Virtual)
Waltham, MA – Jan 14, 2021
Louisville, KY - Jan 15, 2021 (Virtual)
Oklahoma City, OK - Jan 15, 2021 (Virtual)
Ann Arbor, MI / Indianapolis, IN – Jan 20, 2021 (Virtual)
Washington, DC - Jan 21, 2021 (Virtual)
Oakland, CA - Jan 21, 2021 (Virtual)
Columbus, OH - Jan 21, 2021 (Virtual)
Atlanta, GA - Jan 26, 2021 (Virtual)
Ontario, Canada Region - Jan 28, 2021 (Virtual)
New Orleans, LA - Feb 12, 2021 (Virtual)
Irving, TX – Feb 25, 2021
Lancaster, PA - March 2, 2021 (Virtual)
Salisbury, England - March 18, 2021
Brisbane, Australia - Mar 24 & 25, 2021 (2 Day Master Class) 
Salisbury, England - July 6, 2021
Lancaster, PA - Oct 26, 2021
Salisbury, England - Nov 18, 2021

Growth Institute Online Executive Education:
Master of Business Dynamics
Scaling Up Master Business Course
Exponential Organizations Master Business Course
Topgrading Master Business Course

Better Book Club – What's your team reading? Increase your books read per team member. Easy, Proven, and in the Cloud at http://www.BetterBookClub.com.




Did you miss previous insights? - read here 
  
Read Verne's Insights on Kindle http://www.amazon.com/gp/product/B003SX13YI 

Sign up for Verne's Weekly Insights