Hope it's been a productive and purposeful week for you. Here are some insights to help you outlearn/outthink our reaction to the virus.

...respondents who kept up with the news cycle reported lost sleep, stress, anxiety, fatigue, and other negative mental health symptoms. 
National Geographic Science 
96-Minute Special – Virgin, Airbnb, Nextdoor, Galloway, Grant, Hamel –
Join over 3000 CEOs and CXOs already signed up for the Sept 17 (replay included with registration) LIVE virtual summit with Richard Branson, Nate Blecharczyk, Sarah Friar, Scott Galloway, Adam Grant, and Gary Hamel – plus three "mere mortal" CEOs like us from the hotel, movie theatre, and restaurant worlds who are thriving in this crisis – expanding, acquiring, and being ambitious. Are you being ambitious in this crisis? 
Forbes 400 Wealthiest --
The annual list is out. Amazon founder and CEO Jeff Bezos, worth $179 billion, is No. 1 for the third year in a row, followed by Bill Gates at No. 2, worth $111 billion. More fun facts below, but first…

Streamline Your Supply Chain – Grad Student Projects Georgetown Univ --
Georgetown's Master of Professional Studies in Supply Chain Management (SCM) is looking for companies which would like a sharp group of students to figure out how to improve/optimize their supply chain. They are building a repository of potential partner companies.The current need is for the Supply Chain Analytics and Technologies Course, which requires each student to partner with an organization for the First Stage of work. Afterward, the students form groups and select one organization to move forward with developing the Second Stage of work. The course starts in early September and runs through December 17, 2020. For more information and to become part of the program, contact James Jacobe at jj941@georgetown.edu. 

Engage University Student Groups --
J.D. Ewing, CEO of COE Distributing, has been using university student groups to determine the ideal location for a new warehouse and to build an AI to better predict new product success (he ended up hiring a couple of the students full time). Reach out to your local university, now that many are back in session, and see if various engineering, business, and other classes need projects for student teams – especially masters programs. 
Please Stop Consuming News -- Beware of Doomscrolling –
This Sept 4 National Geographic article might presuade you and your family/friends/team to stop consuming so much news, if any. And how social media is consumed – lurking or interacting – is critical to your psychological health. Please invest 7- minutes to read this extensively researched article and share with your children and team. Then consider going cold turkey re: the news!

5 Companies with Emotion-Tracking Technology –
This Fortune article highlights five companies pioneering emotion-tracking technologies as a way to manage anxiety, stress, and improve mental health. Featured firms include Healium, Reflect Innovation, Inner Balance, Sonde Health, and Feel. 

Overpaying on Commercial Leases? Need Less Space and Help Renegotiating Leases?
Jonathan Keyser's firm, who we hosted at the beginning of this crisis, can help. Click on the link to secure your free assessment & strategy call with one of his lease renegotiation experts who can help you significantly restructure your real estate leases to save you money https://keyser.com/swat/
Forbes 400 Fun Facts for Weekend Gatherings (be in the know) --
Total wealth a record $3.2 trillion, up $240 billion from last year. Minimum $2.1 billion to make the cut, 18 new members to the list generating wealth from electric trucks to Zoom's founder. 9 made a comeback, 2 died, and 25 fell off the list, 10 due directly to our reaction to Covid. The following highlights just cut and pasted from Forbes announcement – enjoy.
MORE:
Elon Musk, Jack Dorsey And The Big Gainers: These Billionaires Have Gotten The Richest Over The Past Year

Newcomers: 18 Billionaires Join The Forbes 400 List In 2020

Richest Women In America: Alice Walton And 55 Others Are Wealthier Than Ever

Falling Fortunes: Warren Buffett, Sheldon Adelson And 400 Members Who Saw The Biggest Losses

Rich, But Not Rich Enough: Kanye West, WWE's Vince McMahon Among 233 Billionaires Who Didn't Make The Forbes 400 List This Year

Order a box of 20 Scaling Up books –
Want to save 50% over the price on Amazon? Go to this link. 

Write Your Own Book –
Whether you want to make it to the bestseller lists or just sell a lot more of your goods or services, with a profound competitive edge over the competition, Book The Business: How to Make BIG Money With Your Book Without Selling a Single Copy is for you!

Request your free copy of this ground-breaking book at advantagefamily.com/scalingup.
EDUCATION: 


We're Still in Business Coaching and Training Firms:
Portland, OR - Sep 15, 2020 (VIRTUAL)
Salisbury, England - Sep 16, 2020
Michigan/Indiana - Sep 16, 2020 (VIRTUAL)
Franklin, TN - Sep 17, 2020 (Virtual)
San Diego, CA - Sep 18, 2020 (VIRTUAL)
Brisbane City, Australia - Sep 23, 2020
Georgia – Sep 24, 2020 (VIRTUAL)
New Orleans, LA - Oct 1, 2020 (Virtual)
Wellington, New Zealand - Oct 1, 2020
Waltham, MA – Oct 6, 2020
Chapel Hill, NC - Oct 7, 2020 (Virtual)
Adelaide, Australia - Oct 7, 2020
Colorado Springs, CO - Oct 8, 2020 (VIRTUAL)
Vancouver, BC, CAN - Oct 14, 2020 (VIRTUAL)
Stockholm, Sweden - Oct 15, 2020
Phoenix, AZ - Oct 15, 2020 (VIRTUAL)
Sydney, Australia - Oct 15, 2020
Louisville, KY - Oct 15, 2020 (Virtual)
Columbus, OH - Oct 21, 2020 (VIRTUAL)
Lancaster, PA - Oct 27, 2020 (Virtual)
San Antonio, TX - Oct 27 (Virtual & In-Person) 
Colombia - Oct 27 & 28, 2020
Franklin, TN - Oct 29, 2020 (Virtual)
Salisbury, England - Nov 3, 2020
Chicago, IL - Nov 10, 2020 (VIRTUAL)
Costa Mesa, CA - Nov 10, 2020
Melbourne, Australia - Nov 10, 2020
Mexico City - Nov 10 & 11, 2020
Grand Rapids, MI - Nov 11, 2020  (VIRTUAL)
Phoenix, AZ - Nov 12, 2020 (Virtual)
Guadalajara, Mexico - Nov 12 & 13, 2020
Sydney, AUS - Nov 19, 2020
Franklin, TN - Dec 3, 2020 (Virtual)
Atlanta, GA - Dec 9, 2020
Sydney, Australia - Dec 10, 2020
San Diego, CA - Dec 16, 2020
San Francisco, CA - Dec 17, 2020 (Virtual)
Waltham, MA – Jan 14, 2021
Salisbury, England - Jan 14, 2021
Salisbury, England - Feb 18, 2021

COACHING:

Have you ever wondered if working with a coach might accelerate your company's growth, exponentially? Do you have what it takes to move the dial from good to great? The Scaling Up team is prepared to support you. We have helped 40,000 other organizations over the past 30+ years, in scaling up their organizations through coaching, workshops, online training and more.

We would like to offer you a complimentary, personal follow-up from our Scaling Up team to share how we can support you in scaling your organization. 
YES! I WOULD LIKE TO LEARN MORE ABOUT COACHING & RECEIVE A COMPLIMENTARY FOLLOW-UP (CLICK HERE)

For questions or more information contact us at coaching@scalingup.com

TECHNOLOGY: 


ScalingUp Scoreboard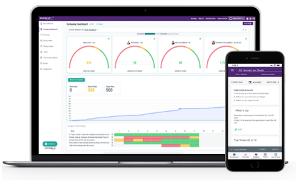 Integrated with Salesforce, Slack, and Zapier (allowing it to connect with 1000s of systems), use Scoreboard to provide your team (working remotely even more important!) a real time visual dashboard of cascading priorities and metrics. Get a personalized tour of Scaling Up Scoreboard to see how you can use it to better implement Scaling Up in your business.

Better Book Club – What's your team reading? Increase your books read per team member. Easy, Proven, and in the Cloud at http://www.BetterBookClub.com.

Growth Institute Online Executive Education:
Master of Business Dynamics
Scaling Up Master Business Course
Exponential Organizations Master Business Course
Topgrading Master Business Course


Did you miss previous insights? - read here 
  
Read Verne's Insights on Kindle http://www.amazon.com/gp/product/B003SX13YI 

Sign up for Verne's Weekly Insights