Hope it's been a productive and purposeful week for you. Here are some insights to help you outlearn/outthink our reaction to the virus.


Decision making accelerated when we cut the nonsense. We make decisions in one meeting, limit groups to no more than nine people, and have banned PowerPoint.
McKinsey Report on "Need for Speed"
Richard Branson and More – 90-minute Sept 17 Scaling Up Summit –
Mark your calendars. After hosting over 14,000 leaders from around the globe via our first four virtual summits, we plan to inspire and inform you and your teams Sept 17, 3:22pm – 4:58pm ET. Opening the event will be 15 minutes with the iconic entrepreneur Richard Branson. Stay tuned for more information.
Need for Speed – 9 Specific Ways to Reinvent Your Organization –
This practical McKinsey report describes 9 ways companies can dramatically speed up decisions and actions (learn, decide, act – the Scaling Up mantra). You'll recognize many of the ideas inherent in Rockefeller Habits 2.0. Nevertheless, it's an excellent and well-written reminder – with a useful chart detailing the 9 ways. Use it as a checklist at your next executive team meeting (I plan to next Monday) – and then "make fewer, more important decisions" as the report highlights. Thx to UK Scaling Up Certified coach Neale Lewis for sharing.


More Generalists to Gain Speed? –
Just yesterday I was discussing with a CEO how his team became too specialized to where a dozen people were required to do one thing (involves filing medical claims) – and it's crushing him. Instead, the move is cross training someone so they can handle the entire process from start to finish. What often takes 10-seconds will expand to six hours as one person waits for another "in the que" to get to that 10-second task! As an example (back to the McKinsey report)…
Learn How to Learn –
…the 8th way to gain speed McKinsey labeled "Learn how to learn." Excerpting:
Consider the US Navy's newest "littoral combat ship." These vessels can complete myriad tasks, such as hunting submarines or sweeping mines while operating in the shallows. One might think they therefore have a large crew of highly trained specialists. Not so. In fact, these ships are run by just 40 "hybrid sailors," who have proved capable of mastering a wide variety of skills, from handling ropes to firefighting to monitoring remote sensors. They need to be skilled, of course—mishandling a rope can cause serious injury—but their chief skill is the ability to adapt and learn quickly. They learn continuously and are open to new experiences and flexible in their thinking. And that, COVID-19 has demonstrated, is what business needs, too.

Where do you have too many people touching a process/decision?
Five Charts Illustrating the Impact of COVID on US Industries (US centric) –
This CNBC article highlights trends up through July 18 around activities like driving (up 40% over January numbers), walking (up 25%) and transit (down 50%). Hotels aren't doing badly, but airlines are down 80%. Worth a minute to scan down through the five charts – fun facts for the weekend. Thank you to Scaling Up Certified coach Bill Gallagher for sharing.
Most Valuable Sports Teams (More Fun Facts for the Weekend Gatherings) –
Forbes published "The World's Most Valuable Sports Teams" list a week ago. Still at #1 is the Dallas Cowboys valued at $5.5 billion and purchased by Jerry Jones for $150 million in 1989 (my beloved Barcelona soccer team came in 8th at $4.02 billion). Sports teams have been one of the best investments this Century. And what's striking is that the tenure of ownership for NFL teams averages 39 years, almost twice that of the NBA, NHL, and MLB. More interesting stats throughout the article. 
The Generals are Coming – Aug 11, 1pm-4pm ET
Chief Executive is hosting their second summit, where 3 new leaders — General (Ret.) James Mattis, 26th Secretary of Defense, Lieutenant General (Ret.) Tom Bostick and Major General (Ret.) Barbara Faulkenberry — draw leadership lessons from their own careers that can help your organization win in this unparalleled time of disruption. To register and learn more, click here.
Aug 18 – 21 CEO Boot Camp – 1 Seat Left –
Join me and 6 other CEOs for 3 intense days of interaction, learning, one-on-one sessions, and fun in Estes Park, CO – an opportunity to open my connections and apply insights to scale your business – www.ceo-bootcamp.com. Dates in December and January posted as well (Florida Keys location).

Order a box of 20 Scaling Up books –
Want to save 50% over the price on Amazon? Go to this link. 

Write Your Own Book –
Whether you want to make it to the bestseller lists or just sell a lot more of your goods or services, with a profound competitive edge over the competition, Book The Business: How to Make BIG Money With Your Book Without Selling a Single Copy is for you!

Request your free copy of this ground-breaking book at advantagefamily.com/scalingup.

EDUCATION: 


We're Still in Business Coaching and Training Firms:
United Kingdom - Aug 12, 2020
Brisbane, AUS - Aug 18, 2020
Puebla, Mexico - Aug 18 & 19, 2020
Phoenix, AZ - Aug 20, 2020 (VIRTUAL)
Phoenix, AZ - Sep 1, 2020 (VIRTUAL)
Melbourne, Australia - Sep 8, 2020
Sydney, AUS - Sep 10, 2020
San Francisco, CA - Sep 10, 2020 (VIRTUAL)
Dallas, TX - Sep 10, 2020
Portland, OR - Sep 15, 2020 (VIRTUAL)
United Kingdom – Sep 16, 2020
Michigan/Indiana - Sep 16, 2018 (VIRTUAL)
Georgia – Sep 17, 2020 (VIRTUAL)
San Diego, CA - Sep 18, 2020 (VIRTUAL)
Brisbane City, Australia - Sep 23, 2020
Los Angeles, CA – Oct 1, 2020
Wellington, New Zealand - Oct 1, 2020
Perth, Australia - Oct 5, 2020
Phoenix, AZ - Oct 5, 2020 (VIRTUAL)
Waltham, MA – Oct 6, 2020
Adelaide, Australia - Oct 7, 2020
Sydney, Australia - Oct 15, 2020
Ohio Region - Oct 21, 2020 (VIRTUAL)
Lancaster, PA - Oct 27, 2020
Colombia - Oct 27 & 28, 2020
United Kingdom – Nov 3, 2020
Chicago, IL - Nov 10, 2020 (VIRTUAL)
Costa Mesa, CA - Nov 10, 2020
Melbourne, Australia - Nov 10, 2020
Mexico City - Nov 10 & 11, 2020
Grand Rapids, MI - Nov 11, 2020  (VIRTUAL)
Guadalajara, Mexico - Nov 12 & 13, 2020
Sydney, AUS - Nov 19, 2020
Atlanta, GA - Dec 9, 2020
Sydney, Australia - Dec 10, 2020
San Diego, CA - Dec 16, 2020
Waltham, MA – Jan 14, 2021
United Kingdom - Jan 14, 2021
COACHING:

Have you ever wondered if working with a coach might accelerate your company's growth, exponentially? Do you have what it takes to move the dial from good to great? The Scaling Up team is prepared to support you. We have helped 40,000 other organizations over the past 30+ years, in scaling up their organizations through coaching, workshops, online training and more.

We would like to offer you a complimentary, personal follow-up from our Scaling Up team to share how we can support you in scaling your organization. 
YES! I WOULD LIKE TO LEARN MORE ABOUT COACHING & RECEIVE A COMPLIMENTARY FOLLOW-UP (CLICK HERE)

For questions or more information contact us at [email protected]

TECHNOLOGY: 


ScalingUp Scoreboard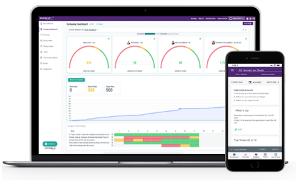 Integrated with Salesforce, Slack, and Zapier (allowing it to connect with 1000s of systems), use Scoreboard to provide your team (working remotely even more important!) a real time visual dashboard of cascading priorities and metrics. Get a personalized tour of Scaling Up Scoreboard to see how you can use it to better implement Scaling Up in your business.

Better Book Club – What's your team reading? Increase your books read per team member. Easy, Proven, and in the Cloud at http://www.BetterBookClub.com.

Growth Institute Online Executive Education:
Master of Business Dynamics
Scaling Up Master Business Course
Exponential Organizations Master Business Course
Topgrading Master Business Course


Did you miss previous insights? - read here 
  
Read Verne's Insights on Kindle http://www.amazon.com/gp/product/B003SX13YI 

Sign up for Verne's Weekly Insights