Hope it's been a productive and purposeful week for you. Here are some insights to help you outlearn/outthink our reaction to the virus.


"…how to do one of your most important jobs—helping your leadership team be the best versions of themselves." 
Sunny Vanderbeck, Satori Capital
How Satori Capital Assesses Teams in Five Minutes –
Sunny Vanderbeck, Managing Partner at Dallas-based Satori Capital, uses a Red, Yellow, Green approach to assessing a team in five minutes. This ScaleUps.com article details how he thinks about each team member and why it's important to get three colored markers and your physical org chart (you can draw it out on a piece of paper) to do the exercise. I would add, does each team member "wow" you. Pls take 2 minutes to read and five minutes to do the exercise so you can deliver on Sunny's quote above.


Avoid This Strategic Mistake in a Recession –
This HBR article details one of the biggest mistake's companies make in a recession – changing strategies to be the cost leader if you weren't the cost leader before. Notes the authors:


We found that when differentiators moved toward a cost leadership strategy such efforts did not help them. In fact, we found that changing strategy did not increase firm chances of surviving the recession, nor did it improve the firm's revenues or its finances.


Concludes the authors, "The advantages that made your product or service worth more than what the cost leaders offer still apply. You just need to make that case to your customers."  Please take 3 minutes to read this insightful article.


Global 500 Stats to Benchmark –
The Fortune Global 500 list is out and you can find it here. With combined revenues of $33.3 trillion, which is almost 40% of the global economy, the Global 500 generated $2.1 trillion in profit for a 6.3% average. And employing 69.9 million people, less than 1% of the global population, they averaged $476,394 revenue/employee and $30k profit/employee. How does that compare to your firm? Better yet, find a few firms on the list in "similar" businesses and compare stats. Then clean up your processes and drive on an even better stat – gross margin dollars/employee!!! 
18 Generated More Than $250k Profit/Employee –
Why not set a goal to have your profit/employee equal what is now your revenue/employee! These 18 firms averaged over $250,000 profit per employee. Surprising for me? Facebook outpaced Apple!! And one India-based firm Rajesh Exports (gold jewelry retailer), with just 409 employees, is both a Global 500 firm and averaged $416k profit/employee, greater than Facebook and Apple! There is hope for all of us!!!
China 124, USA 121–
Walmart tops the list ($523 billion revenue) followed by three Chinese companies. And once again China hosts more Global 500 firms than the USA, though several are state owned enterprises. There are several very interesting infographics that provide you a great visual feel for the Global 500 – worth absorbing. 
Becoming Young, Brandon Calano –
Happy Birthday Brandon! At 27 today, Calano, is one of the rare musicians (Nashville/Boulder) who has surpassed 1 million streams. Here's a taste of his music – something fun for the summer – including his release "Cherry Twist" – enjoy! His next album is out this November. 
Aug 18 – 21 CEO Boot Camp – 1 Seat Left –
Join me and 6 other CEOs for 3 intense days of interaction, learning, one-on-one sessions, and fun in Estes Park, CO – an opportunity to open my connections and apply insights to scale your business – www.ceo-bootcamp.com. Dates in December and January posted as well (Florida Keys location).

Order a box of 20 Scaling Up books –
Want to save 50% over the price on Amazon? Go to this link. 

Write Your Own Book –
Whether you want to make it to the bestseller lists or just sell a lot more of your goods or services, with a profound competitive edge over the competition, Book The Business: How to Make BIG Money With Your Book Without Selling a Single Copy is for you!

Request your free copy of this ground-breaking book at advantagefamily.com/scalingup.

EDUCATION: 


We're Still in Business Coaching and Training Firms:
Brisbane, AUS - Aug 18, 2020
Puebla, Mexico - Aug 18 & 19, 2020
Phoenix, AZ - Aug 20, 2020 (VIRTUAL)
Phoenix, AZ - Sep 1, 2020 (VIRTUAL)
Melbourne, Australia - Sep 8, 2020
Sydney, AUS - Sep 10, 2020
San Francisco, CA - Sep 10, 2020 (VIRTUAL)
Columbus, OH - Sep 10, 2020 (VIRTUAL and In-Person)
Dallas, TX - Sep 10, 2020
Portland, OR - Sep 15, 2020 (VIRTUAL)
Salisbury, England - Sep 16, 2020
Michigan/Indiana - Sep 16, 2018 (VIRTUAL)
San Diego, CA - Sep 18, 2020 (VIRTUAL)
Brisbane City, Australia - Sep 23, 2020
Georgia – Sep 24, 2020 (VIRTUAL)
Los Angeles, CA – Oct 1, 2020
Wellington, New Zealand - Oct 1, 2020
Perth, Australia - Oct 5, 2020
Phoenix, AZ - Oct 5, 2020 (VIRTUAL)
Waltham, MA – Oct 6, 2020
Adelaide, Australia - Oct 7, 2020
Colorado Springs, CO - Oct 8, 2020 (VIRTUAL)
Stockholm, Sweden - Oct 15, 2020
Sydney, Australia - Oct 15, 2020
Columbus, OH - Oct 21, 2020 (VIRTUAL)
Lancaster, PA - Oct 27, 2020
Colombia - Oct 27 & 28, 2020
Salisbury, England - Nov 3, 2020
Chicago, IL - Nov 10, 2020 (VIRTUAL)
Costa Mesa, CA - Nov 10, 2020
Melbourne, Australia - Nov 10, 2020
Mexico City - Nov 10 & 11, 2020
Grand Rapids, MI - Nov 11, 2020  (VIRTUAL)
Guadalajara, Mexico - Nov 12 & 13, 2020
Sydney, AUS - Nov 19, 2020
Atlanta, GA - Dec 9, 2020
Sydney, Australia - Dec 10, 2020
San Diego, CA - Dec 16, 2020
Waltham, MA – Jan 14, 2021
Salisbury, England - Jan 14, 2021
Salisbury, England - Feb 18, 2021

COACHING:

Have you ever wondered if working with a coach might accelerate your company's growth, exponentially? Do you have what it takes to move the dial from good to great? The Scaling Up team is prepared to support you. We have helped 40,000 other organizations over the past 30+ years, in scaling up their organizations through coaching, workshops, online training and more.

We would like to offer you a complimentary, personal follow-up from our Scaling Up team to share how we can support you in scaling your organization. 
YES! I WOULD LIKE TO LEARN MORE ABOUT COACHING & RECEIVE A COMPLIMENTARY FOLLOW-UP (CLICK HERE)

For questions or more information contact us at coaching@scalingup.com

TECHNOLOGY: 


ScalingUp Scoreboard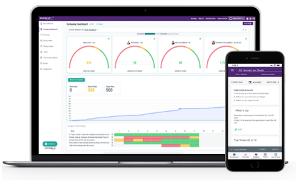 Integrated with Salesforce, Slack, and Zapier (allowing it to connect with 1000s of systems), use Scoreboard to provide your team (working remotely even more important!) a real time visual dashboard of cascading priorities and metrics. Get a personalized tour of Scaling Up Scoreboard to see how you can use it to better implement Scaling Up in your business.

Better Book Club – What's your team reading? Increase your books read per team member. Easy, Proven, and in the Cloud at http://www.BetterBookClub.com.

Growth Institute Online Executive Education:
Master of Business Dynamics
Scaling Up Master Business Course
Exponential Organizations Master Business Course
Topgrading Master Business Course


Did you miss previous insights? - read here 
  
Read Verne's Insights on Kindle http://www.amazon.com/gp/product/B003SX13YI 

Sign up for Verne's Weekly Insights