Hope it's been a productive and purposeful week for you. Here are some insights to help you outlearn/outthink our reaction to the virus.


If an organization has ever crushed your hopes and dreams, this book (Humanocracy) just might help to rejuvenate you. It's hard to imagine a better guide to busting bureaucracies and building workplaces that live up to the potential of the people inside them.
Adam Grant, author of Give and Take, Originals, et al
Forward to the Fundamentals – Scaling Up Webinar 5pm ET Aug 25 Verne Harnish
Join me next Tuesday for a complimentary 90-minute Scaling Up webinar where the focus is moving everyone "forward" (vs. back) to the fundamentals of scaling your business. The key is remaining agile in the face of continued uncertainty. It's time to put together your One-Page Strategic Plan (OPSP), which I'll review, for the balance of 2020. Get your team aligned, focused, and energized the next four months (and years!). And I'm going to rave about Humanocracy (see next headline) – ask me questions about it, etc.
#1 Book this Year! –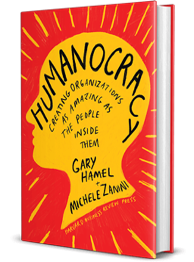 And possibly Gary Hamel and Michele Zanini's groundbreaking book Humanocracy: Creating Organizations as Amazing as the People Inside Them will prove to be the most important book written this decade, published at just the right time (Aug 18)! In short, people don't need to be managed! All this top-down traditional organization chart stuff just crushes innovation, productivity, and lives! We've been trying to fix "management" for decades. Maybe better to just get rid of it, like Haier did or dozens of other companies highlighted in this manifesto-of-a-book.
Who is Gary Hamel? –
Outside the walls of Harvard Biz School there isn't another professor/thinker who has done more and created more language around strategy than Gary Hamel, co-author of one of the most downloaded articles in HBR history "The Core Competence of the Corporation" and many more (he's actually the most published author of HBR articles in history). I open the strategy section of Scaling Up quoting Hamel's definition of strategy. He identified the need for a "council" before Jim Collins. And now he's tearing down bureaucracies, which he finds start around 200 employees (that's many of us!!). It's his software running inside Apple; he guided Chinese appliance manufacturer Haier in stripping out all 10,000 managers and organizing the rest of the 56,000+ employees into 4000 microenterprises with just two levels separating frontline from CEO.
Please Read the Preface – then Chapter 4 – then "Hack my org"
Hamel and Zanini open with a set of very human questions in the Preface – then they go on to provide a practical summary of the book. Then jump to Chapter 4 about Nucor, the world's most innovative steel company. As mid-market firms, we have the opportunity to organize our teams differently – saving tons of money while paying higher wages and dominating our industries. Go to www.humanocracy.com and sign up for Hamel's complimentary "Hack my org" course! Or…
…12-minutes with Gary Hamel –
This is why I've asked Gary to share his thoughts with us mere mortal firms Sept 17 (Virtual Summit 2.0), along with Richard Branson, Adam Grant (quoted above), Sarah Friar, myself, and others – 90-minutes of the best ideas, inspiration, and insights I could assemble to launch us into the final four months of 2020 – I cashed many of the chips I've been accumulating for decades to make this happen. Register your entire team (not just senior leaders!) then let them learn and soar and make your life/jobs/company easier/better.

Mistake Last Week – Only 10% of Global GDP –
This Forbes article makes a case for why a company's revenue is not the same thing as a country's GDP, thus my calculations last week that the Fortune Global 500 generates 40% of world GDP were wrong. I should have used the $2.1 trillion in profit (not revenue) amount and added in wages of roughly $7 trillion (guesstimate) for an approximate $9 trillion contribution to GDP, or roughly 10%. Still not bad employing just 1% of the population. Thanks to Conscious Capitalism guru Raj Sisodia for alerting me of my miscalculation and pointing me in the right direction.
Stakeholder Capitalism Anniversary –
One year ago, yesterday, the Business Roundtable (BRT) announced a new purpose for corporations which embraced what has become known as stakeholder capitalism vs shareholder capitalism. BRT, an influential association of almost 200 CEO's of America's top corporations, added the needs of employees, customers, suppliers, communities, and the environment to the list of stakeholders – a very "conscious capitalism" approach. This Fortune article marks this anniversary of a change in business focus that has only accelerated during this COVID mess. 
Order a box of 20 Scaling Up books –
Want to save 50% over the price on Amazon? Go to this link. 

Write Your Own Book –
Whether you want to make it to the bestseller lists or just sell a lot more of your goods or services, with a profound competitive edge over the competition, Book The Business: How to Make BIG Money With Your Book Without Selling a Single Copy is for you!

Request your free copy of this ground-breaking book at advantagefamily.com/scalingup.

EDUCATION: 


We're Still in Business Coaching and Training Firms:
Phoenix, AZ - Sep 1, 2020 (VIRTUAL)
Franklin, TN - Sep 3, 2020 (Virtual)
Melbourne, Australia - Sep 8, 2020
Sydney, AUS - Sep 10, 2020
San Francisco, CA - Sep 10, 2020 (VIRTUAL)
Columbus, OH - Sep 10, 2020 (VIRTUAL and In-Person)
Louisville, KY - Sep 10, 2020 (Virtual)
Dallas, TX - Sep 10, 2020
Portland, OR - Sep 15, 2020 (VIRTUAL)
Salisbury, England - Sep 16, 2020
Michigan/Indiana - Sep 16, 2018 (VIRTUAL)
Franklin, TN - Sep 17, 2020 (Virtual)
San Diego, CA - Sep 18, 2020 (VIRTUAL)
Brisbane City, Australia - Sep 23, 2020
Georgia – Sep 24, 2020 (VIRTUAL)
Los Angeles, CA – Oct 1, 2020
New Orleans, LA - Oct 1, 2020 (Virtual)
Wellington, New Zealand - Oct 1, 2020
Perth, Australia - Oct 5, 2020
Phoenix, AZ - Oct 5, 2020 (VIRTUAL)
Waltham, MA – Oct 6, 2020
Chapel Hill, NC - Oct 7, 2020 (Virtual)
Adelaide, Australia - Oct 7, 2020
Colorado Springs, CO - Oct 8, 2020 (VIRTUAL)
Stockholm, Sweden - Oct 15, 2020
Sydney, Australia - Oct 15, 2020
Louisville, KY - Oct 15, 2020 (Virtual)
Columbus, OH - Oct 21, 2020 (VIRTUAL)
Lancaster, PA - Oct 27, 2020
Colombia - Oct 27 & 28, 2020
Franklin, TN - Oct 29, 2020 (Virtual)
Salisbury, England - Nov 3, 2020
Chicago, IL - Nov 10, 2020 (VIRTUAL)
Costa Mesa, CA - Nov 10, 2020
Melbourne, Australia - Nov 10, 2020
Mexico City - Nov 10 & 11, 2020
Grand Rapids, MI - Nov 11, 2020  (VIRTUAL)
Phoenix, AZ - Nov 12, 2020 (Virtual)
Guadalajara, Mexico - Nov 12 & 13, 2020
Sydney, AUS - Nov 19, 2020
Franklin, TN - Dec 3, 2020 (Virtual)
Atlanta, GA - Dec 9, 2020
Sydney, Australia - Dec 10, 2020
San Diego, CA - Dec 16, 2020
San Francisco, CA - Dec 17, 2020 (Virtual)
Waltham, MA – Jan 14, 2021
Salisbury, England - Jan 14, 2021
Salisbury, England - Feb 18, 2021

COACHING:

Have you ever wondered if working with a coach might accelerate your company's growth, exponentially? Do you have what it takes to move the dial from good to great? The Scaling Up team is prepared to support you. We have helped 40,000 other organizations over the past 30+ years, in scaling up their organizations through coaching, workshops, online training and more.

We would like to offer you a complimentary, personal follow-up from our Scaling Up team to share how we can support you in scaling your organization. 
YES! I WOULD LIKE TO LEARN MORE ABOUT COACHING & RECEIVE A COMPLIMENTARY FOLLOW-UP (CLICK HERE)

For questions or more information contact us at coaching@scalingup.com

TECHNOLOGY: 


ScalingUp Scoreboard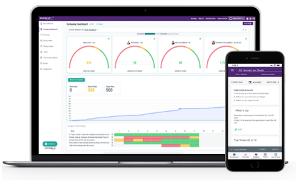 Integrated with Salesforce, Slack, and Zapier (allowing it to connect with 1000s of systems), use Scoreboard to provide your team (working remotely even more important!) a real time visual dashboard of cascading priorities and metrics. Get a personalized tour of Scaling Up Scoreboard to see how you can use it to better implement Scaling Up in your business.

Better Book Club – What's your team reading? Increase your books read per team member. Easy, Proven, and in the Cloud at http://www.BetterBookClub.com.

Growth Institute Online Executive Education:
Master of Business Dynamics
Scaling Up Master Business Course
Exponential Organizations Master Business Course
Topgrading Master Business Course


Did you miss previous insights? - read here 
  
Read Verne's Insights on Kindle http://www.amazon.com/gp/product/B003SX13YI 

Sign up for Verne's Weekly Insights