Private equity firms worldwide are sitting on about $2 trillion worth of "dry powder"— at a time when the number of attractive targets has declined.
                                 Ted Bililies, HBR article

…which levers are most important for creating value in their portfolio companies, PE executives cite leadership effectiveness more often than anything else.
                                 Ted Bililies, HBR article

Please invest 2 to 8 minutes to keep current and review fundamentals. Thank you!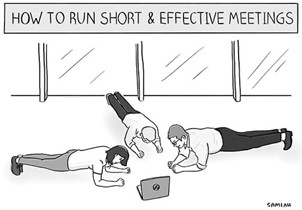 Courtesy of The New Yorker

PE Firms Need a Talent Development Strategy
This latest HBR article suggests PE firms need to focus more on the talent development side of their portfolio firms. With higher interest rates, longer holding periods, and more competition among PE firms, scaling valuation has gotten tougher focusing only on the financial side of the business. The human capital side is where the most significant gains can be made (70% vs. 30%)! Our Topgrading Master Course (talent selection) and completely branded "company university" offering, for a few thousand per month to support talent development, are priorities for 2024. Email me if we can demo or go to www.growthinstitute.com.

25-min HBR Podcast – Additional Insights
This 25-min HBR podcast interview of the article author might be more accessible. In short, actively supporting talent and leadership selection and development is key – the same for all firms!! Thank you to serial entrepreneur and investor Steve Hall for sharing this insightful article. The key is to PE yourself!!

Adam Grant's New Book – Hidden Potential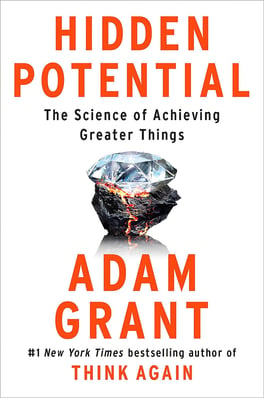 Always insightful, it's a great read this holiday season – and includes a 5-min Hidden Potential assessment. It's an assessment of three key character skills that propel us to greater heights:
being a sponge (proactively absorbing information to grow)
a discomfort seeker (embracing opportunities to stretch beyond your strengths)
an imperfectionist (accepting the right flaws).
Those three provide a nice summary of what it takes to reach your potential. Your own talent development is #1, aligning with what PE firms are finding is key to driving valuation.

Steve Jobs on A-Players
This one-minute IG reel features Steve Jobs highlighting how his obsession with finding five A-Players created the momentum needed to propel Apple. And why A-Players do not want to work with B- and C-players. Always a great reminder.

Serial Entrepreneur Ron Lovett's Latest Podcast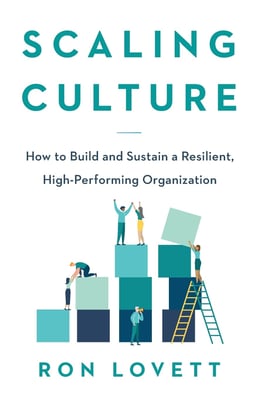 Looking for something additional to listen to, Ron Lovett's (author of Scaling Culture and Outrageous Empowerment) latest podcast details why behaviors are more important than values in defining and sustaining company culture. Plus, how to adopt behaviors within a company using rituals.

Elon Musk's 10 Laws
This Fortune article distills Musk's unique approach to scaling ventures. Fortune takes a serious approach to the list – it's not some biting or fluff piece. "Fund a big vision with a side venture that makes money" as his Starlink venture is doing to support his Mars venture, is similar to Jack Stack's creation of "overhead absorbers." Please take 3 minutes this weekend to scan thru the list – good and bad.





Scaling Up Virtual Master Class Dec 13 – 14 (6 hours total)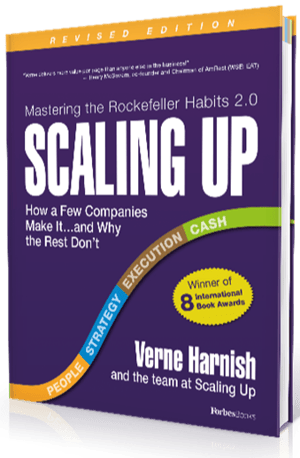 Review the fundamentals of Scaling Up and energize the team going into 2024. Four 90-minute sessions taught by author Verne Harnish – People, Strategy, Execution, and Cash. Jump-start execution of these key tools/techniques. Register here.

Order a box of 20 Scaling Up and Mastering the Rockefeller Habits books
Want to save 50% over the price on Amazon? Get the box of 20 Scaling Up books here and the box of 20 MRH books here for less!

SCALING UP WORKSHOPS:
Engage your team with interactive workshops to optimize your company's performance.
(list of workshops below)

Perth, Australia – Nov 29. 2023 (In-Person)
Charleston, SC – Dec 6, 2023 (In-Person)
Dallas, TX – Dec 6, 2023 (In-Person)
Toronto, Canada - Dec 7, 2023 (Virtual)
Wilmington, NC – Dec 8, 2023 (In-Person)
Columbus, OH – Jan 19, 2024 (In-Person)
Sydney Australia – Feb 8, 2024 (Day 1, In-Person)
Sydney Australia – Feb 9, 2024 (Day 2, In-Person)
Sydney, Australia – Feb 28 & 29, 2024 (2 Days, In-Person)
Auckland, NZ – March 11, 2024 (In-Person)
Austin, TX – March 26, 2024 (In-Person)
Brisbane, Australia – May 1, 2024 (In-Person)
Portland, OR – May 8, 2024 (In-Person)
Christchurch, NZ – May 30, 2024 (In-Person)
San Diego, CA – June 25, 2024 (In-Person)
Denver, CO – Sep 17, 2028 (In-Person)
Fort Lauderdale, FL – Oct 15, 2024 (In-Person)
San Antonio, TX – Dec 10, 2024 (In-Person)

Have you considered becoming a Certified Scaling Up Coach?


Learn more about what it takes to certify and what being a coach is like. Pop into our Coach Office Hours to talk with our coach certification coordinator and a certified Scaling Up Coach. Learn More & Register for Office Hours here >

Planning to Exit – Critical Whitepaper
Selling your firm, for its maximum value, is the most important negotiation in which a business owner will participate. You are typically negotiating with sophisticated buyers who have done hundreds of acquisitions whereas this is often your first rodeo. And these buyers have a formula for ripping you off – and it works, stealing tens of millions from you. Seeking help, owners discover the big M&A firms, especially those specializing in your industry, are more beholden to the buyers than the sellers (they will tell you otherwise). Email me to get a whitepaper on how to maximize your valuation and avoid the psychological games buyers play [email protected].

TECHNOLOGY: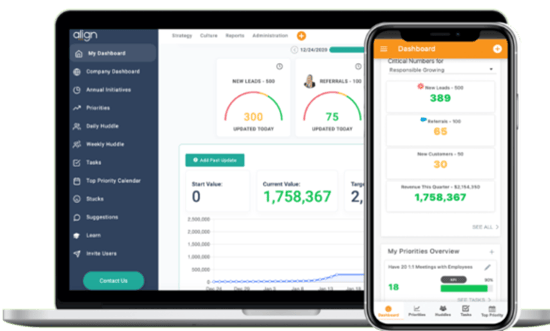 Scaling Up Scoreboard Integrated with Salesforce, Slack, and Zapier (allowing it to connect with 1000s of systems), use Scoreboard to provide your team (working remotely even more important!) a real-time visual dashboard of cascading priorities and metrics. Get a personalized tour of Scaling Up Scoreboard to see how you can use it to better implement Scaling Up in your business.

EDUCATION: 
Growth Institute Online Executive Education:
Master of Business Dynamics
Scaling Up Master Business Course
Exponential Organizations Master Business Course
Topgrading Master Business Course

COACHING: 

 
Does it feel as if your business has hit a wall? If you don't see a clear path forward, it's a good time to bring in a coach.  All of our Scaling Up Certified Coaches™ are masters at guiding you and your leadership team through the implementation of the Scaling Up Performance. Our promise is a custom diagnostic approach from Day 1, including how we match you with a coach. We even have a team member dedicated to helping you find the perfect Scaling Up Certified Coach.™ Schedule a complimentary, personal follow-up. Or check out our FAQs. Additional questions can be sent to [email protected]

Better Book Club –
What's your team reading? Increase your books read per team member. Easy, Proven, and in the Cloud at http://www.BetterBookClub.com.

Did you miss previous insights? - read here

Follow Verne on Instagram: @scalingup2.0

Connect with Verne on LinkedIn: Verne Harnish

Follow Verne on Twitter: @agilescaleup

Read Verne's Insights on Kindle http://www.amazon.com/gp/product/B003SX13YI

Sign up for Verne's Weekly Insights  

*This email newsletter may contain affiliate links. As an Amazon Associate, I earn from qualifying purchases. If you choose to purchase after clicking a link, I may receive a commission at no extra cost to you.